This Free Puzzle Bubble Game: Panda Pop App Review was sponsored by SGN. All thought, opinions, experiences, and screenshots are my own.
I'm not someone that gets bored easily. With two kids, seven animals, a husband, cleaning, cooking, chores, church, volunteering, shopping, errands, paying bills and just life..there's not much down time. And when there is, I'm usually trying to squeeze in a little work so that there's not a ton of it piling up on me.
On the rare day there might be a little "free time" after the girls go to bed, I'm usually multitasking. Catching up on a TV show (current summer faves are Ballers and Big Brother if you were wondering) while paying bills or folding laundry. Lately, with encouragement from my husband, I'm really trying to force myself into more downtime and unwinding more.
Some people are predisposition for addictions. Whether it be their family lineage, unique combination of DNA, or some other sort of chemical coursing through them.
I'm one of those people.
And my feelings are just like this image I found on Pinterest. Usually if I find something I enjoy…it turns into utter obsession.
But, and maybe because I was only child and didn't have anyone to really play with at home, I'm obsessed with playing games. Board games are my absolute favorite, but again you have to have other people to play with. My girls are a little young to play the games that I'm wanting to play and even though my husband was an only child as well, he loathes board games.
Oddly enough though, he loves computer games. I really haven't gotten into those much, except for awhile in college where I was obsessed with playing spades online.
A few weeks ago, someone introduced me to Panda Pop and it's seriously a fun and FREE puzzle bubble game that you can play while on the couch binge watching Netflix or waiting for the bus to show up. The kids can even play this game!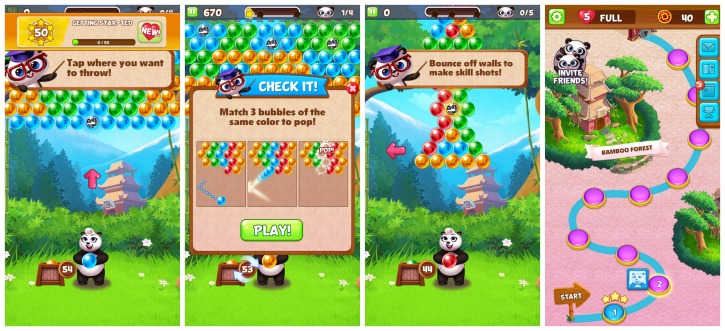 The basic gist of it is a mama panda (you) is trying to rescue her baby pandas that are trapped in parachutes by an evil baboon and return them to her safely. But they're hidden among other brightly colored bubbles and you have to shoot other matching bubbles making at least a combination of three to remove the bubbles and get to the babies.
But it's not as easy as it sounds. You're only given a set number of bubbles in red, yellow, green, and blue and once those are gone you have to replay the level in order to save the babies.
With each level that you increase, you're given a new tool to help you make it through the level successfully since the difficulty increases with each level as well. Whereas, in the first land I was successfully getting 3 stars on each level and not using up any of my lives it got harder the more I got into the game and by the time I was on the third land I had used up all of bonuses and lives on level 23 and have to wait again until the next to continue playing (or) connect my Facebook account (or) buy credits to advance further.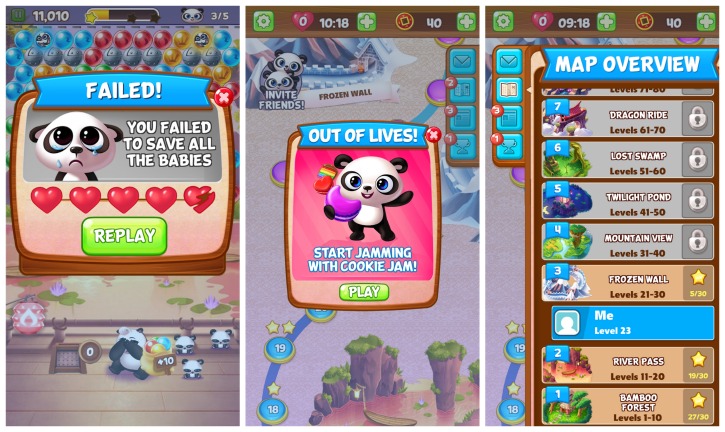 This is honestly the farthest I've ever gotten in a game like this. I know a ton of others have gotten sucked into other app games but none of the others have ever grabbed my interest or challenged me. I'm actually looking forward to the next time I can play and see if I can save those little panda babies with my mad bubble blowing puzzle skills!
Instead of checking Facebook on the regular when I have a free moment or have any sort of down time, I'm checking the clock to see if I have any lives available in Panda Pop.
After a month, I've finally made it to level 120 of Panda Pop. The first few days go super fast and you're moving up in levels and entering new worlds and then things slow to a halt.
This bubble popping puzzle game is seriously addictive. Just when you think you have it figured out, the developers go and throw you a curve ball and you're left playing the same level over and over again until you have this epiphany of just the right combination of moves that might solve the puzzle. Only then you don't get the colored bubble you need and are forced to wait around again until the stars align and you can figure things out.
How can one possibly make it past this level with all of those changing question mark colors?! I'm stuck! Help a sister out!
Hint: if a free boost is glowing and suggesting you use it, you'll most likely need to use it to finish that level and move onto the next.
Check out Panda Pop and let me know what you think! If you have another addictive bubble popping puzzle game to feed my addiction, let me know and I'll likely spend even more time playing games than I already do.
What's your favorite free puzzle bubble game? Have you tried Panda Pop?
You might also like these posts: