I know I'm not alone in my children being picky eaters. Their preferences seem to change on a whim and the staple breakfast foods I remember from childhood are not things I can easily coerce them into eating.
Instead, they would happily eat prepackaged "bars" of some sort every morning for the foreseeable future. The thought of this is a little unsettling as the price of their favorite bars can rapidly add up.
Especially when they not only each want a different flavor for breakfast but also for snacks as well. Not to mention as wholesome as the ingredients may be, it's still no substitute for real food.
A little known fact about Texas – we have a peach capital. Fredericksburg is the self-proclaimed peach capital Texas and with that comes an abundance of fresh peach stands readily available on almost every corner.
One thing I learned from Brady is that if you call something a cupcake, she's about 100 times more likely to eat it. Or, at least try it. So while they were at summer camp one-day last week, I went to work making the weeks' breakfasts that were not only chock full of fruit.
Not only are these muffins full of fruity goodness, but they're also free of eggs, oil or butter. Instead, I used cooking spray (also makes cleanup easier), bananas, and applesauce to get rid of all the extra calories and fat.
Cooking spray ensures food won't get stuck to the pan, but it also makes cleanup a snap! This is a fresh, seasonal, and healthier alternative to processed foods that you can feel good about feeding to your kids. And, these will be great to have on hand as they head back to school since they're easily frozen and reheated in the microwave!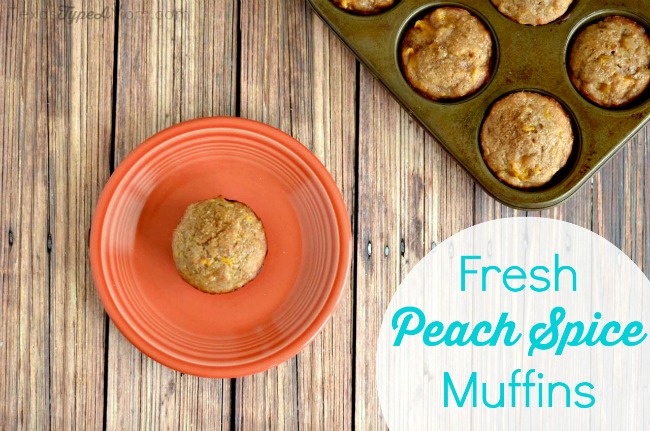 Fresh Peach Spice Muffins
Instructions
Preheat oven to 400 degrees. Lightly grease 24 muffin tins with cooking spray.

In a large mixing bowl, stir together flour, cinnamon, baking soda, and salt.

In a medium bowl, mix applesauce, bananas, vanilla, and sugar.

Combine the wet mix with the dry mix and then fold in the peaches until moistened.

Spoon muffin mix into prepared muffin tins.

Bake for 25 minutes in preheated oven or until a toothpick inserted comes out clean.