This post on How to Protect Your Skin From the Sun Every Day in three easy steps was sponsored by Olay.
As a mom, I don't set the best example for my kids all the time. I push the limits when it comes to our morning routine, skip meals more than I should because I'm so busy, and don't wear sunscreen every day.
I think that not wearing sunscreen every day is because something goes off in our heads that convinces us we don't need it. Either it's too cold, overcast outside, or we're just going from house to car to wherever.
But I'm trying to change all that, for my own skin and to set the example for my kids. But putting on sunscreen every day seems like a recipe for breakouts and irritated skin.
I don't have time to think about if I'm spending too much time in the sun or not. Instead, I need an easy routine I can stick to every day during spring and summer that I can follow and forget about.
Today I'm going to share with you how to protect your skin from the sun with three items you should be wearing (almost) every day.
1. Sunglasses. The skin around your eyes is some of the most delicate so when you're out in the sun for any amount of time, it's the most likely to show signs of damage from the UV rays and squinting. The easiest way to protect that skin is to wear sunglasses whenever you're outside…even if it's cold or overcast.
2. Hat. This is probably the area I fail at the most. And the reason I don't is usually pretty silly – I don't want to mess up my hair or a hat really won't work with my look. But just wearing a hat alone is one of the easiest for you start with implementing how to protect your skin from the sun.
3. Daily moisturizer with SPF. The problem in the past for me has been that traditional sunscreens either irritate my sensitive skin, clog my pores, or just seem too heavy, streaky, or greasy. But I recently swapped the thicker, more hydrating moisturizer I've been using for winter to battle the dry weather for Olay Complete All-Day Moisturizer with SPF 15 and have loved the results.
Olay Complete All-Day Moisturizer is ultra-lightweight and easy to wear while still providing long-lasting hydration and making your skin feel soft and moisturized all day long! It's oil-free and non-comedogenic so it doesn't clog my pores, easily blends with all skin tones, and contains vitamins and antioxidants that help condition the surface of my sensitive skin. Plus, the SolarSheer Technology helps prevent premature skin damage with SPF 15!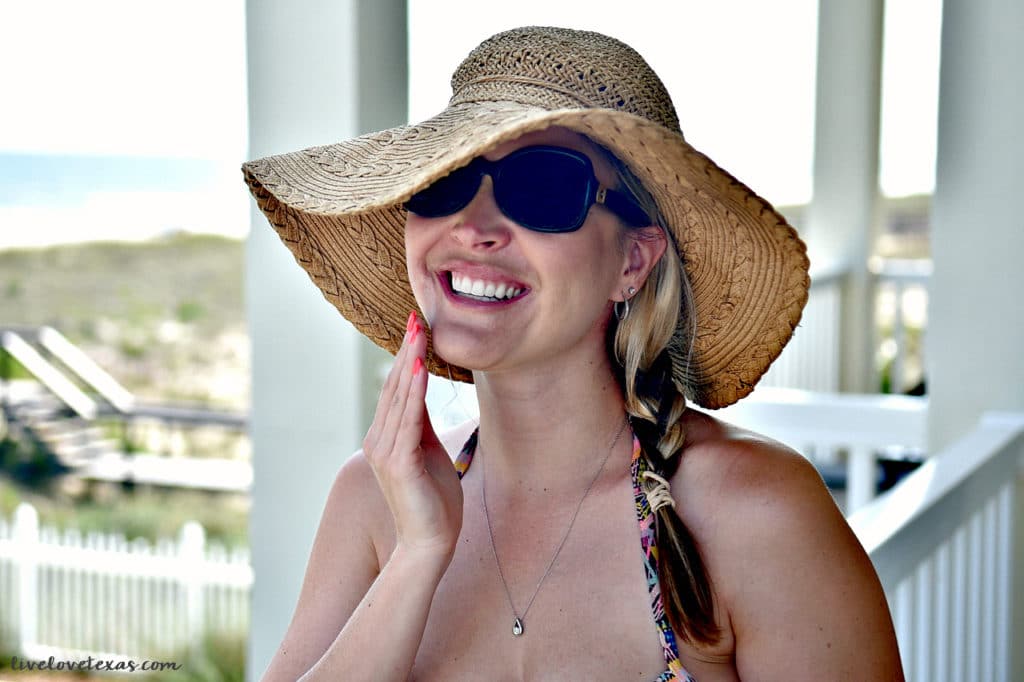 I can keep a bottle in my beach bag to encourage reapplying and another one in my bathroom to put on every day before heading out of the house. I feel good setting a positive example of skin care and wearing sunscreen for my girls and less guilty spending time in the sun.
You can pick up your own bottle of Olay Complete All-Day Moisturizer with SPF 15 online at Olay here so you can set a good example and teach others how to protect your skin from the sun.
This is a sponsored conversation written by me on behalf of Olay. The opinions and text are all mine.