This post on Kids Summer Water Playdate Must Haves was sponsored by Mirum.
Kids Summer Water Playdate Must Haves
Summer has already officially kicked off in the Tomlinson house. Sure the kids still have a few days of school still to go and the calendar may not officially say it's summer yet, but believe me, it's summer.
We can all feel it!
It's feeling more like summer here this year than ever before because last year we put in a pool! Unfortunately, because of some permit delays, it wasn't completed until mid-October so the girls had one pool day before closing things up for the season. So with the temps being consistently in the 80s and 90s, we've been hanging in the pool as much as possible since Easter!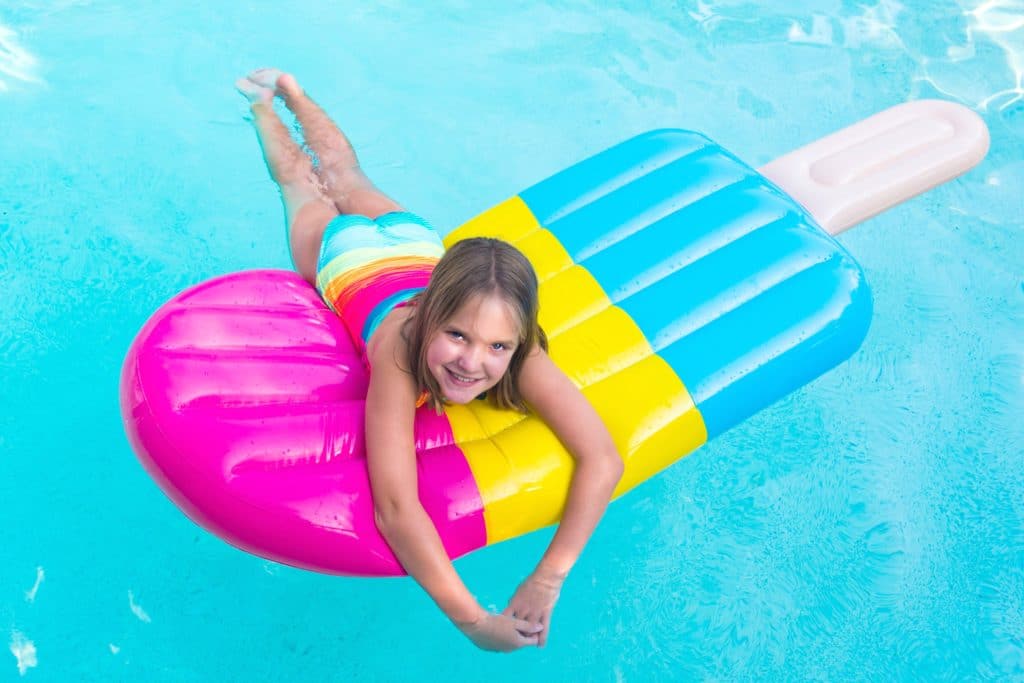 Instead of time spent prepping, driving to, fighting the crowds at, and the frigid water at our neighborhood pool we can just open up the back door and hop in the pool. And since my office is mobile, I'm usually working from the dining room table and can see the girls playing while I work. Or, I can move this show outside and sit with them while they play. I don't have to limit their time in the pool, but can still be productive and accessible. Win-win.
Plus, having a pool makes you a go-to spot for summer fun. The girls are already collecting numbers and setting up pool playdates for when school is out. Check out these kids summer water playdate must haves and start planning your summer fun!
5 Pool Party Playdate Essentials
1. Water.
Obviously, the first thing you need for a kids summer water playdate is some water for the kids to play in. I know not everyone has access to a pool, but slip-n-slides, water guns, and water balloons are tons of fun and will help the kids stay cool and having fun. If parents aren't staying for the playdate, make sure you know their child's swimming abilities and that they have the necessary floatation devices available.
2. Sunscreen.
Sunburns aren't fun for anyone – especially kids. Make sure you have plenty of sunscreen for your kids summer water playdate and remember to reapply so everyone stays comfortable and can keep having fun in the sun!
Sunscreen tips:
3. Drinks.
My 9-year old hardly ever gets thirsty but staying hydrated while outside in the sun is a must. Having water, lemonade or juice available will help kids from overheating and dehydration.
4. Snacks.
You can't go wrong and can serve the kids whatever you have on hand here. But if you remember from your childhood, nothing tastes quite as good as a Popsicle on a hot, summer day! And with the new Popsicle Fruit Pops (in Strawberry, Mango, Raspberry, and Orange), you have a sweet, icy treat ready to serve that they'll never suspect is more wholesome and nutritional!
Just look for the iconic, bright yellow box in the frozen food section of your local Walmart and serve it on your next kids summer water playdate.
5. Towels.
Not everyone remembers their beach towel, so make sure you have enough for all of your guests.
Kids summer water playdate must haves are really just that simple! There's no reason to overthink or complicate one of the easiest, most fun, and likely memorable playdates your kids will have!
Do you have any other kids summer water playdate must haves I should add to this list?!
More parenting posts: