After traveling across the country and back again, when we settled in Colorado for a second time we had to start our outdoor decorating from scratch. We had only ever lived in apartments and a townhouse prior to that, so we never really had the need for patio furniture or any of the things that you need outside for entertaining or even just aesthetics.
When we moved into our house in Colorado, we had a small front porch that while not entirely useable, could still accommodate something on it. Anything that would say, "People live here. Why don't you pull up a chair and we can chat for a while?"
Surprisingly, we lived in that house for nearly two years and never made friends with the neighbors. We tried chatting with the people next door, but, living near an Air Force base, there was a high turnover rate and people never really took the time to get to know each other. Sure there was the polite wave at times when you passed, but embarrassingly enough we never even knew our neighbors' names.
Fast forward to moving to Texas. Southern hospitality must have taken hold because just days after moving in we became instant friends with our neighbor across the street. Seven years later, we are still friends.
In the time that we've been in Austin, we moved again just last year. The same neighborhood, but from the front side of one entrance to the farthest side of the other entrance. It has really made a difference in the amount of entertaining we do and getting to know our neighbors. Over the course of the year we've become good friends with the neighbors on either side of us and just last night had one set of neighbors over for dinner.
After all of that time not knowing my neighbors and then only knowing one, knowing lots of neighbors is definitely not something that should be overrated. Living in the same neighborhood means lots of impromptu get-togethers. Neighbors could be driving by, going outside to water their grass, or maybe taking an evening run, and if they come across you, they're going to want to stop and chat.
People often think about entertaining on their back patio or deck, but they neglect to think about the front of their house. As homeowners, you might not spend much time sitting out there and enjoying the view of the street, but when you have neighbors stop by on a whim, having a place to sit down and catch up is so great to have.
Now that we have more friends and are entertaining our friends, family, and neighbors on a more consistent basis, I decided we were overdue for a front porch overhaul. That boring aluminum patio set I bought on sale and shoved into my Civic 10 years ago has had new life breathed into with just a can of spray paint and some updated accessories.
How to Spray-Paint Metal Patio Furniture
Using painter's tape, tape off the areas you don't want to spray-paint and protect those areas with newspaper. This method will work on glass and fabric. Make sure you overlap your pieces of newspaper and seal the seams with the painter's tape so the spray paint doesn't seep through.
2. Using an electric sander or sand paper, sand off any rust spots and create a smooth surface for the spray paint to adhere to.
3. Clean and dry your patio furniture. You don't need any fancy cleaners; soap and water did the trick for me. Then rub with mineral spirits to remove any oils or contaminants before you start painting.
4. If you've ever spray-painted anything before, you know one of the challenges to getting the job done easily and efficiently is having to rotate the item to get full coverage and allowing enough time to dry before rotating. Tip: Tie a rope to a tree and hoist your patio furniture into the air so you can fully cover each piece of furniture.
5. You're finally ready to get started painting! Since I wanted to go from rusted to restored, I chose KRYLON® COVERMAXX®
 in a black satin finish. This product pulls triple duty with paint + primer + rust protection, dries in less than 10 minutes, and is perfect for spray-painting metal patio furniture.
6. Not all spray paints are created equally and not all have the same instructions for proper application and use. While the KRYLON® COVERMAXX®
 dries in less than 10 minutes, it can take up to an hour before the products are ready to handle. We left each piece in the tree to dry before pulling it down.
7. Start enjoying your newly revived spray-painted patio furniture! In our case, it means lots of entertaining with friends.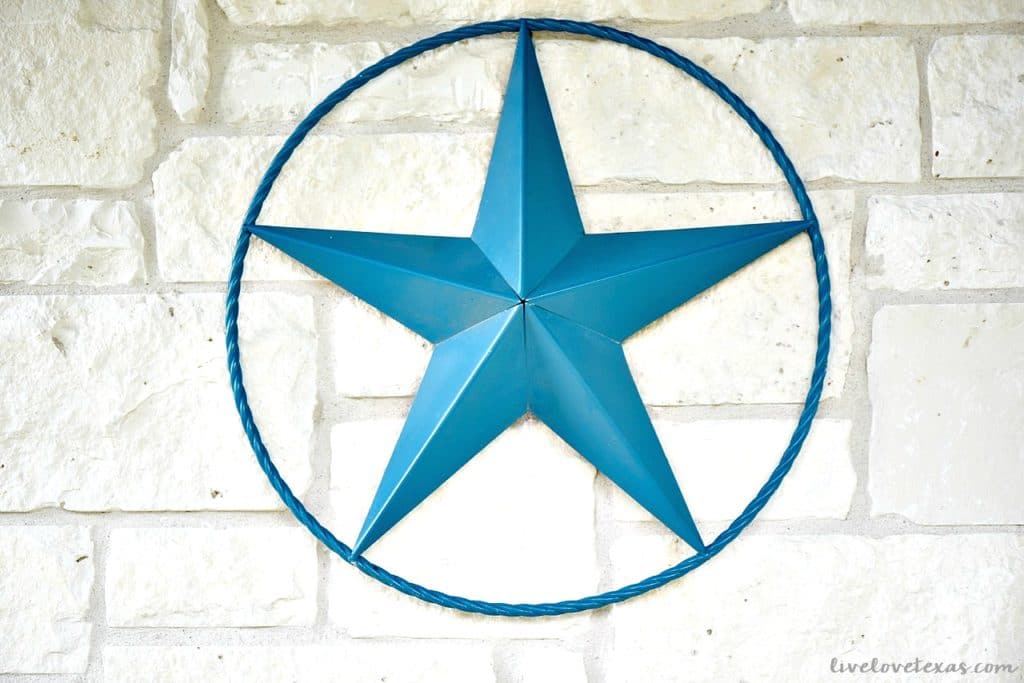 Every home in Texas needs a Texas star. I picked this one up at our local grocery store, but the bronze color didn't really go with our house so I used  KRYLON® ColorMaster™ Paint + Primer in Bahama Sea with the KRYLON® Clear Sealer to breathe new life into it and really pull the look of my porch together!
Have you ever felt the urge to spray-paint patio furniture? How did it turn out? Let's continue the conversation on Facebook…