This Summer Survival Kit Ideas post has been compensated by Collective Bias, Inc. and its advertiser. All opinions are mine alone. #RaceDayRelief #CollectiveBias
Y'all know I met my The Water Man at a race track. What you may not know is that many moons ago we worked on the crew of a race team. For a few years we traveled across the county stock car racing! It is still one of the best times in my life. I spent many long days in the pits and infields of tracks across the south. It was fun, we were like family and I miss it dearly.
One thing about racing I do not miss is the heat!! There is absolutely no hotter place on earth than under the blazing sun of an asphalt track on race day. But those years of being stuck at a track all day in the heat taught me everything I need to know about surviving a Texas summer. Come summer time I am prepared with everything I need to enjoy all of our summer fun!
We don't get out to the track much anymore. These days we mostly cheer on our favorite drivers, like  #95 Ty Dillon, from home! But I used my experience racing to create the perfect summer survival kit and you can too. These summer essentials will keep you comfortable in the summer heat no matter what you're doing. As always, this kit is super duper easy to put together and here's what mine includes.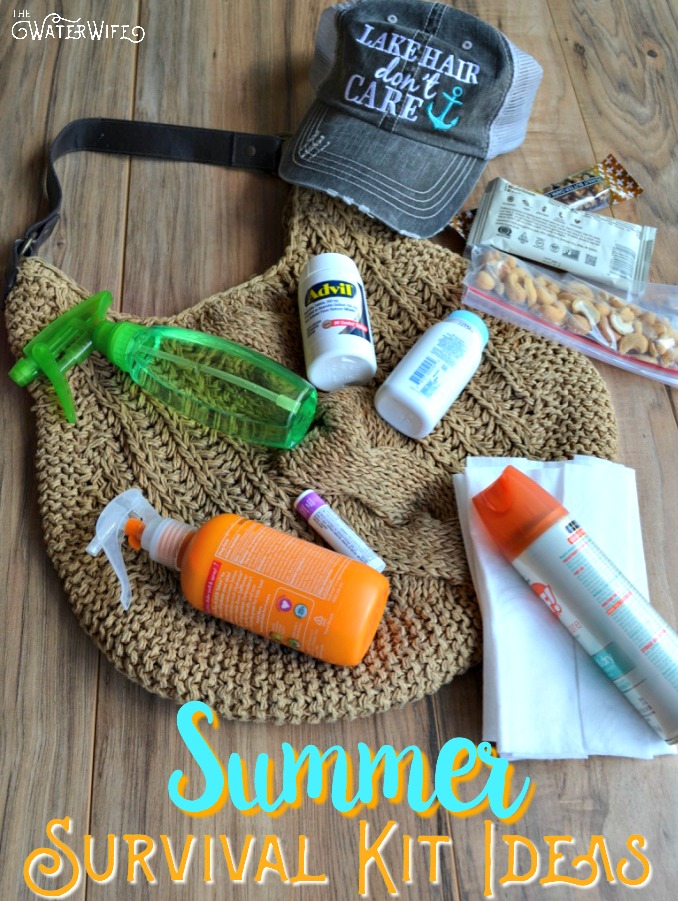 Awesome Hat
Sunscreen
SPF Chapstick
Spray Bottle
Snacks
Bug Spray/Fabric Softener Sheets
Baby Powder
Advil Film-Coated
Here's the thing, sun protection and staying cool all summer is a top priority so I make sure I have all my bases covered. Pack your sunscreen and don't forget your lip protection! I gave up trying to fix my hair for outdoor fun years ago. I prefer a cute hat over frizzy hair. A hat provides shade for your face and I put my hair up in a ponytail to stay cool. Grab a small travel spray bottle and fill it with water, it is the perfect way to cool down. The mist is refreshing and can keep you and your littles from over heating.
Snacks are essential to keep my energy up so I always carry protein bars and almonds or cashews. Nuts are the perfect snack because they travel well and don't take up much space. Speaking of essentials, we're in Texas so the mosquitos are the size of small animals. You must have repellent handy! You can use bug spray but I always have fabric softener sheets too. I hate to add bug spray to my already sticky skin so I put the fabric softener sheets in my pockets and keep the bugs at bay!
After I get past the sun and bug protection, I want to be as comfortable as possible so I always have baby powder and Advil Film-Coated. I know baby powder sounds weird but it is a thigh saver! Rub in a little sprinkle of powder between your thighs and prevent heat rash and chafing all day! You're welcome.
And finally I always have Advil Film-Coated in my summer survival kit because I could not survive without it! I get mine at Walmart and I love the Advil Film-Coated because it works super FAST. I don't have time for headaches, muscle aches or cramps when I'm out and about this summer, so I love that the rapid release formula works quickly, literally within minutes. Use this coupon for $3 off and follow along on Facebook for more savings!
I miss our racing days but every now and then we still get out to see the races and it's still just as hot as it's always been. But a race track isn't the only place I need my summer survival kit, I want to be as comfortable as possible all summer long. I carry my essentials with me to concerts, play dates, tee ball games and more. Create your own survival kit and enjoy your summer too!
Find more tips and tricks over on The Water Wife and follow along with all our summer adventures!