The Easy Crostini recipe made with goat cheese, prosciutto, and peaches is sponsored on behalf of Maison Louis Jadot Wines via One2One Network. All opinions are my own.
All of those memes you've seen circulating around the interwebs about moms needs coffee and wine to operate, they're funny but so very true. And with the kids home for summer and all semblance of the schedule you live by 3/4 of the year gone, it's even more accurate.
Most of the year, I identify as a red wine drinker. Pinot Noir, Cab, Merlot…I love them all. It's not chilled and there's something about the flavor and temperature that's relaxing and zen.
Yet in summer when the temps and humidity rise, a chilled varietal becomes my flavor of choice. I've never been a fan of sweet wines. In fact, even as a newly legal wine drinker I teased my mom so much about her love of White Zinfandel and it being the Kool-Aid of wines that she made the transition to Rieslings so it was a little more acceptable. But not much.
When I think of summer, I think of dry, white wines. Over the years, I've grown to appreciate most of the popular varietals like Pinot Grigio and Sauvignon Blanc but I usually gravitate back to my first love…Chardonnay.
I've dabbled across the board with different brands, but I always return to my favorite…Maison Louis Jadot. I don't consider myself a wine snob or someone with a particularly large budget, but the Mâcon-Villages Chardonnay provides a really great bang for my buck. Jadot is the number one brand of French wine in the U.S. and with good reason. It's fresh, flavorful, and so refreshing for summer.
Most of the time, I either enjoy a glass on its own or with a meal but this past weekend I decided to shake things up from the norm and do a tapas style lunch for my husband and our guests.
An easy crostini is my go-to appetizer for something that's delicious and very versatile. They're perfect because you can easily mix and match toppings to pair with a variety of wines and to satisfy an array of palettes.
The easy crostini recipe in this post features goat cheese (aka chèvre), prosciutto, fresh peaches, a balsamic vinegar reduction, and cracked black pepper. The balsamic vinegar reduction really ties all of the flavors together, so I'd urge you not to skip this step.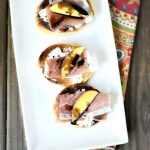 Easy Crostini
Instructions
Turn on broiler, meanwhile arrange baguette slices on baking sheet and lightly coat with olive oil.

Lightly toast baguette slices under a broiled for 3 minutes.

Meanwhile, boil balsamic vinegar over high heat and then reduce to low. Allow to simmer, stirring constantly until mixture has thickened some but isn't burnt. Remove from heat.

Assemble baguette by spreading a layer of goat cheese, topping with a piece of prosciutto, and a peach slice.

Before serving, lightly drizzle balsamic reduction and top with cracked black pepper.
Nutrition Facts
Easy Crostini
Amount Per Serving
Calories 186
Calories from Fat 63
% Daily Value*
Fat 7g11%
Cholesterol 11mg4%
Sodium 302mg13%
Potassium 171mg5%
Carbohydrates 22g7%
Protein 6g12%
Vitamin A 295IU6%
Vitamin C 3.7mg4%
Calcium 45mg5%
Iron 1.4mg8%
* Percent Daily Values are based on a 2000 calorie diet.
And don't forget the Jadot! This versatile wine is the perfect pairing for all of your summer get togethers. To find Jadot at a store near you, you can use this product locator.
Do you have an easy crostini recipe? Let's continue the conversation on Facebook – I'm always looking for easy appetizer recipes!