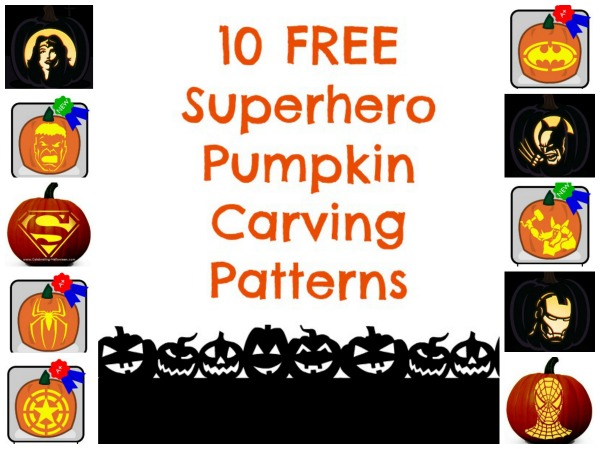 My husband has passed on his love of comic books and superheroes to Cakes.  It doesn't matter if it's DC or Marvel, they're devoted fans of both universes.  So this year instead of doing a hodgepodge of pumpkin carvings, we're doing a superhero theme.  But we won't be using store bought patterns, because I found
10 free superhero pumpkin carving patterns
online that can be printed!
And because it's still so warm here in Austin and pumpkins don't last long in the heat, we may end up getting to almost all of these!


Wonder Woman Pumpkin Carving Pattern
Superman Pumpkin Carving Pattern 
Spidey Symbol Pumpkin Carving Pattern 
Captain America Pumpkin Carving Pattern 
Batman Pumpkin Carving Pattern 
Wolverine Pumpkin Carving Pattern 
Iron Man Pumpkin Carving Pattern
SpidermanPumpkin Carving Pattern 
Looking for the best tools for these superhero pumpkin carving patterns?  Well, look no further.
Everyone usually ends up buying this cheap pumpkin carving kit because it's everywhere…and it's cheap.  I know we've bought this one many a time. The problem is, depending on in intricate your design and/or how much pressure you apply, the tools will fall apart.
Two years ago, we decided to invest in an upgraded pumpkin carving kit and have been nothing but satisfied.  It's effective, efficient, and best of all it's still going strong as we enter our third Halloween!
If you're looking for something a little more feminine for your carvings or have one that's a girlie girl, check out these 9 Free Princess Pumpkin Carving Patterns.
Don't forget to pin these 10 Free Superhero Pumpkin Stencils so you'll be able to find them easily next Halloween!