These 29 Free Pokemon Pumpkin Stencils are perfect for the Pokemon fan in your life! Use these free pumpkin carving patterns to create jack-o-lanterns with your favorite characters for Halloween!
I don't know about your kids, but mine are obsessed with all things Pokemon! Brady has gotten Pokemon books for her birthday and Christmas the last couple of years and she can't put them down.
Then came the Pokemon cards…so many cards. And when she found out about the Pokemon video series (free with your Amazon Prime membership), her obsession only grew.
But when the Pokemon Go app came out and she got the Pokemon Nintendo games and Pikachu hoodie, she became a total fangirl showing her love of Pokemon at all times!
Pumpkin Carving Supplies
Before you print out your stencils, you're going to need a few items. By buying these items ahead of time, you'll be ready to set out your jack-o-lanterns as soon as you're done carving them!
29 Free Pokemon Pumpkin Stencils
Pikachu Pumpkin Templates
Pikachu is the most notorious of the Pokemon characters, so of course, there are 6 Pikachu pumpkin stencils. Pikachu is an electric type Pokemon. (Learn more about Pokemon types below.)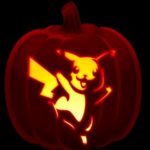 Print Pikachu here.
More Pikachu pumpkin stencils:
Gastly Pumpkin Stencil
A ghost/poison Pokemon type, Gastly has no true form because its made of 95% poison gas.
Haunter Pumpkin Stencils
Gastly turns into a Haunter starting at level 25 of Pokemon.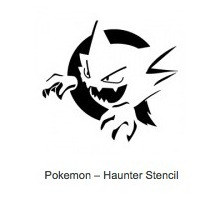 Gengar Pumpkin Stencil
And Ghastly turns into Gengar when traded. With red eyes and spikes, you can be sure your Gengar pumpkin will look especially spooky for Halloween!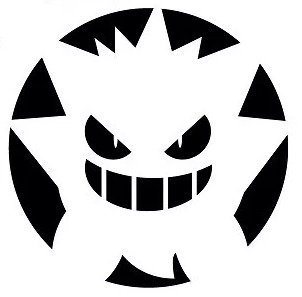 Meowth Pumpkin Stencil
Meowth is one of the normal type Pokemon and looks like a cat. This Pokemon character is attracted to shiny objects and is one of my girls' favorites!
Eevee Pumpkin Template
Eevee is a normal Pokemon type that is constantly evolving.
Jigglypuff Pumpkin Template
Jigglypuff is a combination type belonging to both normal and fairy Pokemon types.
Charizard Pumpkin Stencil
Charizard is another dual type Pokemon character and is a part of the fire and flying types.
Zubat Pumpkin Stencil
Zubat is also a dual type Pokemon and is both flying and poisonous.
Pokemon Go Pumpkin Templates
In case you need an explanation of this one, Pokemon Go is a mobile app that allows the real world to cross with the Pokemon world in an augmented reality. No one will have to question what this Pokemon pumpkin stencil is!

Print Pokemon Go Pokeball here.
Find Pokemon Go Team pumpkin stencils here:
Pokemon Type Pumpkin Templates
Pokemon characters are divided into types based on their moves. There are 18 different types but only 11 symbols have free pumpkin patterns.
Print Pokemon Dragon Type Symbol here.
Print Pokemon Electric Type Symbol here.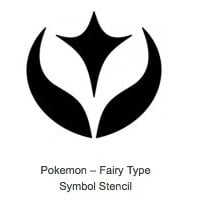 Printable Pokemon Fairy Type Symbol here.
Print Pokemon Fighting Type Symbol here.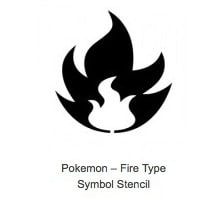 Print Pokemon Fire Type Symbol here.
Print Pokemon Grass Type Symbol here.
Find more Pokemon pumpkin type stencils here:
Other pumpkin carving patterns
Which of these Pokemon pumpkin stencils is your favorite?
Pin these 29 free pumpkin carving stencils for later!