Looking for a fun getaway close to Austin? Here's everything you need to know about visiting Bastrop TX to make the most of your trip! Our trip to Bastrop TX was in partnership with Visit Bastrop.

Everything You Need to Know About Bastrop TX
We've always wanted to RV. Some of our best friends in Texas and best friends online both RV with their families. But we weren't sure it was for us.
We actually limped into things because we were so unsure. We ended up buying the best quality, lightest weight travel trailer with bunkhouse we could afford to test the waters out.
I even canceled our trip to Europe where the other 3/4 of the family has never been, to live the RV life this summer.
Guess what?! We're loving every minute of it!
Since April, we've hauled our RV to a different location almost every weekend. It's now the second weekend of July and we've now stayed in 9 different locations for up to 10 days in a stretch. But not just us – all three dogs are along for the ride.
In that time we've gone to a lot of different places. As far away as St. Louis and less than 5 miles from home.
The places we've camped in our RV have run the gamut from friends driveways to luxury resorts. And do you want to know the girl's favorite spot thus far?
Bastrop.
Where is Bastrop Texas?
Bastrop Texas is conveniently located just 33 miles southeast of downtown Austin.
How far is Bastrop from Austin?
Depending on what part of the city you're coming from the drive from Bastrop to Austin is a quick 30-60 minutes.
Why was Bastrop their favorite? So many reasons, so I'll cover where we stayed, places to eat in Bastrop TX, and things to do.
Where to stay in Bastrop TX
This summer we're staying in our travel trailer almost exclusively, so for our trip to Bastrop, we decided on Bastrop State Park.
Bastrop State Park
Bastrop State Park is the only state park that we've camped at (so far). But it's hands down the girl's favorite spot we've been.
We were conveniently located in the Piney Hill Camping Area. These spots had some shade and were conveniently located near the front of the park. This made getting around super easy.
Spot number 3 had afternoon sun with some shade, views of the pines, and an outdoor picnic table and firepit. These spots are near the restrooms/shower facilities, pool/playscape, and hiking trails.
Next time, we're going to try staying at Copperas Creek Camping Area which was nestled under tall, pine trees. It was also just a short drive to the scenic overlook with panoramic views of the surrounding area.
Do you see the dead trees in the background? The Bastrop fire happened in 2011 and was the most destructive fire in Texas history. It destroyed over 34,000 acres including parts of Bastrop State Park and the Lost Pines Forest. We live in Northwest Austin and could see the smoke from our house 50 miles away.
Other Places to Stay in Bastrop TX
We've also heard great things about the Lake Bastrop camping spots. If you don't have your own RV, there were some cute Airstreams available for rental.
If Bastrop camping isn't your thing, there are a ton of other options in the area. In the future, we'd love to come back and visit Bastrop again and stay at Hyatt Regency Lost Pines Resort and Spa. Obviously it would be a totally different experience, but equally as fun. It just goes to show that no matter how you travel, Bastrop has something for everyone!
And, of course, traditional hotels are also available.
Restaurants in Bastrop TX
Whenever I visit a new city, I like to check out the ratings before visiting. All of these Bastrop restaurants were rated highly on Yelp and/or were voted as the Best of Bastrop County.
Breakfast
Maxine's Bastrop. 905 Main St, Bastrop, TX 78602
We visited Maxine's Saturday and Sunday morning. It was just that good. My husband and I try to follow a Keto diet and Maxine's had plenty of options for our breakfast and carby options for the girls to eat too.
My pick: build your own omelet…it's HUGE and will leave you ready for wherever the day takes you. You can also get Southern favorites, Keto cheesecake, and gourmet coffee.
The Coffee Dog. 49 TX-150 Loop, Bastrop, TX 78602
If a light, faster breakfast is more your thing you'll love The Coffee Dog. The coffee was amazing and the cinnamon rolls were enormous and had tons of icing.
Lunch/Dinner
Roadhouse Bastrop. 2804 TX-21, Bastrop, TX 78602
Roadhouse is located directly outside Bastrop State Park. Serving up burgers and Southern favorites, the food was exactly what we needed after a long hike.
My pick: the Jalapeno Cream Cheese Burger which was voted one of the 50 Greatest Hamburgers in Texas by Texas Monthly.
Neighbor's Kitchen & Yard. 601 Chestnut St, Bastrop, TX 78602
Neighbor's Bastrop is a family-friendly restaurant right on the Colorado River. It has amazing patios and sunset views. The menu includes a little bit of everything but they're known for their pizza.
Piney Creek Chop House. 703 Chestnut St, Bastrop, TX 78602
Our anniversary dinner on one of our trips in May didn't go quite as planned. So we decided Piney Creek Chop House would be a great location for a belated celebration. The entire family loved the tender and flavorful steak, asparagus, and we even took a pause from our Keto diets to indulge in the crab mac and cheese! If you're looking for a place to celebrate or just enjoy a great steak dinner, this place is for you.
Dessert
Sugar Shack. 114 TX-150 Loop, Bastrop, TX 78602
The Sugar Shack Bastrop is the cutest little candy, ice cream, and gift shop. If you've ever been to Galveston, imagine La King's on a smaller scale. It has so many quirky trinkets and delicious treats.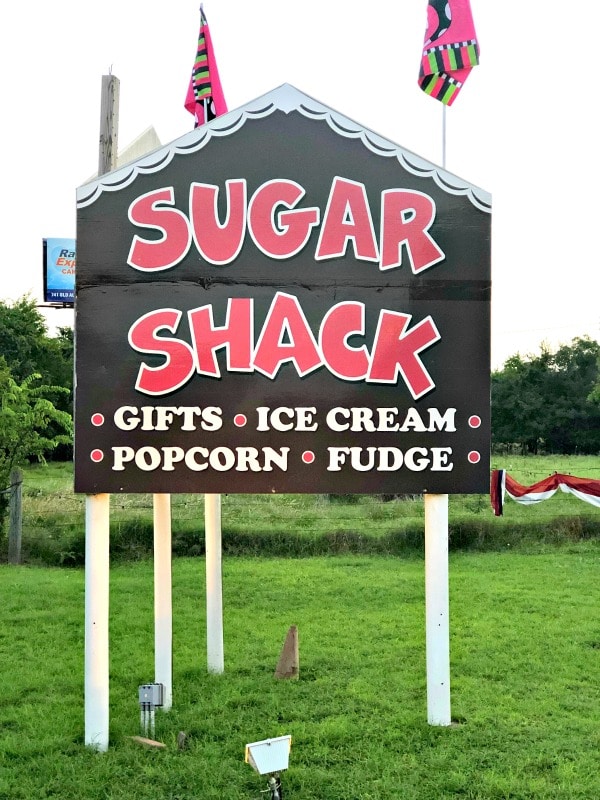 The girls were in heaven! We got ice cream there and fudge to go.
They even had Keto candies for my husband and I! Chocolate covered haystacks (coconut) were such an unexpected treat!
Things to do in Bastrop TX
If you're ready to get outside and enjoy nature, there's so much to do in Bastrop!
Bastrop State Park. 100 Park Road 1A, Bastrop, TX 78602
Even if you don't camp in Bastrop State Park, you can still access the park and all that it has to offer. There's a small fee to enter the park for adults ($5) but kids 12 and under are free.
Plus, you get two state parks for the price of one! Bastrop and Buescher State Parks are connected by an internal road so you can get the best of both whether you're biking or driving.
There are over 7 miles of trails in Bastrop State Park to hike. Grab a map of the trails when you arrive so you can easily check the difficulty level and length for your group.
We did the yellow/black/red loop and it took us about an hour. And make sure you bring lots of water if you take a mid-morning hike.
If fishing is more your thing, Lake Mina is located at the front of Bastrop State Park and is stocked. You can borrow fishing gear from the office for free, although you'll need to provide your own bait. And fishing in state parks is free so no fishing license required!
There is a pool inside the park operated by the YMCA. If you purchase a day pass to the park, you'll receive the entry for $3 per person, otherwise, it's $5. The pool does have lifeguards on duty.
Picnic tables and a playscape are located right next to the pool. So you can easily make a whole day of your adventure!
Bastrop State Park Kids Programs
There are tons of fun things for kids to do. The weekend we were there, the park was having a scavenger park with prizes for taking selfies with a list of items around the park. This extra element of fun, challenged us to go see areas of the park that we might have otherwise missed.
Bastrop State Park also offers a Junior Ranger program. By completing an activity book full of exercises, each child will receive a Junior Ranger pin.
There are also Junior Ranger Explorer backpacks that you can check out with things to make exploring the park more fun for kids. Our kids really enjoyed the backpacks which included: binoculars, a magnifying glass, animal tracking key, guides to birds, butterflies, wildflowers, snakes, and plants; as well as the journal and sketchbooks.
There was so much to do and so little time on this trip. Our girls didn't get their Junior Explorer pins this time around but are hopeful for next time.
Hero Water Sports. 603 FM1441, Bastrop TX 78602
Earlier this summer we went on an inflatable obstacle course and the girls were obsessed. I knew when looking at all the things to do in Bastrop, that another inflatable obstacle course would be a hit.
My kids are always saying they can never predict what I'll do next. I'm full of surprises. And I love surprising my kids.
The surprise of Hero Water Sports on Lake Bastrop did not disappoint. We were so grateful for the half-price discount for veterans and first responders. We later learned from the owner that they host a lot of team building activities on the course including their Hero Challenge Course.
Kids All Day Pass: $15. Adults All Day Pass: $20. Hero Pass (Veterans, First Responders, and their immediate families): $10.
We had a reservation for 2, but they ask you to arrive 15 minutes early. During that time you'll sign waivers, go over the rules, and get fitted for life vests.
Our hour went by so fast and was a lot of fun, but also tiring. To clarify how the all-day reservations work is you can go out on the course for an hour go back in, rest and rehydrate, for an hour, then head back out again the following hour.
Since we had already gone hiking that morning, we were exhausted after our hour so didn't head back out after that first hour. Next time, we'll make earlier reservations on the course, so we're able to pace ourselves and get more time on the obstacle course.
What are you most looking forward to doing in Bastrop TX?! Learn more at VisitBastrop.com.
More Texas family travel destinations: