It's the start of a whole new school year. Your child's school has posted a list of the back to school products they feel will help your child while at school, but what do you do when your child comes home?
School's never tell you that, but I'm going to let you in on the best back to school products you need at home. From electronics and toiletries to school supplies and snacks, these are the best back to school products we've found this year that aren't on the list the school sent home.
Best Back to School Products You Need at Home
1. Wemo Mini Wi-Fi Smart Plug. Every good day at school at school starts with good sleep the night before. That's where this product comes in! You just plug it into the wall, download the free app, connect Wemo to your Wi-Fi and you're all set to remotely control your lights from anywhere in the world (or just the other side of the house). With this smart technology, kids will know when mom and dad say, "Lights out", the lights will be turning off. You can also set schedules and timers with the Wemo so if you're kids aren't morning people (like mine), you can also set a schedule so that the lights turn on when it's time to wakeup to ease your children into the new day. From now through 9/30/17, you can save 20% on the purchase of a Wemo Mini here using code: WEMOlivelovetexas
2. Zoono GermFree 24 Hand Sanitizer. I've been tossing antibacterial hand sanitizer in Brady's backpack since she started kindergarten. There's something about the small bottle or maybe the fun scents, that encourages her to be mindful of what she's touching and to reapply often with all of the germs at school. But we all know how messy the liquid versions can be, so I'm loving these foam and spray options from Zoono which don't rub off and stay active on the skin's surface through hand washing and sweating!
3. Snip-its. These professional kids hair products are designed with kids in mind. Your kids will love getting ready for school using the Snip-its Tangy Apple 3-in-1 Conditioning Shampoo, Morning Miracle Mousse Styling Spray, and Silly Slicker Ultimate Sculpting Gel because they have fun flavors and you'll love the plant-derived irritant and allergen-free ingredients which are gentle on even the most sensitive child's skin, hair, scalp, and eyes! Snip-its products are available at salons nationwide, find your local Snip-its salon by visiting www.snipits.com If your kids are tender headed, while you're at the salon, consider getting them a shorter cut to help make mornings go a little smoother.
4. OOLY. Homework instantly is made more fun with these cute school supplies,from the Mighty Zipper Pouch to keep all of your supplies in like Jumbo Brights Neon Colored Pencils, Yummy Yummy scented gel pens, and erasers to the 2-in-1 flip side notebook. Having fun school supplies set aside specifically for homework can make this after school experience much more bearable for kids and parents. Right now through 9/7/17 you can save 15% off orders of $35 or more plus free shipping in the Continental U.S. and a free OOLY eraser at check out with code ready and by shopping here.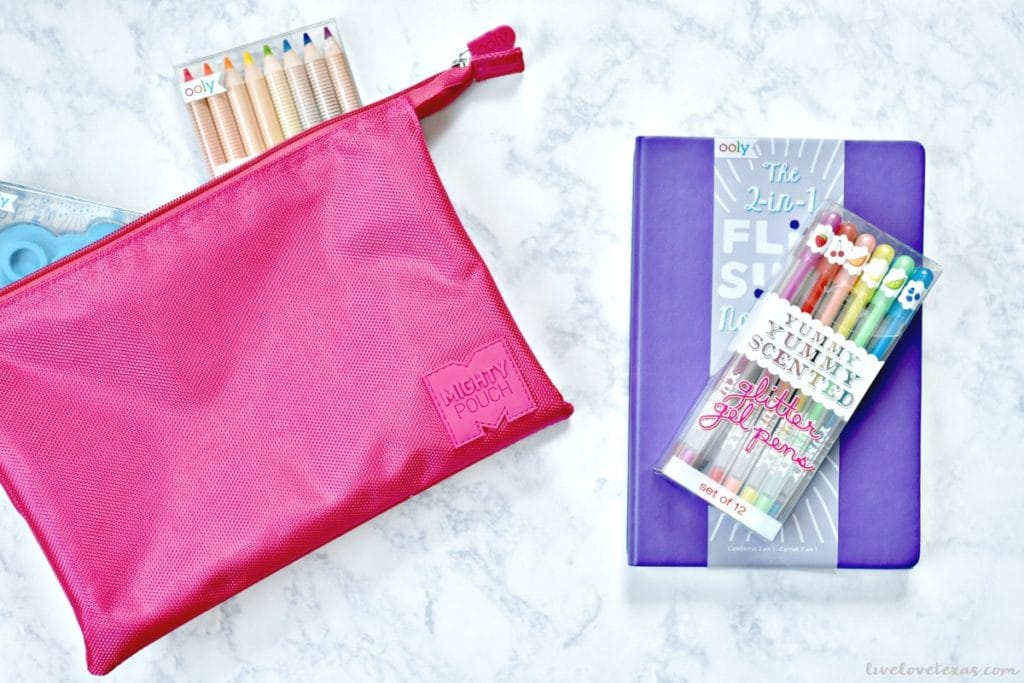 5. Duck Tape®. Duck tape isn't just for around the house, get inspired for your back to school projects with the new section on the brand's website dedicated to videos, articles, projects, and ideas on creative ways to use the products! I have the Teal Duck Tape and can't wait to get started on a new project inspired by the Duck Tape® Makers projects here.
6. Pure Growth Organics. These organic kids snacks are a lunchbox solution with convenient packages of animal crackers and cripsy rice squares you can toss into your child's lunch and ensure they're getting a little something wholesome during the day. Save 20% on Pure Growth Organics by using code 2020BABBLE and shopping here.
What do you think? Do you have any other must have back to school products you need at home? Let's continue the conversation on Facebook!