Parenting a child with food allergies can be rough. Especially around the holidays where there are lots of people wanting to give sweets and treats to your little one that they may not be able to have.
Have you heard of the blue pumpkin or teal pumpkin project? The pumpkin coloring meaning for blue/teal pumpkins mean that you offer non-food or toys instead of candy for kids with allergies.
If you still want to give out Halloween candy, you can just be sure to consult the allergens list on the back of each package. To help you find the best allergy free Halloween candy and let others know how easy it is to find and offer this candy at Halloween. So I've created this handy list with 50 different Halloween candies for kids with nut allergies.
Can you have a chocolate allergy?
You can have a chocolate allergy but they are extremely rare and not one of the most common allergens.
What is on the tree nuts list?
Almonds
Brazil nuts
Cashews
Chestnuts
Filberts
Hazelnuts
Hickory nuts
Macadamia nuts
Pecans
Pine nuts
Pistachios
Walnuts
Questionable: Coconut
Best Allergy Free Halloween Candy
While my kids, fortunately, don't have allergies, with both of them in school now I'm more aware than ever of the food allergies that are all around them on a daily basis. From school supply lists with latex-free pencils to banning foods with nuts listed as an ingredient in the classroom, kids with allergies are everywhere.
My girls' friends have allergies so from birthday celebrations at school to field trips we're always aware that we could be unknowingly making others sick. Halloween prep has already started and the day itself is right around the corner.
Now's the time to start planning so you can have the best Halloween candy for kids with allergies. Aside from dressing up, trick or treating for candy is where it's at and those kids with allergies shouldn't have to miss out because treats for them aren't available.
But don't worry, the best Halloween candy for kids with allergies aren't weird candies that are hard to find and that kids without allergies are going to hate. Not at all.
These are some of your favorite candies you probably don't even realize are allergy friendly and all are teal pumpkin ready. Here are 50 of the best Halloween candy for kids with allergies.
Best Halloween Candy for Kids with Allergies (Nut Free)
These allergy free Halloween candy ideas are organized by candy-type. You'll find fruity candy, crunchy candy, and more! Pin this post so you can reference it for more ideas – some of the candy on this list are pretty different and creative.
Fruity Candy
Some of the candy on this list is made with fruit juice, making them even better for you.
1. Welch's Fruit Snacks
2. Jujyfruits
3. Skittles
4. Starburst
5. Twizzlers
6. Now & Later
7. Mike & Ike's
8. Runts
9. Jolly Ranchers
10. Airheads Taffy
Sour Candy
How about some candy that will have kids puckering up? These are sour and super fun!
11. Sour Patch Kids
12. Warheads
Crunchy Candy
Some of the candy on this list are classic favorites! They are crunchy and yummy.
13. Tootsie Pops
14. Tic Tacs
15. Smarties
16. Life Savers
17. Dum Dums
18. Necco Wafers
19. Nerds
20. Sweetarts
21. Pop Rocks
22. Ring Pops
23. Dots
24. Bottlecaps
25. Everlasting Gobstoppers
26. Fun Dip
27. Blow Pops
28. Sugar Babies
29. Milk Duds
30. Lemonheads
31. Pixie Stix
32. Push Pops
Spicy Candy
These candies pack a powerful spicy punch!
33. Hot Tamales
34. Atomic Fireball
35. Red Hots
Chewy Candy
These candies are chewy, so they are better for older kids.
36. Tootsie Rolls
37. Jelly Belly
38. Hubba Bubba
39. Charleston Chew
40. Laffy Taffy
41. Tear Jerker/Cry Baby sour gum
Chocolate
As long as you get chocolate without nuts, you are able to find allergy free candy. Be careful with lactose-intolerant or gluten-free kids, some of these might not work for them.
42. Junior Mints
43. Rolos
44. Whoppers
45. York Peppermint Patties
46. Hershey Milk Chocolate Kisses
(stay away from the seasonal varieties)
Gummy / Marshmallow Candy
Gummy candies are so fun for kids of all ages!
47. Haribo Gold-bears
48. Gummy Savers
49. Swedish Fish
50. Peeps
To be on the safe side, make sure you double check the labels just to make sure each of these Halloween candies is still nut free.
Obviously, everyone isn't going to make the move to choose some of the best Halloween candy for kids with food allergies, but even if a small population does then more kids can enjoy the fun of Halloween without fear of getting sick. And honestly, it's not a very big sacrifice to make.
Both of my girls have different tastes when it comes to Halloween candy. While there is some overlap there and both are pretty much content to eat anything with sugar,
Brady goes for the chocolate and Colby more of the fruity varieties. This list of the best Halloween candy for kids with allergies still has something for both of them!
What's your favorite off this list of the best Halloween candy for kids with allergies?
Crafts to Make With Halloween Candy
If you're stocking up on tons of Halloween candy anyway, don't let them go to waste. Try these two ideas using Starburst and Skittles!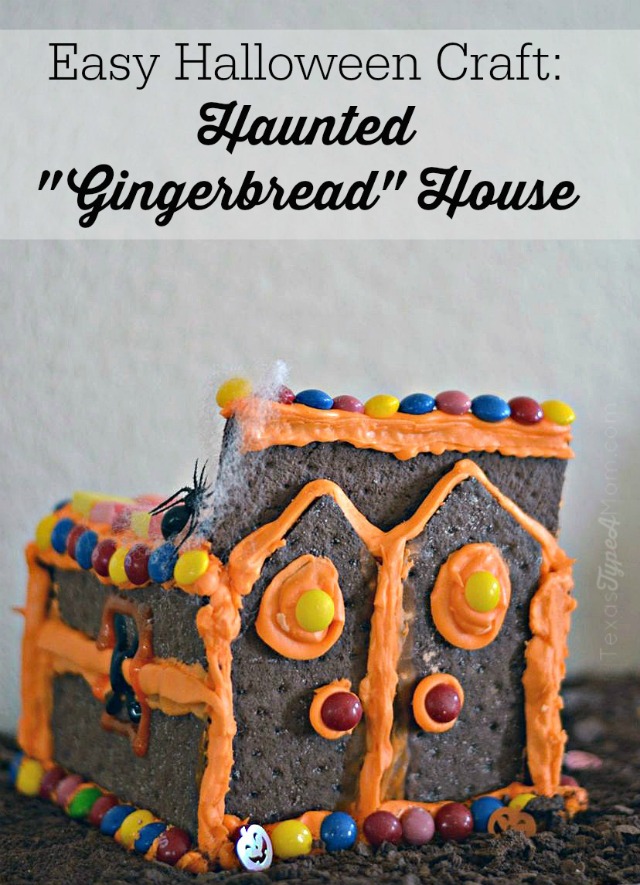 Use some of your allergy-free Halloween candy to make a spooky gingerbread house! These are super fun to make.
What's easier than decorating a jar with and filling it with green candy? This is a wonderful craft for little toddlers – you can even teach them their colors and make jars with different colored candies.
For even more Halloween inspiration, make sure to follow my Halloween board on Pinterest with tons of recipes, decorations, costumes, and other festive ideas for the spookiest day of the year!