So your dishwasher smells bad. Here's how to clean a dishwasher with vinegar and get it smelling fresh again. Because even if you know how to load your dishwasher, opening it up and having clean dishes smell is the worst.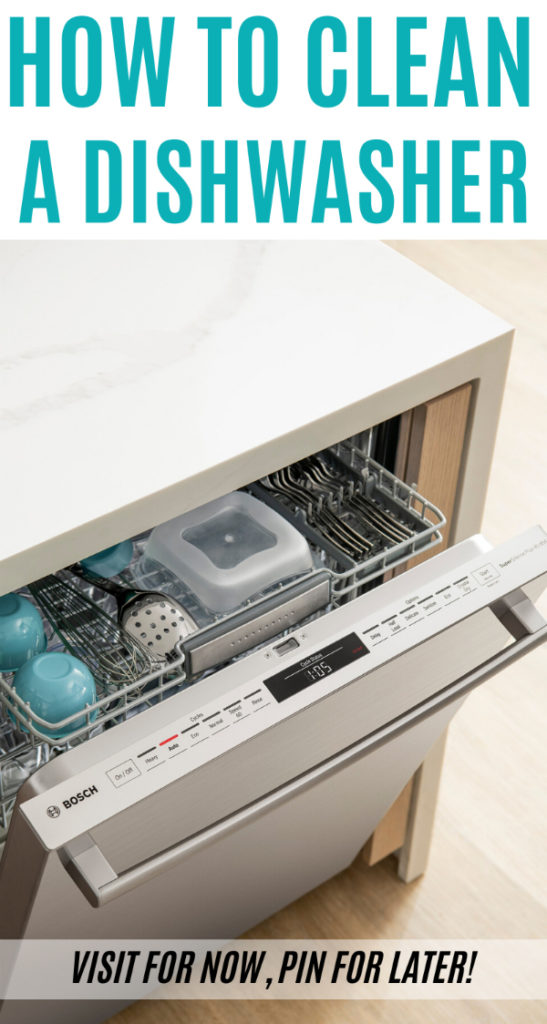 This post on How to Clean a Dishwasher was sponsored by Best Buy.
How to Clean a Dishwasher
Do you remember those dirty/clean dishwasher magnets? I do! But sometimes even when it said things were clean inside, there was a musty odor. Fortunately, I learned long ago, how to get of dishwasher smells. And it's faster and easier than you might think!
So what's the best way to clean a dishwasher? Well, you have a couple of options. You can either clean it with bleach or with vinegar. They're both effective and easy methods. Plus, you likely have these two household staples already on hand.
How to Clean a Dishwasher with Bleach
To clean your dishwasher with bleach, just add 1 cup of bleach to the bottom of your dishwasher. Then run a full cycle (with your dishwasher empty, of course). The bleach should neutralize any odors and also remove mildew or mold that might be growing.
If you have a dishwasher with a stainless steel interior, bleach can damage it. Just use vinegar in your dishwasher instead.
How to Clean a Dishwasher with Vinegar
To clean your dishwasher with vinegar, you need to start with an empty dishwasher. Add 1 cup of white vinegar to a dishwasher-safe container on the top rack. Then run a regular washing cycle without dishwasher detergent and the smells will disappear.
If you have a persistent odor, after the dishwasher runs the vinegar cycle, sprinkle 1 cup of baking soda and run a short cycle. This should remove any lingering odors.
Did you know your dishwasher has a filter that needs to be cleaned too? Bits of food, food particles, and soap scum could be adding to the stinky smell.
To clean your dishwasher filter, remove the bottom rack and twist to remove the filter. Then wash it in the sink with hot water and soap. You can wash the filter before or after using the vinegar.
Dishwashers usually last 10-12 years, so if your dishwasher is smelly, it may need to be replaced. This might save you time and money in the long run.
Newer dishwashers like the BOSCH 800 Series are game-changers in the kitchen. Because every BOSCH dishwasher meets or exceeds federal ENERGY STAR guidelines, this means you get year-round energy savings.
The advanced technology gives you better results with less effort. No more pre-washing your dishes before putting them into the dishwasher. The new BOSCH 800 Series dishwasher delivers a sparkling clean and dry thanks to advanced PrecisionWash technology and patented CrystalDry technology.
With PrecisionWash, intelligent sensors continuously scan and check the progress of dishes throughout each cycle. Plus, powerful spray arms target every item of every load, for the ultimate clean. And the CrystalDry technology transforms moisture into heat (with temperatures up to 176F) for the ultimate dry…even on plastics.
Learn more about the new BOSCH 800 Series from Best Buy here.
Make sure to pin this dishwasher hack so you can find them later!