This 5 Minute DIY Dog Placemat has been compensated by Collective Bias, Inc. and its advertiser. All opinions are mine alone.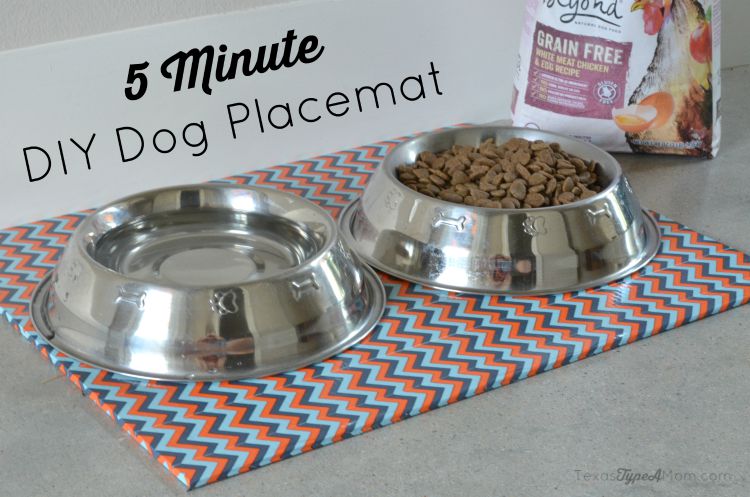 I got married young. Really young. I was only 18 and my husband was 22. It wasn't a shotgun wedding and in fact we waited seven years before having babies. Enough time that a few months before getting pregnant at the mature age of 25, my grandma questioned whether or not we would ever have kids.
But we did have kids. Not the type walking on two legs, but we had been priming ourselves for the real thing for years with furbabies. We doted on our dogs like children, obsessively taking photos of them, throwing them parties on their birthdays, and ensuring they were with us whenever possible. Even starting a job after graduating from college was really hard for me. These were my babies and they needed their mom at home with them!
Now we only have The Dude and with two active girls running around, this lazy, old man doesn't always get the attention he wants or deserves. He went from being the baby to the oldest and his needs often get put to the side to deal with the kids that can vocalize their needs. Well, he can vocalize but he gets overshadowed by those that can vocalize more articulately.
One area that we have had to pay special attention to with Dude is his diet. While in his younger years he could eat whatever he wanted and as much as he wanted, he can't do that anymore. Sound familiar? It's not as much the gaining weight for him but in the last 18 months he's developed not only environmental allergies but food allergies as well.
Dude doesn't just have a food allergy to one or two things. There are five common dog food ingredients that flare his allergies up and cause him quite a bit of discomfort evidenced by obsessive scratch and gnawing his paws. And those five allergens are pretty common ingredients in most dog foods – soy, white potato, sweet potato, venison, and barley.
As I was cutting through the pet section to avoid the main aisle over crowding on one our H-E-B run last week, I spotted Purina® Beyond® Grain Free Dog Food. After thoroughly searching the ingredients of each bag for known allergens, I found a winner with the White Meat Chicken & Egg variety. It not only is grain free and has natural ingredients, but does not contain corn, wheat, soy, or poultry by product meal.
Until finding this food, I had been ordering Dude's food online because everything I found in stores locally was grossly overpriced or out of the way. I'm in H-E-B at least twice a week and the price of this food is super reasonable so it was definitely worth picking up a bag. After a year of eating the same flavor dog food, I knew Dude would appreciate this treat and break from the norm.
As expected, Dude loved the
Purina
®
Beyond
® Grain Free Dog Food! It's so easy to connect with your pet by just giving them their most basic needs but as I was cleaning up the scattered pieces of kibble from his new food, I realized I could give him a little more pampering by making life easier on myself too.
A dog placemat seemed like the perfect solution of creating a special little feeding area just for Dude, while containing the mess and stray pieces of food floating around the kitchen. This
easy 5 Minute DIY Dog Placemat
is just another way to show them how much you love them!
Tools
– (1) piece foam board
-duct tape
-scissors
Start with a piece of foam board large enough to fit your dog's food and water bowls. You could also use cardboard for this, but after scouting the boxes we had on hand none of them ended up being the right size for this project.
Had I have used a solid color, this likely would have been a 2 minute dog placemat tutorial but since I used a pattern I spent extra time matching up the chevron pattern. Let me tell you after using a patterned shelf liner in my pattern, it's worth the extra time to match up the pattern from the get go.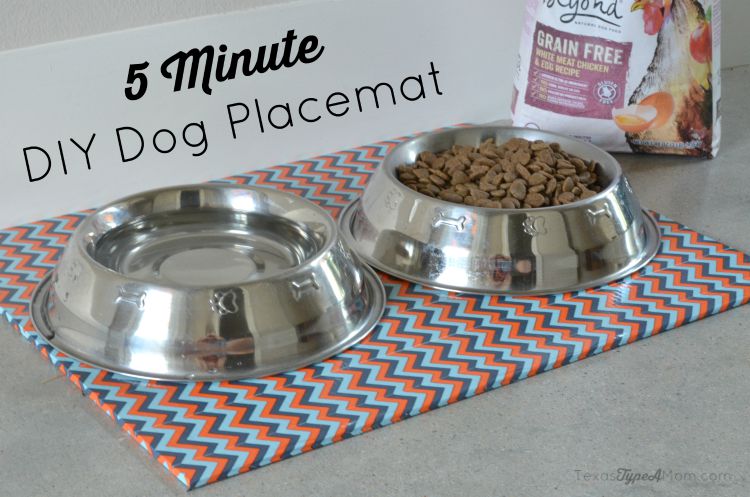 Continue adding pieces of duct tape to the foam board by matching up the pattern until the entire piece is covered. Once you get to the bottom, ensure that your last piece overlaps a little so you can cover the bottom edge and you're all done!