Here are 7 Pieces to Add to Your Fall Wardrobe to be ready for the changing seasons! These are all classic pieces that you'll be able to wear from year to year but will breathe new life into your closet.
This post is sponsored by Sivan Social. All comments and opinions are my own.
I live a very casual lifestyle. I work from home and our social circle rarely includes a reason to dress too much on the regular. The one time of year I actually do really dress up is at a conference to walk the red carpet and go to the awards ceremony.
So when I update my closet for fall, it's all easy to grab, mix and match items. I like classic items that will last multiple seasons and can be dressed up or down for my lifestyle. It also doesn't get too cold in Austin so a few key pieces can breathe new life into my wardrobe and keep me warm.
One of my favorite, go to brands for classic, high-quality styles is Banana Republic. And right now is the best time of year to stock up!
From 9/17/20 – 9/22/20 you can get 50% Off All Orders During the Friends & Family Event at Banana Republic! Just use code: BRFAMILY and save right now! 
7 Pieces to Add to Your Fall Wardrobe
A duster cardigan is an easy way to add a little warmth to a dress or pair with a long sleeve shirt and jeans for a more casual look.
A great floral dress that can be worn with sandals or boots and can be worn year-round like this Floral Swing Dress.
Having a long sleeve top in a popular, seasonal pattern is add a little life and interest to classic closet staples to the next level like with this Slub Cotton-Modal Long-Sleeve T-Shirt in the cheetah or leopard print. You can wear it with a duster sweater on top or under a t-shirt.
I love adding a bright pop of color with a sweater to my fall/winter looks. Opting for a shade of red versus orange means the piece can transition beautifully between the two seasons. My picks are between the Relaxed Chunky Turtleneck Sweater in Chili Pepper Red and the Boat-Neck Sweater Top in Cherry Red.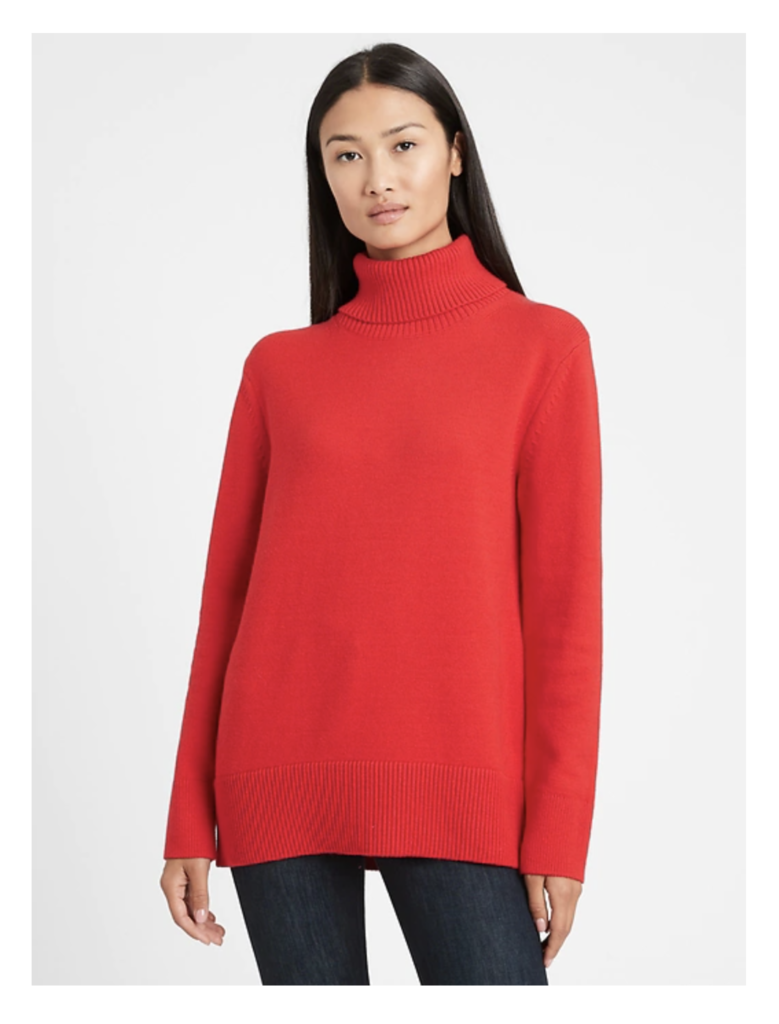 I like to have a great, new pair of jeans that I can wear with flats or sneakers like these Curvy Mid-Rise Skinny Jeans with Back-Seam in a lighter wash.
And another pair of jeans in a dark wash like these Curvy High-Rise Flare Jeans to wear with boots or heels.
The one accessory that we'll all have on this fall are masks. Update your masks for the season and give yourself a little variety and a way to express yourself with this Face Mask 3-Pack in Animal Prints.
More articles you might like: