Looking for a family-friendly getaway? Check out all the fun things to do in Tempe Arizona in just 3 days!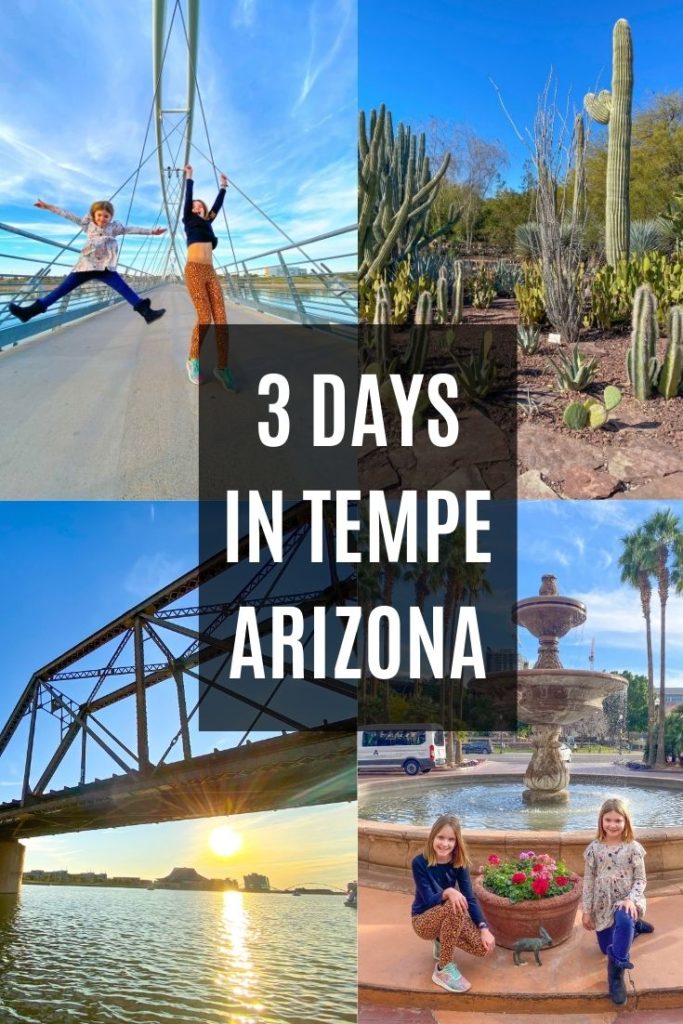 3 Days in Tempe Arizona
When we told people we were going to Tempe for a long weekend, we got mixed responses. But mostly it boiled down to two questions – where is Tempe and why Tempe?
Where is Tempe?
For those that haven't heard of Tempe, it's one of the eight suburbs making up the greater Phoenix area. The city of Tempe is most known for being the home of Arizona State University.
Why Tempe AZ?
Why Tempe? Well, I'm going to tell you all about how amazing Tempe is and how it makes for an incredibly fun and memorable getaway for the entire family. You'll be in awe of all the fun things to do in Tempe in just three days. Thanks to our friends at Tempe Tourism for sponsoring our trip and allowing us to explore their beautiful city.
Tempe Weather
When people think of Arizona weather, they often think of the dog days of summer. Dry, triple digit temperatures or the deluge of monsoons.
But Tempe weather during the fall, winter, and spring is amazing. Our family visited over the 3 days of President's Day weekend and the weather couldn't have been more perfect!
How to get to Tempe
To make the most of our 3 day weekend in Tempe, we took an early flight from Austin. The Tempe Arizona airport is actually Phoenix Sky Harbor International Airport (PHX) so getting a direct flight is a breeze. From Austin, we were able to find tons of flights including riding on our favorite airline, Southwest. But don't worry, if you're a frequent flyer with another airline most major airlines do fly into Phoenix direct.
Because Tempe is such a walkable city with great public transportation, we didn't even rent a car. We took the light rail train from the airport to just outside our hotel.
To find the lightrail at the airport, just look for the signs for the PHX Sky Train. It's on the same level as the arrival gates.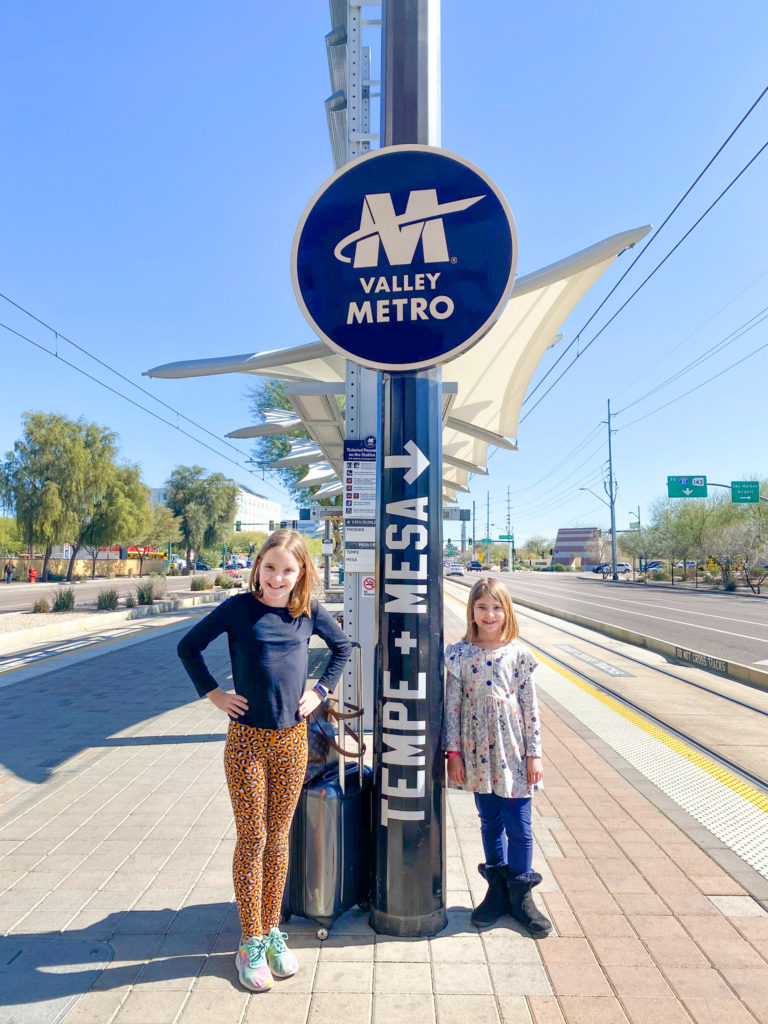 Follow the signs and take the Sky Train to the 44th Street Station. From there, take the walkway with the moving sidewalks on level 2 and go downstairs on the escalator (or elevator) to the Valley Metro Rail platform at 44th Street & Washington.
While taking the escalators between the Sky Train and the 44th Street Station, we ran into a generous group that had purchased day passes for the light rail and hadn't used them to their fullest – just to get the airport. Usually, tickets are $2 one way or $4 for an all-day pass.
Once you're at the Valley Metro Rail platform, you'll take the eastbound train to College/Veterans Way. The stop is directly across the street from the hotel we stayed at and the base of A Mountain if you don't end up staying where we did but also want to visit.
Since Tempe is less than four miles from PHX, it was a quick ride and we were dropped off at the light rail stop right outside our hotel. In addition to the light rail, Tempe also has buses and lots of ridesharing options.
Get $5 off your first Lyft ride when you use code: LIVELUVTX or click here to sign up!
Tempe Hotels – Where to Stay
The Tempe population is just under 200,000 making it the 8th largest city in Arizona. This means there are a lot of choices for hotels in Tempe AZ.
When choosing a hotel, location, price, and amenities are always factors we consider. We're members of several different hotel loyalty programs, but the location of the Marriott owned Residence Inn Tempe/Downtown University had a great location for our trip.
Location
The Residence Inn is located right across the street from the light rail station which will not only take you to the airport but all over the Tempe area and downtown Phoenix. From the hotel, you can walk to over 100 restaurants, shops, and bars in Downtown Tempe including the popular Mill Ave shopping/dining area.
View
A Mountain, as the locals call it, is also named as Hayden Butte. It got the name A Mountain because of the 60-foot tall, golden A at the top that stands for Arizona State University.
Amenities
Overall, we loved the Residence Inn and would definitely recommend it. The rooms were spacious and gave our family of four the privacy we needed with separate living and sleeping areas. The hotel offers one and two-bedroom suites. We were in a one-bedroom suite and with the pullout sofa bed, it was a practical, budget-friendly, and still incredibly spacious option for our family.
Price, location, amenities, views, and the rooftop pool and jacuzzi gave us an unbeatable home base for our trip. An added perk was the free food and drinks were complimentary food and drinks during the evening social hours.
So, technically we were in Tempe over four days. But only three of those were full days. Our fourth day in Tempe was just a wakeup. We started our day with the free breakfast at the hotel (currently it's a grab and go breakfast option you can get from the front desk) before taking the complimentary shuttle to the airport.
Note: Hours are Monday thru Sunday 5:30 am – 9:30 pm. Call 480-967-2300 when you're at the baggage claim to schedule pickup from the airport. For your return trip, you'll also need to call the hotel or stop by the front desk for your return trip. This is to ensure they have enough space in their vehicles and that one is available at the time needed. We reserved ours the night before for a morning departure and were the only ones in the shuttle back to the airport.
Day 1 in Tempe
Our room wasn't quite ready when we arrived, so we dropped off our luggage and headed for lunch. If your flight arrives early and you haven't requested early check-in or your room isn't available, this is a great option to unload your belongings and making good use of your time.
We walked a few blocks over to Sauce Pizza & Wine. They had a fab special the day we were there and we were able to get hand-stretched pizza, gourmet salad, and wine for less than $15 per adult.
The girls were able to get a little bit of everything with our meals and the pasta and meatballs. Make sure to save room for the Triple Chocolate Chunk Cookie or Cannoli!
After checking into our hotel, we went on a Tempe Tales Scavenger Hunt in Downtown Tempe.
Tucson artist, Mark Rossi, created "Three Blacktail Jackrabbits," a collection of sculptures near the fountains next to Pedal Haus Brewery on 7th Street, just west of Mill Avenue. Rossi was commissioned to bring 13 life-size jackrabbits to life throughout downtown. Use the clues to find them all as you stroll along the brick sidewalks on Mill Avenue and the surrounding streets.

Tempe Tales is a public art project executed by the Downtown Tempe Authority in coordination with the City of Tempe.
The scavenger hunt was the perfect way to get us out exploring Tempe with a purpose. It was so much fun, not just for the girls, but for all of us to try and find all of the rabbits.
Make sure everyone is wearing comfortable shoes for this. The sculptures are pretty spread out and Colby ended up blisters from wearing boots.
After a shoe change, we headed to Snakes & Lattes for dinner. The restaurant has over 1000 games available to guests for a per person fee. They also work with craft breweries, coffee roasters, and features a wide variety of delicious meals.
This was a great way to introduce the girls to some new games and for us to try out some of the games they like that we'd never tried. And if you don't know what you want to play, the servers can bring you options based on ages, number or players, interests, or just surprise you!
Day 2 in Tempe
We started off our first full day with breakfast in Tempe at the Daily Jam. This trendy, casual restaurant has a relaxed vibe and is perfect for breakfast, brunch, or lunch on Mill Avenue.
Our picks: chilaquiles, huevos and chorizo, avocado toast, and pancakes. Although the red velvet waffles were voted the best waffles in Arizona by Food Network!
More options for breakfast in Tempe:
Like most kids, our girls love creating their own art. So they were super excited to take part in Playfest at the ASU Art Museum.
They spent time making and creating art at the college that they were able to bring home. They created their own coffee mugs, pins, clay sculptures, and more!
This is a fun, all-ages event that's perfect for the entire family. Best of all, it's free and all supplies are provided!
Parking/Hours Limited complimentary parking is available in front of the ASU Art Museum in ASU Lot 9, located on the southeast corner of Mill Avenue and 10th Street. Visitors using museum spaces must sign in at the front desk in the lobby of the ASU Art Museum. Metered and short-term paid parking is available in ASU Lot 20, located on the northeast corner of Mill Avenue and 10th Street as well as along Forest Avenue and Gammage Parkway. Hours: 10 a.m. to 3 p.m.
No trip to Tempe would be complete without a hike to the top of "A" Mountain, also known as Hayden Butte. Even if hiking isn't typically you're thing, you'll be rewarded with stunning views of the lake, ASU, and rock drawings left hundreds of years ago by ancient people.
Tip from a local: This is a deceivably steep hill, so pace yourself, as needed but you'll have a half way point that is a great vantage point, you can also continue up the cement stairs to get true 360 degree views.
We were warned by locals that the hill is deceptively steep. There is a great vantage point for photos halfway up, but you can get incredible 360-degree views if you continue up the concrete stairs.
We paced ourselves and made it up the mountain to the top without any issue. However, on the way down Colby slipped on some rocks on the concrete stairs and sprained her thumb when grabbing onto the handrail. Thankfully we were able to get a Lyft ride to the nearby urgent care, get her splinted up, and back to the fun.
Because of Colby's urgent care detour, we ended up getting down to Town Lake right before sunset. The girls spied the pedal boats during our scavenger hunt but little did they know we already planned on renting one.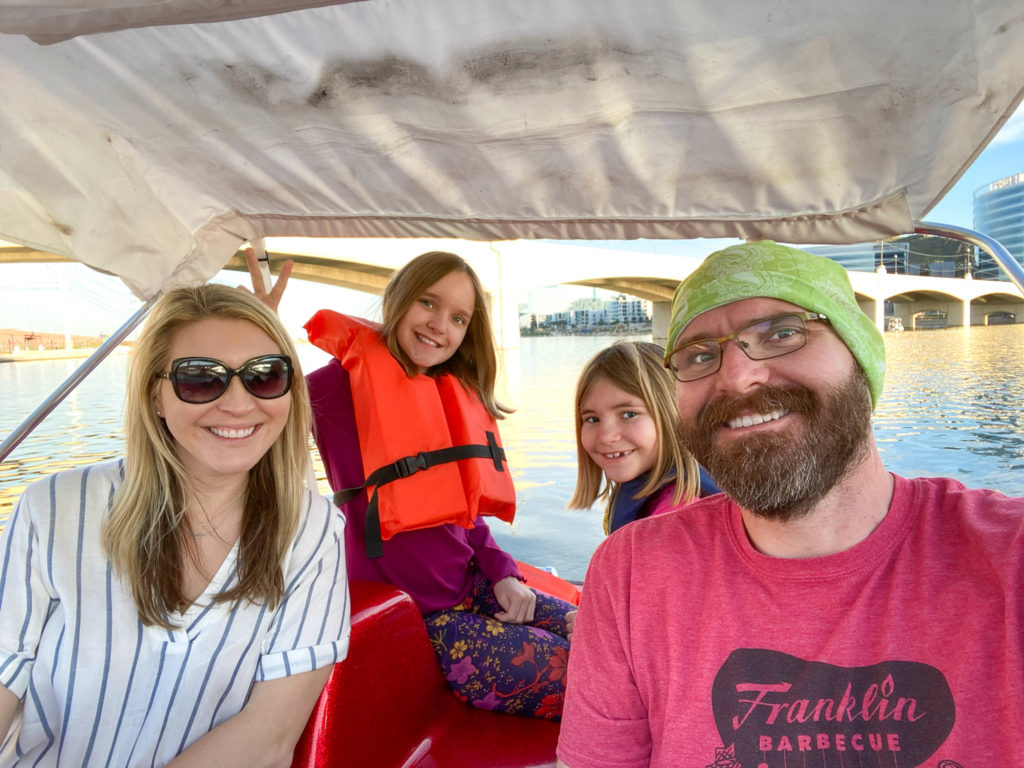 The pedal boat rental ended up being the perfect thing to cheer Colby up. At Boat Rentals of America on Town Lake, you can rent basic pedal boats, but even more, fun, are the pedal boats shaped like swans, dragons, and ducks! Unfortunately, there was such high demand when we were there we weren't able to reserve one of them but it was fun just to see these other boats while we were pedaling around.
This was the girls' first-time pedal boating and we all had such a fun time. That said, riding and not pedaling makes things way easier. You will definitely get a workout by pedal boating but watching the sunset on Town Lake was definitely worth it.
We had dinner that night at Ghost Ranch. The restaurant serves Southwestern cuisine for lunch, dinner, and weekend brunch inspired by the multicultural history of Arizona, New Mexico, Texas, and northern Mexico.
Don't let the location in a strip mall fool you, Ghost Ranch has some really great food. Our picks are for the queso fundido, sampler platter, and spicy margaritas.
Note: This restaurant is listed as being temporarily closed. When it reopens, you will need to take a Lyft/Uber to Ghost Ranch it is not walkable from Downtown Tempe.
If you love new and inventive desserts, you'll love Slickables. Ice cream is made into a custom ice cream sandwich with homemade cookies and brownies. My husband recommends the peanut butter cookie and butter pecan ice cream sandwich.
Day 3 in Tempe
We had a ton of leftovers in the hotel fridge from all of our Tempe meals so far, so we fueled up on those before catching a ride to the Desert Botanical Garden. If you don't eat before you arrive, you can grab at the Patio Cafe or Gertrude's (reopening on 10/11/20).
The Desert Botanical Garden was nothing short of amazing. Get ready to have your thought of the desert blown and challenge your thoughts that the landscape is all dusty and filled with tumbleweeds and cacti. The Desert Botanical Garden is spread over 55 acres and includes thousands of species of cactus, trees, and flowers.
Our family had a great time walking through the garden and exploring the beauty within. Make sure to put on sunscreen and wear comfy shoes and sunglasses when visiting.
Centrally located between Mill Avenue and Tempe Marketplace, you'll find Salut Kitchen Bar. Named Best Wine Bar in Tempe, Salut serves up more than 100 types of wine by the glass and bottle.
Salut has a flavorful menu inspired by Mediterranean and American cuisines. You won't want to miss the weekend brunch and dog-friendly patio. Trust me when I say the Bacon Grilled Cheese is life-changing!
The girls have been bugging us for months to go to an escape room. But finding one that's age-appropriate for an 8 and 11-year-old can be a challenge. You walk the line of them being able to go in, scaring the bejesus out of them and actually getting them to interact/enjoy the game.
In the same parking as Salut Kitchen Bar, you'll find the Inferno Escape Room. And we hit the jackpot with the Inventor's Secret puzzle there.
The puzzle was basic enough for the girls to be able to contribute with enough difficulty that my husband and I were challenged. We requested minimal intervention and with that, we finished the puzzle ahead of schedule with a time of 46:25!
From the escape room, we headed to Tempe Marketplace. This outdoor entertainment has so much going on with outdoor murals, shopping, restaurants, and even concerts.
There are over 100 shops and restaurants and the pre-Covid held up to 300 events a year. You can still find live music and art classes at Tempe Marketplace, but make sure to check the schedule as it changes frequently.
I'm a sucker for patio dining and Pedal Haus does not disappoint. This indoor/outdoor space features a dog-friendly patio, cabanas, fire pits, ping pong, corn hole, and TVs.
The restaurant has a little bit of everything on the menu with an American menu. You'll definitely want to check out their award-winning beer selection.
Siblings can be polar opposites. Mine are. Brady loves ice cream and there's no such thing as too much chocolate. Colby, on the other hand, likes fruity, icy treats like sherbet and sno-cones.
Trying to find restaurants that serve up something both girls like can be a challenge. But if you're on the lookout for a place that has them both (and more), you'll want to visit Sparky's Creamery. This sweet shop specializes in ice cream, sorbet, frozen yogurt, milkshakes, and Hawaiian shaved ice.
Our family has gone on a lot of fun trips over the years like Seattle and Las Vegas but we all agreed that Tempe was one of our favorites! There was just so much for all of us to do, explore, and eat and we'll definitely be back!
COVID-19 Notes
Stay up to date on all of the latest COVID-19 ordinances and reopening notes here.
More family travel posts: