Don't plan your next vacation without these 5 Seattle travel tips for families. Get the scoop on what to pack, where to stay, how to get around, where to eat and more. You'll also find out the Best Things to Do in Seattle with Kids and what things you can't do in Seattle with kids.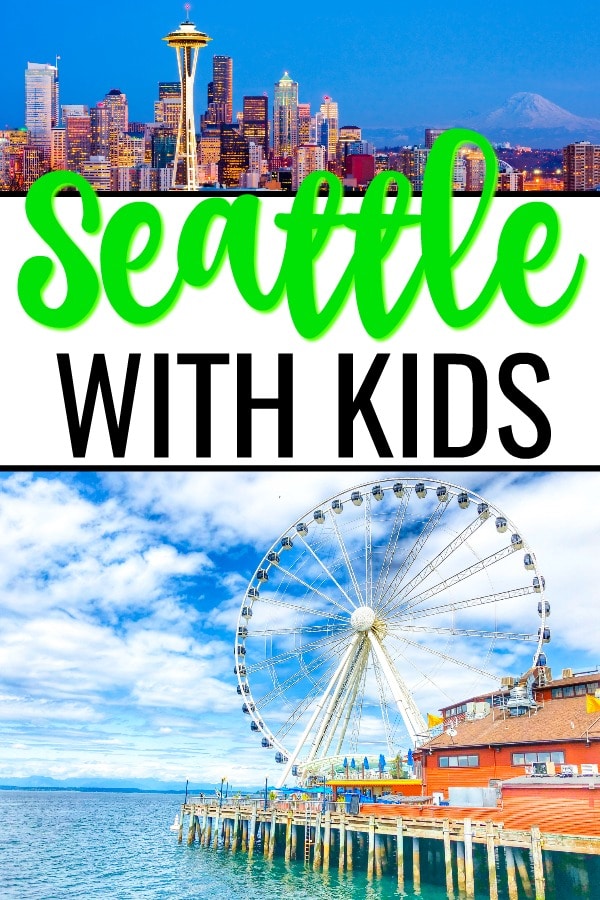 Seattle Travel Tips
Our family loves to travel together. We're all about experiences over things.
In June, our family took an impromptu trip to Seattle, Washington. Our girls were 9 and 6 at the time.
We booked the trip because the airfare was crazy cheap. While my husband had been before, the rest of us hadn't. And it was a city I'd always wanted to visit.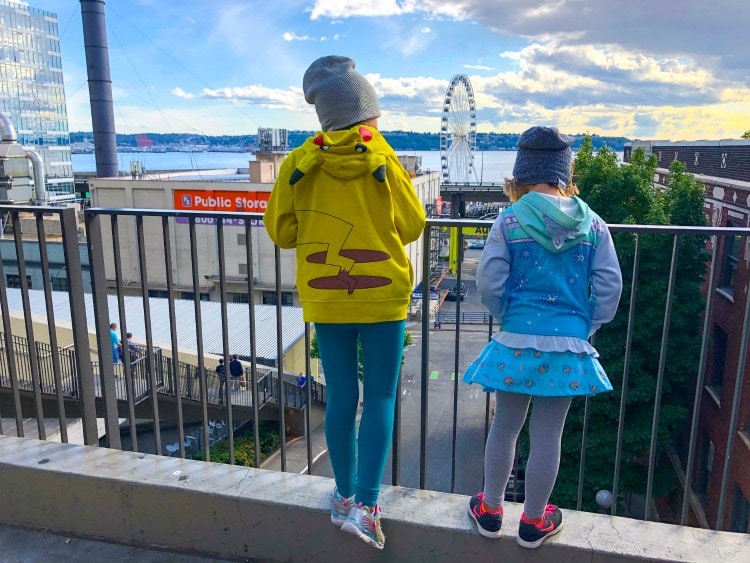 So what better excuse to visit than $400 for airfare? For all 4 of us… direct.
We did have to take the red-eye flight to Seattle. But it was summer and we were escaping the early June triple-digit Texas heat.
Because of a busy schedule and underestimating how quickly hotels in Seattle booked up, I didn't book our hotel until two weeks before we left. I don't recommend doing this.
Here are my top five Seattle travel tips for families. Hopefully, these help to make your trip the best it can be!
5 Seattle Travel Tips for Families
1. Book your hotel early.
Hotels in Seattle book fast. And are pretty expensive.
If you want a centrally located place to stay, I'd suggest booking early. And finding a spot that's near all the major spots to see.
It wasn't a total loss for us to book our hotel so late. We stayed in the Stadium District which ended up working out.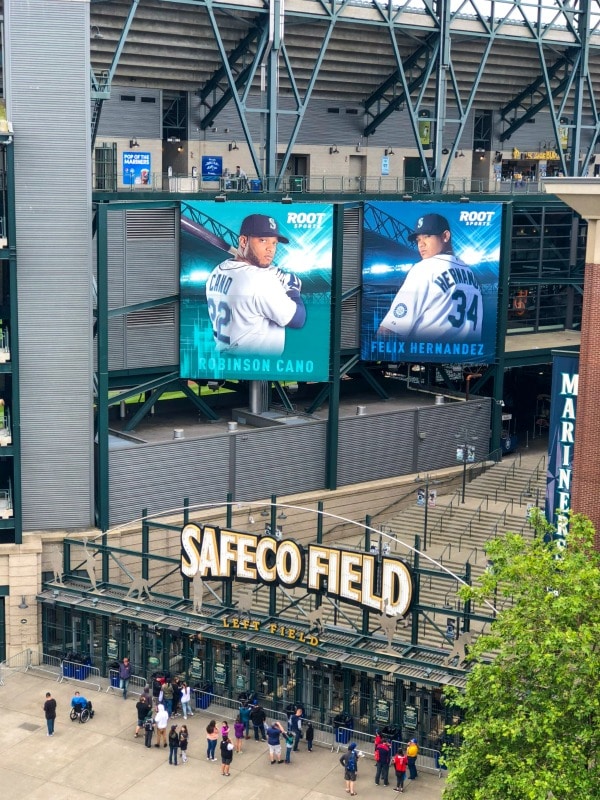 We stayed at the Silver Cloud Hotel Seattle Stadium and it was pretty perfect. Especially considering how long I waited to book.
Fortunately, we were able to take the light rail from the airport to within a few blocks of our hotel. Keep in mind we're walking with kids, after midnight. But we made it safely so I wouldn't advise against doing it.
And check out these rooftop views! Great location to see games at Safeco Field and downtown Seattle. Psst…the roof has the pool and hot tub too!
2. Plan your day in advance.
If you were to look at a map, you'll see the Stadium District is a hike outside most of the sights. As long as you're willing to walk, it's really not that bad.
One of the perks of this hotel was the free shuttle service. Hourly between certain hours you can get dropped off right where you're going. For free.
If you're in a hurry or don't want to wait, you could always grab an Uber/Lyft to wherever you want to go. Or walk a few blocks to get on the light rail.
Save $15 on Lyft by using this link!
We took advantage of the free shuttle where we could and then walked or took an Uber where we couldn't. Or didn't want to.
You could choose to take the shuttle from the hotel both ways. We'd often take the shuttle to the farthest place we'd be visiting that day and then walk back to our hotel.
There's a lot of homeless (and it kind of goes without saying mental health issues) in Seattle, but the city is really clean. So while you'll likely have to explain social situations it's a really pleasant, walkable city.
Even with young kids.
3. Pack the right clothes and shoes.
Seattle is pretty far north and on the water. Pack the right clothes and shoes for your stay.
While it was 105 when we left Austin, we all needed way more clothes in Seattle. The girls kept saying how wrong it was that we were in sweatshirts in summer.
But they kept us warm and we all would have been miserable without them. And truth be told, I probably could have done with even more clothes.
The secret to traveling is layers. You can add or take away layers of clothing so you're comfy.
Don't go for style with your shoes. You'll be waking.
A lot.
Wear shoes that you can comfortably walk in all day. My Fit Bit had us putting in 10,000+ miles while we were in Seattle. And that's with taking shuttles and Ubers.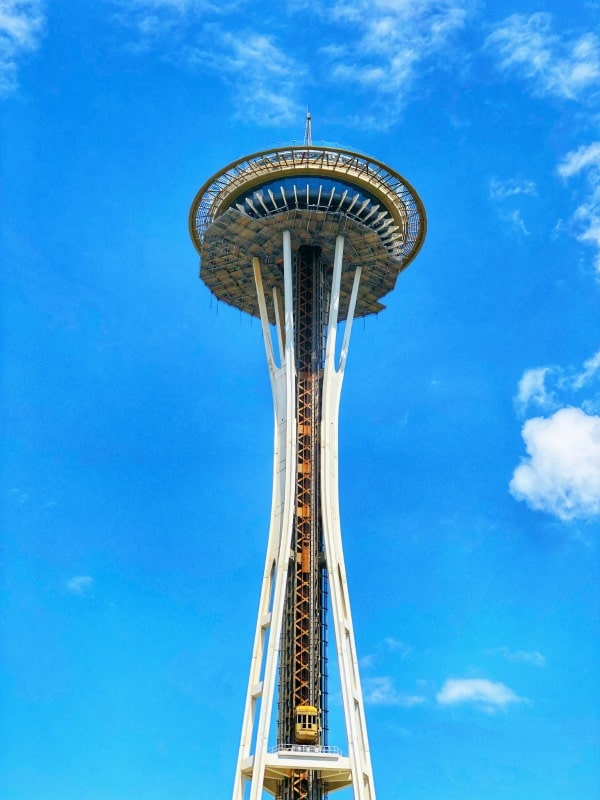 I saw information about the Seattle CityPASS before we arrived but still wasn't convinced it was the best deal. Once we got there, I was sold.
But only after we bought the tickets for the Chihuly Garden & Glass separately. Once we got to the second place to visit, we realized we should have gotten the CityPASS from the get-go.
CityPASS Admission Includes:
As of 3/1/19, adults are $99 and kids are $79. Save 45% or more on Seattle's 5 best attractions with CityPASS. Shop Now!
Our family ended up visiting the Space Needle, Seattle Aquarium, MoPOP, and Pacific Science Center using the CityPASS. In hindsight, I don't regret buying the CityPASS when we did as we wanted to visit both the Chihuly Garden and Glass and the Pacific Science Center.
Both of these were highlights with the whole family. We didn't end up visiting the Woodland Park Zoo as it was farthest away or going on the Argosy Cruises Harbor Tour.
The harbor tour looked like a lot of fun but thankfully we were able to pay it forward. We found another family of our size and gave them tickets to use our tickets for free since we were headed home the following day.
If you do give your tickets to someone else, be prepared they may think you're trying to sell them something. Think timeshare or another scam.
I walked up to a family, explained that we were leaving the following day and couldn't use them and walked away. The dad was a little abrupt and confused but saw that we were legitimately just giving them tickets we couldn't use and he walked over to apologize and thank us emphatically.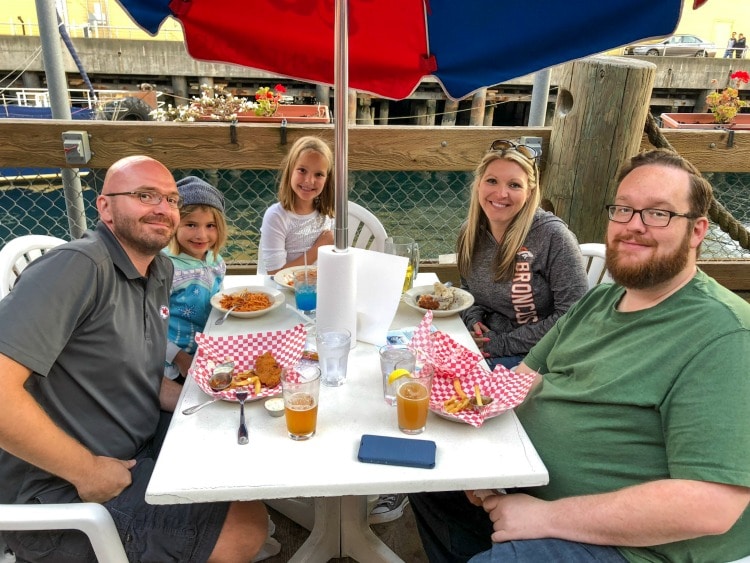 5. Be flexible with restaurant options in Seattle with Kids.
While Seattle is a pretty liberal city overall, it's pretty conservative with kid friendly restaurants. Coming from Austin where most restaurants are kid friendly, we were shocked at how many places had not kid friendly listed on Yelp.
Even if it was a place that we, the parents, thought was kid friendly, some places just didn't allow kids. Want to do happy hour in Seattle to take advantage of the discounted prices?
Happy hour can't be done in Seattle with kids. Apparently, the city does not allow happy hour in areas that kids are allowed in.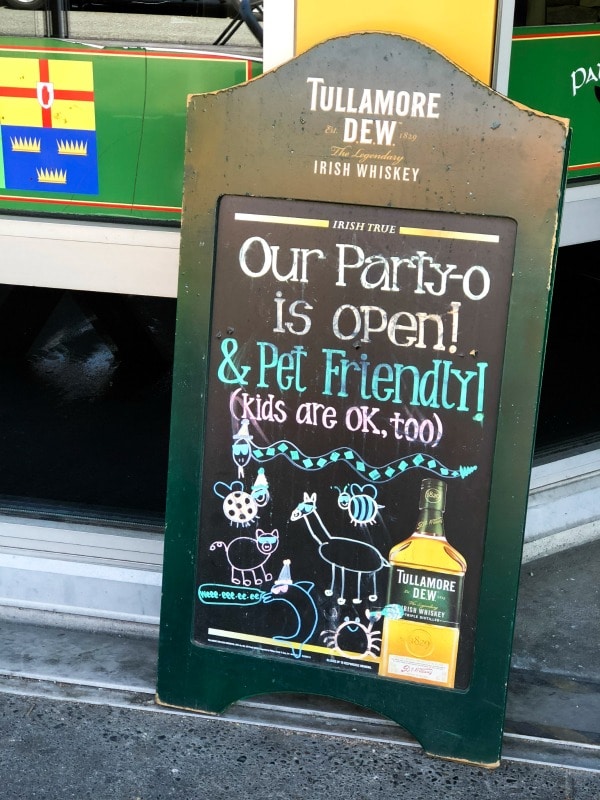 In Texas, everything is family friendly as long as the parents are good with it. Some places are obvious like with playscapes, but others go off the best judgment system.
If the parents feel like the kids can be there, then it's good. They won't be turned away or kicked out because they came as a family.
Family friendly restaurants in Seattle:
The Crab Pot – this centrally located seafood restaurant has a long wait during peak times. The food is solid and the view can't be beaten.
Biscuit Bitch – despite the name, this restaurant serves up some delicious food that satisfies the entire family.
Pyramid Brewing – while this wasn't my favorite restaurant in Seattle, it was located close to our hotel and stayed open later than most.
You also might these travel posts: