Survive the ups and downs of trying to conceive with this Getting Pregnant Survival Kit including a product that allows for the freedom to be spontaneous.  This post has been compensated by Collective Bias, Inc. and its advertiser. All thoughts, opinions, and experiences are mine alone. #TheMoodStrikes #CollectiveBias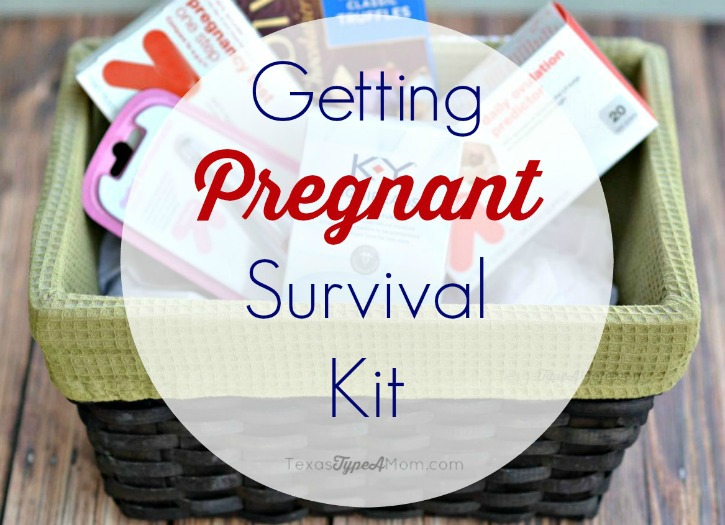 When I first started trying to get pregnant, I wanted to ensure that I got pregnant the first month. I had been using Natural Family Planning for the previous 8 months to avoid getting pregnant, which included taking basal body temperatures every morning to get a feel for my cycle and when I ovulated. But when it was time to try I continued temping to try to conceive and it worked…I got pregnant right away!
The second time around, I also got pregnant the first time of trying but sadly I miscarried at 12 weeks. Coincidentally, I had a girlfriend that I had been pregnant with during my first pregnancy that also miscarried around this same time.
After waiting the two cycles to allow my body to regulate itself like my OB suggested, we began trying again. This time things weren't quite as easy. I can be a bit of an overachiever and not succeeding on the first month was so upsetting. Again my girlfriend that had her miscarriage around the same time I had mine was experiencing the same frustrations.
So, I got a little aggressive with my efforts. I had already resumed my
Natural Family Planning
routines in trying to pinpoint ovulation and getting pregnant but then I added in ovulation predictor kits (OPK) to the mix. Since you're fertile for a few days before and after the time when the egg is actually released, I wanted to maximize this window. After peeing on a lot of sticks, I finally got pregnant 6 months later.
Now I know that doctor's typically won't even see a woman to begin talking about fertility treatments until after they've been trying unsuccessfully for a year to get pregnant. But after trying to avoid getting pregnant for so many years of your life, when you're ready you want it to happen immediately. And if it doesn't, it's so frustrating and disappointing.
My season for having babies may have passed, but I have several girlfriends that are now trying to get pregnant and experience those same feelings of discouragement.  One of my girlfriends that's trying to get pregnant is one of my oldest friends and someone I've known since our college days in Colorado.   I want to help her and my other friends whenever and however I can and I try to share as much about the trying to conceive experience as  I can.  So, I created this
Getting Pregnant Survival Kit
to help my girlfriends take the next step in their journey towards having a baby!
Getting Pregnant Survival Kit
Basal Thermometer: get to know your body and recognize from the temperature shifts when you're ovulating and confirm pregnancy without a test!
Daily Ovulation Predictors: without an egg you can't get pregnant, so getting familiar with when you ovulate is definitely key
K-Y

®

Liquidbeads: when you're serious about getting pregnant, you really want to be sure you're ready and have the freedom to be spontaneous.
These weren't available during my time trying to get pregnant, but they're a pretty innovative concept.  After seeing these at Target I was bit intrigued and wondering how they possibly work, but it's really quite simple.
When you open the box there are two different products inside – the applicators and ovule inserts.
Open up each package – remove one applicator and after peeling back foil from blister pack, insert one ovule into the applicator.
Like with a tampon, you place the applicator into your vagina and push the applicator up which releases the ovule into your vagina.  These little ovule inserts start releasing within minutes and will last a few days to ensure that you're ready whenever the mood strikes.  (Note: This product is not intended for use once you become pregnant or while nursing.)
4. Chocolate
: having a sweet indulgence during this sometimes stressful period can definitely keep your spirits up, especially during the dreaded two week wait
5.  Pregnancy tests
: this one is pretty self explanatory but it's all leading up to what you hope is a big fat positive.  When it's time to test, I dare you to take just one!  Make sure you buy two tests at a minimum. Or, better yet by the test strips in bulk online. I won't admit how many tests I took while trying to get pregnant.
Whether or not you want your own Getting Pregnant Survival Kit or want to gift one to your girlfriend, these are some of the essential items you'll need to start your journey into motherhood!
Make sure to check out these posts: