This sponsored conversation about the importance of a second opinion when seeking Invisalign for straightening teeth. 
"In a recent poll, conducted by Harris Interactive on behalf of Invisalign, it was found that Americans are more likely to seek a second opinion for a major car repair than for a medical procedure or straightening their teeth."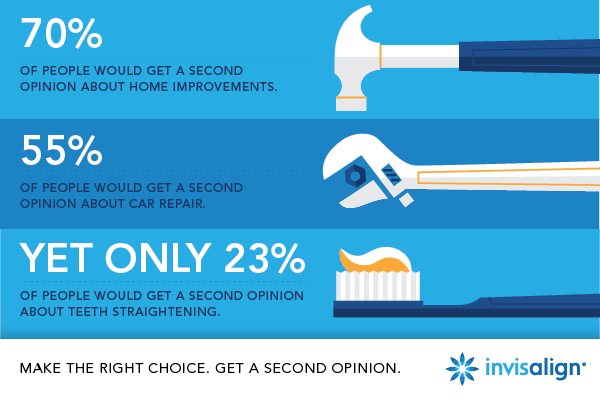 This survey shows that people are obviously very trusting and confident in the advice received by medical providers, but I'm really pretty shocked that they're so frivolous to have medical treatment without first weighing their options and the costs involved. While I'm guilty of not obtaining a second opinion about each medical or dental procedure my family has, when it comes to the major decisions or things that I will be forced to spend a great deal of money out of pocket, you'd better believe I want to be fully aware of my options.
I started wearing glasses as a pre-teen and by the time I was in my early 20s, I was already over the daily commitment and burden of wearing contacts so I started researching LASIK providers. Even though I had planned for the procedure by signing up for a Flexible Spending Account (FSA) and would be taking advantage of tax-free funds for my procedure, I felt compelled to compare the services each provider offered and the rates for the procedure. Fortunately the provider I elected to have my procedure performed by was not only the capable in my opinion, his rates were within reason and the mid point of the three quotes I received. Although his office was located farther away, I'm confident I chose the best provider for my surgery and was able to maximize my healthcare budget at the same time.
Obtaining a second (or even third) opinion has definitely benefited me in the past and I know it will continue to be beneficial in the future when considering various health procedures, including teeth straightening. My husband is currently seeking Invisalign treatment to straighten and correct his crowded teeth. Unfortunately because adult orthodontia is not covered by our dental insurance, we will be responsible for the significant expenses involved in his treatment. To ensure we're confident with the end result, provider, and cost we've already scheduled two consultation appointments because there's so much value and importance in having that second opinion.
If you'd like to learn more about Invisalign, connect with them on Twitter and Facebook.
Have you ever regretted not getting a second opinion or have you ever received a second opinion that proved valuable?