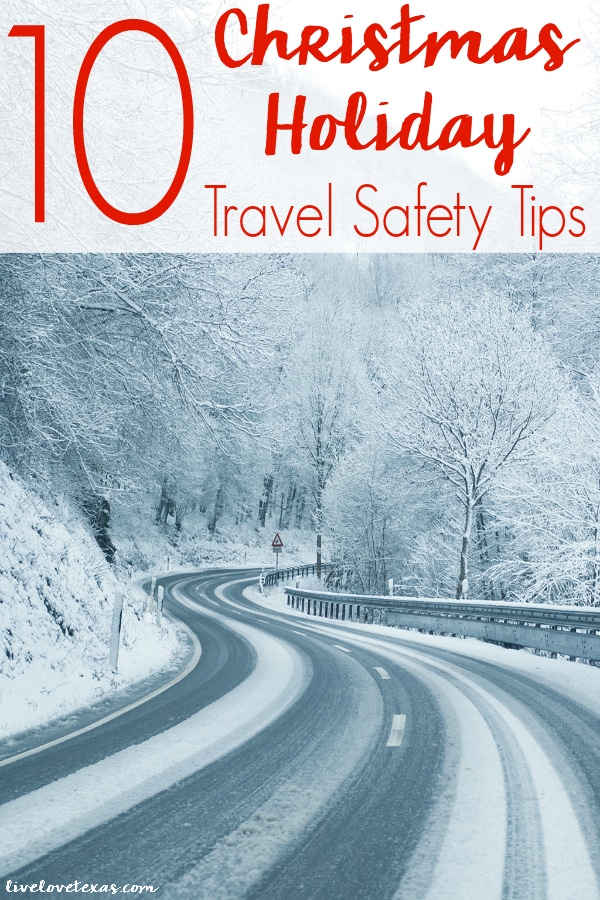 These 10 Christmas Holiday Travel Safety Tips are part of a sponsored post on behalf of TECHNET.
The holidays are here and for millions of Americans that means holiday travel. Whether you're driving to the other side of town, across the state, or the opposite side of the country, these 10 Christmas Holiday Travel Safety Tips will help keep you and your family safe and sane during the busy holiday season!
10 Christmas Holiday Travel Safety Tips
1. Prep your vehicle before leaving. We are road warriors but one thing we do before any road trip is have our vehicle inspected. When you think of Christmas holiday travel safety tips keeping your vehicle in peak condition with a professional oil change, fluids filled, tires checked, and all around inspection should be at the top of your list.
I like to support local businesses for all of my service needs because by getting your car serviced at a local shop, you can support the local community and receive that personalized service you expect from a small business. Sometimes when going to larger franchises you not only miss out on the personal touch, but also on attention to details and someone actually hearing your concerns.
The TECHNET Nation is a network of more than 9,300 locally owned independent auto repair shops across North America. These shops provide expert service and advice on your vehicle needs.
Before you head out on your Christmas vacation make sure you visit a TECHNET professional to ensure your vehicle is safe and ready to make the trip. Learn more about TECHNET and find a location near you by visiting the website here, following TECHNET on Twitter, and liking them on Facebook.
2. Pack emergency winter supplies.
Regardless of the time of year, we always carry some basic emergency supplies with us. A flashlight with extra batteries, weather radio, first aid kit, blanket, flares, jumper cables, and a jack are in our vehicle with us at all times.
But in winter, especially when traveling to colder climates, we have to add in more items to meet the conditions. Additional emergency winter supplies to add to your vehicle are the following: ice scraper, tire chains, hand warmers, water, snacks, and a backup portable cell phone charger.
3. Keep your valuables out of sight.
This is probably the most obvious of the Christmas holiday travel safety tips, but we all let our guards down from time to time. Theft is at a high during the holidays.
Minimize the threat of burglary by keeping your valuables, such as electronics and wrapped gifts, out of sight any time you're out of your vehicle. If packing your vehicle the night before your trip, ensure valuables are added at the last minute or that they're in a trunk or other area that isn't visible.
4. Get plenty of rest.
Driving when you're tired can be dangerous. Don't take any chances, especially when there is so much more traffic on the road at this time of year. Get plenty of rest before taking off on your trip, take breaks as needed, and swap out drivers at regular intervals so the person behind the wheel is always alert.

5. Leave early.
When the days are shorter it can be tempting to drive later into the evening before stopping for the night. Unfortunately driving later increases the chances of drunk drivers on the road and the potential of being caught in evening rush hour traffic.
Leaving earlier is a safer bet as fewer cars are on the road. Whenever you're driving around dawn or dusk, stay alert and keep your eyes open for deer and other wildlife that are active during this time of day.
6. Add extra time to your schedule.
With the increased traffic on the roads, something is bound to happen that will cause you delays. Don't get stressed or irritable, just budget extra time for your drive.
7. Buckle up.
This is the easiest of the Christmas holiday travel safety tips I have for you. Wear your seatbelt and make anyone riding with you to buckle up as well.
8. Lock your doors.
Not only will you minimize the chances of theft by keeping your doors locked while you're not in your vehicle, it's also safer to travel with your doors locked. This is so important, that some newer vehicles will automatically lock when you reach a certain speed.
9. Check road conditions before and during trip.
Living in Austin the weather is pretty mild, even during the holidays. So in most cases we're not looking out the window and worried about local traffic but what we might encounter along the way.
If you're in a colder weather climate you may need to be looking at your local conditions and those along the way as well. Each state's Department of Transportation should have a website set up with driving conditions and closures to help you plan your route. Even if you've made the trip a hundred times, using an app like Waze will help you choose the roads that will get you to your location and avoid delays along the way.
10. Keep the gas tank at half full.
Don't let your gas gauge go below half of a tank. Depending on where you're traveling there could be long stretches without services for hundreds of miles, weather closures, or gas stations closing earlier for the holidays. Not to mention, in colder climates allowing your gas tank to dip below half full could cause your gas line to freeze. Don't take anything to chance and fill up – this will also ensure you take breaks regularly.
After years of making road trips, these are my top 10 Christmas Holiday Travel Safety Tips. Do you have any others to add to the list?
More Christmas posts: