This homemade confetti slime recipe is Borax free and easy for kids to make!
Confetti Slime – Fun Party Craft
My kids and I all love making slime together. A good slime recipe isn't even all that messy. And once you get the hang of it, you can make all sorts of fun varieties.
I've even known some kids that become budding entrepreneurs and started to sell their slime creations!
For now, making slime is just a fun way for us to spend time together.
This confetti slime is the perfect party activity. What is more celebratory than tons of sparkling bits of confetti?
This tutorial will walk you through every step of making the slime – from making the basic slime base to how to add in the confetti. I hope you enjoy this craft!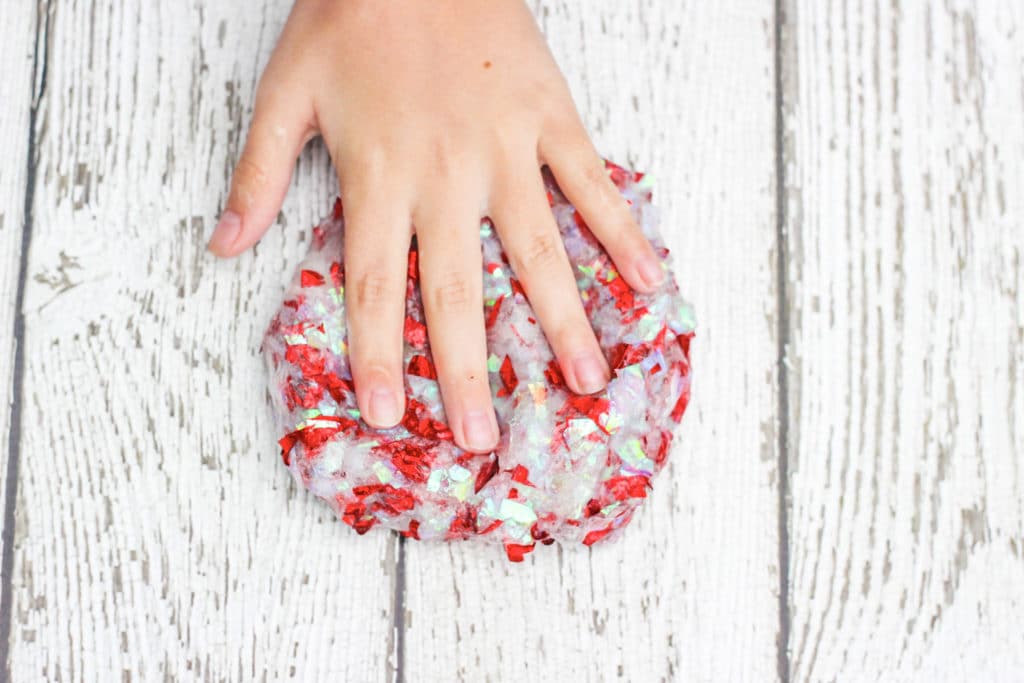 Supplies Needed:

Confetti Slime Directions
Just follow these easy directions and you'll have your own bright confetti slime. This is one of my favorite slime recipes because of the fun colors and sounds!
1.) Mix the Glue and Liquid Starch
Start by placing approximately 2/3 cup glue into a bowl.
Add approximately 1/4 cup liquid starch and stir with a spatula.
2.) Mix the Slime By Hand
At this point, it's best to get hands-on by taking the slime out of the bowl and working it with your hands. If the slime is too sticky, add more starch. If the slime is too goopy/stringy, add more glue.
3.) Add the Confetti
You the perfect consistency, add confetti and mix by hand.
It really is that simple!
Confetti Slime Questions & Tips
Here are some answers questions I've already received about this tutorial. If you have a question, feel free to leave it in the comments.
Where do you buy metallic confetti for slime?
I bought our metallic confetti online. Here's the link to the exact kind we bought.
You can also search local stores like Walmart, Party City, and craft stores for confetti.

What type of glue is best for confetti slime?
You can use the clear glue for the clear effect like we had. But you can also use the regular white Elmer's glue too. It won't be clear like mine, but you'll still be able to see the confetti.
Can you make slime with contact solution?
Yes, you can make slime with contact solution. It turns out a bit different, but it is still fun to experiment with different recipes.
You just need the school glue, baking soda, and contact solution. My favorite recipe comes from The Best Ideas for Kids. Keep in mind that it uses quite a bit of contact solution. Also, make sure you use a solution with both sodium borate and boric acid, or else it won't turn out right.

Choose Fun Shapes and Colors
The best part of this entire craft is mixing in the confetti! So let your kids have fun shopping for the mix-ins with you. You can choose their favorite colors or even fun shapes.
There are confetti shapes of all sorts – you can find stars and circles and even smiley faces.
Tip: Mix Confetti In Slowly
This is a pretty important tip. After you get the consistency of your slime perfect, then begin adding in the confetti. Start slowly. If you mix in too much, it will be full of crinkly confetti and won't be as much slime to squeeze.
The balance of slime and metallic confetti is important to watch.
How to Store Slime
Store your slime in an airtight container. If you leave it out in the open, it will dry out.
More Craft Ideas
Enjoy even more crafts with your kids. Try some of these ideas next.
Pin this easy confetti slime recipe for later!