Add some floral fun to your slime projects. Learn how to make this super pretty rose petal slime with just three ingredients.
Pretty Slime Recipe
People will add all sorts of things to slime, won't they? The most popular thing is glitter. All sorts of shades and shapes of glitter! I have to admit, even I've jumped on the slime bandwagon. I recently made slime with confetti.
Discovering new shapes and textures to add to slime is tons of fun. What is your favorite thing to add to slime?
What is the best essential oil for rose petal slime?
I would personally use rose essential oil. Yes, that's a bit predictable, but it enhances the overall experience.
Be careful to only had a few drops. If you add too much oil it will be overpowering.
Another idea is to mix in some purple glitter and lavender essential oil.
Rose essential oil has benefits for your skin. It's known for hydrating your skin and even has antidepressant properties.
Lavender essential oil is a calming oil. It is great for skin, helping with redness and itching. It's also used in aromatherapy to calm anxiety.
Rose Petal Slime Mix In Ideas
While simple can be best sometimes it's fun to be a little extra! Here are some fun things you can mix in with the flower petals.
Is this the same as floral foam?
No, it is not. There is a growing trend on Instagram and social media to fill the green foam brick used in the bottom of flower arrangements with glitter, then smoosh it like slime.
Floral foam is a lot of fun to watch, but after you tear it apart, it doesn't go back together like slime does.
How To Make Rose Petal Slime
The basis for this slime recipe is a really basic one with just a few ingredients. It comes out as a clear/white slime. I use this as a base for other types of slime. Since it doesn't have any colors, it's the perfect place to start.
Ingredients
This is what you will need to make your own rose petal slime!
Artificial Flower Petals (you can buy flower petals with wedding supplies at big box stores, on Amazon, or just deconstruct a silk flower you already have on hand)
That's it! Just three simple ingredients.
Directions
If you have ever made slime, this will be super easy for you. If not, this is a great place to begin.
1. Start by placing approximately 2/3 cup glue into a bowl.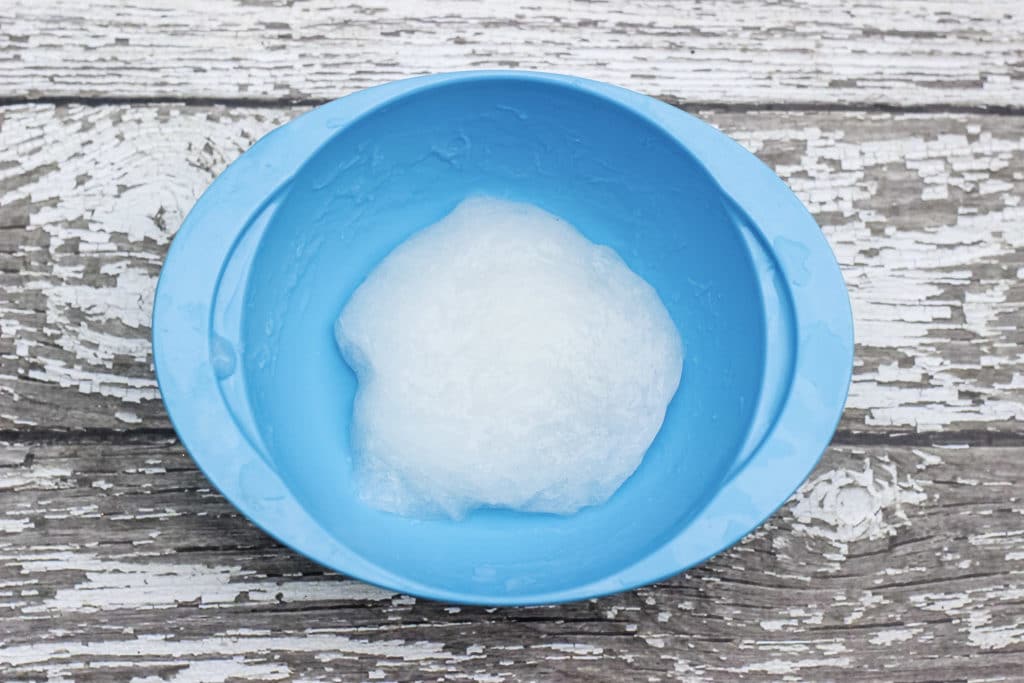 2. Add approximately 1/4 liquid starch and stir with a spatula.
3. At this point, it's best to get hands-on by taking the slime out of the bowl and working it with your hands. If the slime is too sticky, add more starch. If the slime is too goopy/stringy, add more glue.
4. Once you have the perfect consistency, add the flower petals and mix by hand. For an even richer sensory experience, add a couple of drops of your favorite floral essential oil!
More DIY Craft Ideas
After you make my rose petal slime, try a few more DIY crafts with your kids.