This 3 ingredient pink kinetic sand slime recipe is the perfect easy craft for kids. It's a borax free slime that's super stretchy and can also be made with sand from the beach!
The Fun of Slime
My kids have loved slime for years now. Maybe it's the texture. I think it's just a lot of fun to put these random ingredients in a bowl and create something so different.
Sometimes slime comes out really stretchy and soft. And other times it comes out really slimy and gooey. So there's a bit of problem-solving involved in slime-making too.
But this sand slime comes out perfect every single time!
How to Make Sand Slime
Sand slime is a super basic craft that anyone can make! It involves getting your hands dirty – literally. But it is so fun too, that you and your kids won't mind.
You have to mix the glue and the liquid starch together until you have an ideal consistency. I'll walk you through all the steps with pictures.
Sand Slime Ingredients
First, here are the ingredients you will need.
That's it!
Can you use beach sand?
Yes, you can use beach sand. It won't come out in the bright pink color, but it is free, so why not!
Supplies
Here are the supplies you'll need.
Just those two things. Oh and make sure you do this either outside or someplace that is easy to clean. (I wouldn't recommend doing this craft over the carpet since it involves loose sand).
Pink Kinetic Sand Slime Directions
Here is how to make your own sand slime out of pink kinetic sand. I also have a printable card with all the directions too, so pin this post before you forget.
1. Stir the Glue
The first step is to begin pouring the glue in the bowl.
2. Mix in the Liquid Starch
Mix some liquid starch into the glue.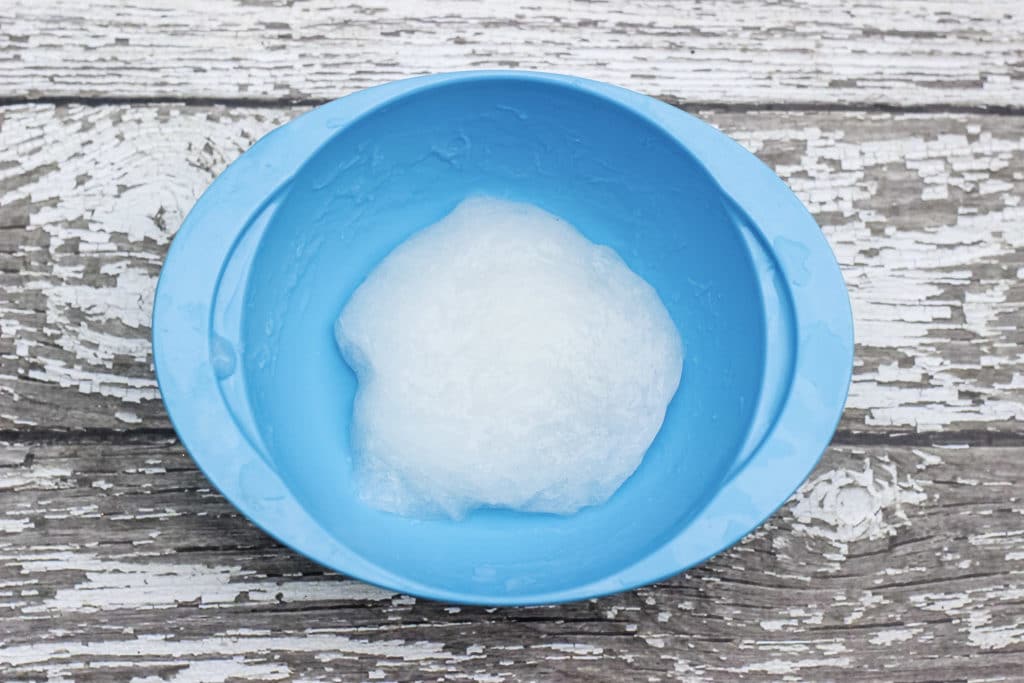 3. Use Your Hands to Mix
You'll see it start to form a ball. But to really get the consistency just right, you'll have to use your hands. If you notice it is too sticky, add more starch. If it is too goopy, add more glue.
4. Begin Adding Sand
The fun part! When you get a perfect consistency, add your pink sand. Add it little by little. The more sand you add, the brighter the color will be.
Where to buy kinetic sand
You can find kinetic sand at any craft shop. Or you can get it from Amazon here!
Other Types of Slime
This kinetic sand slime is just one of a huge variety of slime recipes! Here are some of my favorite slime ideas.
Can you make slime without glue?
Yes, you can make slime without glue! My favorite version is from Little Bins for Little Hands. Their recipe only calls for guar gum, baking soda, water, saline solution, and food coloring.
Slime Hacks and Uses
Slime is actually great for cleaning! After you make my sand slime, rub it on your keyboard and watch it pick up all those little pieces of dust and dirt. It is able to smoosh into the crevices other cleaning tools miss.
Pink Kinetic Sand Slime
Instructions
Start by placing approximately 2/3 cup glue into a bowl

Add approximately 1/4 cup liquid starch and stir with a spatula

At this point, it's best to get hands-on by taking the slime out of the bowl and working it with your hands. If the slime is too sticky, add more starch. If the slime is too goopy/stringy, add more glue.

Once you have the perfect consistency, add sand little by little and mix by hand. The more sand you add, the bolder the color will be.
More Crafts for Kids
Here are some more fun crafts you can do with your kids next.