Are you thinking about getting a boob job? Find out what really happens at a breast augmentation consultation appointment. Plus, see pics from every stage of my breast enlargement surgery.
What Really Happens at a Boob Job Consultation Appointment?
Before researching almost anything I purchase, I go online and research beforehand. From makeup to restaurants to vehicles, I do my research.
It's always nice to have lots of information and reviews before making decisions on the goods I purchase. But it's essential when it comes to my family's healthcare.
When I decided to get cosmetic plastic surgery, it would require lots of research before I made any decisions. Because plastic surgery is an elective procedure, my insurance isn't going to cover any of it. So I wanted to be confident, knowledgable and financially prepared to make such a huge decision.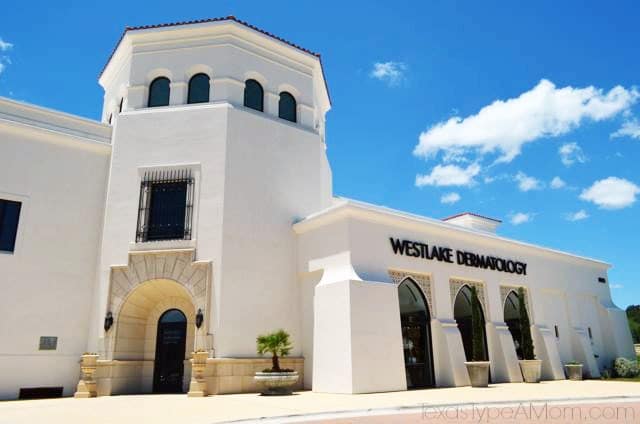 I stopped breastfeeding in March and since then I've spent a lot of time learning about breast augmentation surgery. I've been reading reviews of the top plastic surgeons in Austin.
But before blindly committing to any physician, I knew I needed to meet with them first. That way, I could get a feel for their personality, bedside manner, and experience.
Is there a fee for a plastic surgery consultation appointment?
In plastic surgery, this first meeting is called the consultation. From the consultations I booked, I learned some were free and others charged a $50 fee.
I quickly determined my number one pick for a cosmetic surgeon. But before I committed, I scheduled a complimentary consultation.
Even after reading other people's stories online I wasn't quite sure what the difference between the boob job consultation and pre-op appointments were.
Westlake Dermatology & Cosmetic Surgery
I was impressed from the start. It looked like a mansion plucked straight out of the Mediterranean. I was in awe at how beautiful the facility was.
My first impression was this is what success looks like. And they've obviously built a reputation for great results.
The entire building is immaculately decorated. It's soothing and serene without feeling overly clinical. It also has a luxurious, high-end retail store. They sell specialty cosmetics, skincare products, jewelry, and protective sun clothing.
Meeting the plastic surgeon
After filling out my paperwork, I was taken to the consultation room and after a short wait, the surgeon and nurse came in. Dr. Cameron Craven introduced himself and we had a brief chat where he explained my boob job consultation was basically just a fact-finding mission.
He would determine if I was a good candidate for the procedure. And I would find out if his experience, skills, and price were a good match for me.
To start, I got the answers to questions I had about him and the office in general. One thing I learned was after liposuction, breast augmentation is the most popular cosmetic surgery the office does. I definitely found it comforting to know this was such a common procedure and Dr. Craven had tons of experience in it.
Boob job placement and incision
Each surgeon has a different incision preference and location of the implant. Surgeons can go either above or below the muscle.
I wanted to find out the options Dr. Craven offers. He does both areola (under the nipple) or inframammary (along the crease on the underside of the breast) incisions. His recommendation for me was inflammatory and under the muscle.
After chatting, Dr. Craven left the room so I could change into a gown and when he returned he could examine my breasts. With consideration to my history, during the physical exam, Dr. Craven was able to make the deduction I was a good candidate for breast augmentation surgery and that a breast lift surgery was not necessary at this time.
There was no high-pressure sales pitch. But before leaving, Dr. Craven left a consent form and price quote for me to complete if I was interested in moving forward.
How much are breast implants?
Boob job cost is based on your doctor and location. Breast implants near me in the Austin area, vary between $4,000 for gummy bear implants (aka saline implants) to $6,500 for silicone boobs.
Once Dr. Craven left, I got dressed and the nurse returned with a laptop. We looked through boob job before and after pictures from previous surgeries. These weren't the ones I had already seen on the website. But additional photos so that I could see the full range of breast implant size and shapes.
This helped me to identify the best boobs on patients with similar builds to my own.  The nurse was so personable and patient as she highlighted the success of breast augmentation surgeries done at the skilled hands of Dr. Craven.
At the end of my appointment, I was so pleased with the level of attention, competence, and knowledge by not only Dr. Craven but every person I encountered. I eagerly booked my pre-op appointment and breast augmentation surgery.
What's next on my boob job journey?
I'm so excited for my next appointment where I'll be one step closer to my surgery date and will find out what size breast implants I'll end up with!
For those that have met me, you might think I look fine the way I am and be curious as to why I'm even looking into cosmetic surgery. Check out this video I did that will tell you all the reasons why I've chosen to get breast augmentation surgery.
Find out what happens at a breast augmentation pre-op appointment, breast augmentation surgery details, and my breast augmentation surgery 2 week follow up with photos.
More posts about my boob job: