Whether you want to lose weight or just get moving, here is How to Get 10,000 Steps a Day. Easy ways to get make sure you hit 10,000 steps each day! This post with ideas on how to get 10,000 steps was sponsored by Best Buy.
How to Get 10,000 Steps a Day
Happy New Year! One of the biggest resolutions people often make is to get healthier in the new year. For some people that might mean joining the gym, but it doesn't have to be such a huge undertaking.
If you're looking for easy, manageable ways to get more active then this is for you. Today I'm sharing how to get 10,000 steps a day so you can get closer to your goals, healthier, and feel better too!
How many miles is 10,000 steps anyway?
Based on the average stride, 2,000 steps equals a mile so 10,000 steps is 5 miles.
How many kilometers is 10,000 steps?
10,000 steps is approximately 8 kilometers.
How many calories are burned in 10,000 steps?
This varies based on your weight and metabolism, but a good rule of thumb is 10,000 steps burns between 400-500 calories.
Why 10,000 steps a day?
While burning 400-500 extra calories a day may not sound like much, over the course of a week you would easily burn enough calories to drop 1 pound in a week! Just by walking more every day.
How long does it take to walk to 10,000 steps?
Depending on your stride and walking speed, if you were to walk all 10,000 steps at one time it would take 1.5-2 hours.
Now that you're ready to get started, here are 10 easy ways to get 10,000 steps a day. These are simple ways to sneak some extra steps into every day.
10 Easy Ways to Get 10,000 Steps Each Day
1. Use a fitness tracker.
The first and easiest step to making sure you get 10,000 steps a day is to track it with a fitness tracker. Just by looking down at your wrist, you can easily see how many steps away from your goal you are so you can add in more activity if you need to. There are lots of options available with so many different features. I use this fitness tracker for every day and this fitness tracker when I'm heading out.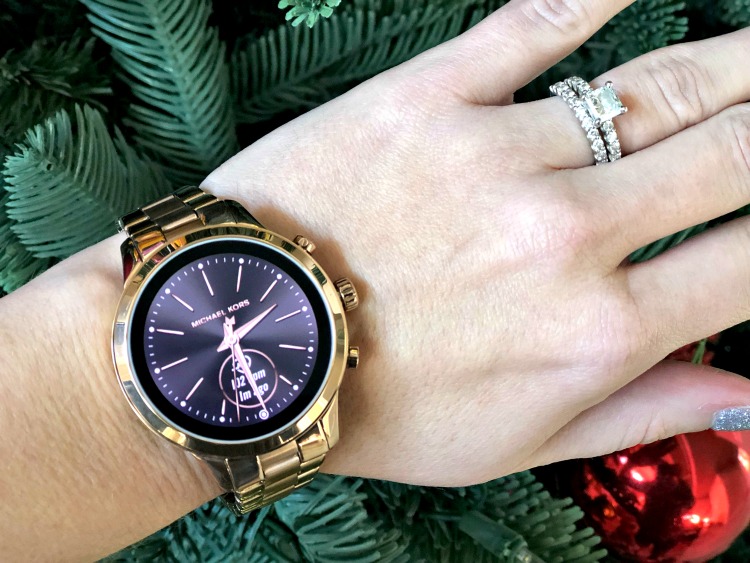 2. Park far away.
Don't waste time or gas doing laps around the parking lot trying to find the spot closest to the door. A super easy way to fit in extra steps is to park at the back of the parking lot. It's also a great way to avoid door dings on your car.
3. Take the stairs.
How much time do you spend waiting for an elevator and then stopping at each floor, not to mention confining yourself to a tiny box during cold/flu season? Taking the stairs is an easy way to get more steps in and get you to your destination faster. That's not to say that I never take the elevator, but unless I have luggage or am going up more than a few flights I always head for the stairs.
4. Play with Kids.
Kids are naturally active. Take a cue from them and just play with your kids. You could also plan to do something active together like walking next to them while they ride their bike, scooter, or roller blades.
5. Set reminders.
Don't use the excuse that you forgot how to get your 10,000 steps a day in. Set up a few timers throughout the day as reminders to get up and move around.
6. Workout from home while you work.
There are so many different options for exercising and getting work done. You can buy an exercise bike or elliptical with a desk attachment or do tasks that you can do from your phone while on the NordicTrack S22i. Or eat at your desk and make use of your lunch hour by getting more steps in.
I recently got the NordicTrack S22i and it has so many features that work for my on-the-go, working mom lifestyle. Primarily that I can work out at home and on my own schedule. But also get the customized, personal training experience that I crave.
Plus, you get an integrated smart technology experience with iFit. I always love when things combine with tech and this certainly does. And if you buy through Best Buy, you get 24 months of deferred interest financing *and* 1 year of included iFit coaching subscription which ends up being a ($396 value).
Check out these other specs:
22″ Smart HD Touchscreen
Watch your iFit Coach workout, view your stats, or check your progress with a swipe of your finger.
1-year iFit® Coach™ subscription
Get personalized workout recommendations, take virtual studio classes, and go on global excursions in the comfort of your own home. You'll enter in your fitness level and goals, and your iFit Coach will do the rest.
Auxiliary music port and Bluetooth® smart (BLE) receiver
Connect your device to the console and work out to your favorite music through the dual 2″ speakers. And, connect a chest strap (not included) to the console via Bluetooth for a continuous heart rate reading.
2-3-lb. dumbells included
Let your upper body join your leg workout with this included equipment.
Preset apps and resistance levels
Get professional training and reach your fitness goals with the 24 built-in workout apps. Or, increase the intensity on your own with 26 levels of resistance
AutoBreeze™ workout fan and water bottle holder
Keep cool as things heat up. The fan automatically adjusts to match your intensity. And your water bottle stays close by in the integrated holder.
Lifetime frame warranty
And an additional 3-year parts warranty and 1-year labor warranty. The equipment has a 350-lb. weight capacity.
7. Pace/clean while on phone.
I can't just sit while I'm on the phone, I have to multitask. If I'm not doing something productive like cleaning, I need to pace or hop on the Nordic-Trak.
8. Stand more than you sit.
Instead of sitting all day, make sure to get up and stand. Just by standing up, you'll likely start walking in place to try and hit your step goal.
9. Walk the dog.
If you have a backyard, it's easy to just let your dogs out and then go sit back down. Your dogs need exercise too, so get up and walk the dog. They'll get out some of that excess energy and feel better and so will you! Put on your wireless headphones and play some music to get even more steps in!
10. Accountability partner.
If you struggle with how to get 10,000 steps a day in, having someone to stay accountable to can be the key. You are no longer just answering to yourself but you have someone asking how you're doing and helping to keep you motivated.
Pin this post on How to Get 10,000 Steps a Day for later!