This Skinny Mojito recipe is easy to put together and tastes amazing! This low carb alcoholic drink is perfect for summer and special diets like sugar-free, Keto, and low carb.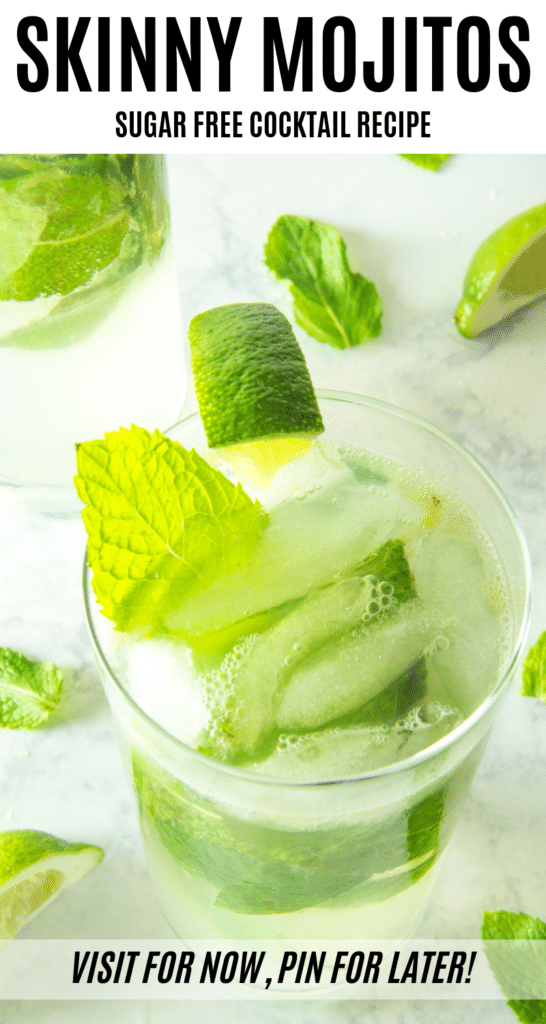 These Skinny Mojitos were sponsored by Torani and JoyJolt as part of the #SummerGrilling event. All opinions are my own. #ad #ToraniFlavor #JoyJolt
Skinny Mojitos
When you start doing the Keto diet, you realize quickly how much life has changed. Not only have you completely overhauled the food you eat but drinks as well.
I don't usually have a sweet tooth, but then again I didn't realize how much sugar I was getting from other places. Even things that aren't typically considered desserts. One of these is wine.
And while I don't like sweet wines, there's still sugar and carbs there from the grapes. To stay in ketosis or just keep calories low, I've been on the lookout for sugar-free cocktail recipes.
Using a gluten-free spirit like vodka, rum, or gin, I can add in club soda, fresh mint and lime, along with some Torani Sugar-Free Syrup for a refreshing summer drink. I love how convenient Torani makes creating sugar-free cocktails. It's so much more convenient than making your own simple syrup or using a powdered sugar substitute.
There are so many easy skinny cocktails you can make from just these three ingredients to pair with all of your summer grilling recipes!
Ingredients:
White Rum
Club Soda
Fresh Lime Juice
Mint Leaves
Special Tools:

How many calories are in a mojito?
There are 148 calories in a skinny mojito.
How many carbs are in a mojito?
This low carb mojito has just 5 carbs from the lime juice. You could reduce this even more and get a similar flavor by swapping fresh lime juice for carbonated lime water.
Can you make a mojito with vodka?
You can make a mojito with vodka, by subbing it in for the rum.
What can you eat with mojitos?

Low Carb Mojito Recipe
Print out the card below so you'll be ready to mix up this skinny mojito recipe for your next BBQ!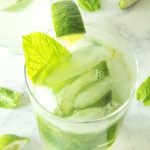 Skinny Mojitos
Instructions
Place mint leaves into a cocktail shaker and muddle until aromatic.

Add all other ingredients and shake until chilled.

Pour into JoyJolt Stella Highball Glasses and serve a mint leave and lime wedge.
Nutrition Facts
Skinny Mojitos
Amount Per Serving
Calories 152
% Daily Value*
Sodium 17mg1%
Potassium 123mg4%
Carbohydrates 6g2%
Vitamin A 455IU9%
Vitamin C 20.2mg24%
Calcium 32mg3%
Iron 0.5mg3%
* Percent Daily Values are based on a 2000 calorie diet.
What's your favorite low carb cocktail?