This grilled shrimp tacos with jalapeno mango slaw recipe is fresh, flavorful, with just a touch of heat. This is partnered post on behalf of McCormick. As always, all opinions and experiences  are entirely my own.
Predictably for dinner every Tuesday night we used to eat tacos for dinner.  Taco Tuesday – that's catchy and memorable right?  There was never a question about what to thaw for dinner or a debate over who would cook because we knew.  Tacos are a family favorite and preparing them are so easy that it didn't matter who prepared them, as long as that's what was for dinner.
And if we know we're having expecting guests, tacos are a great meal that's crowd pleasing and quick to make.  Even for picky eaters, tacos can be prepared in so many different ways that there's something for everyone.
Now you might think that living in Texas, I'd quickly tire of all the Mexican food but I feel quite the opposite.  I love being surrounded by so many restaurants offering creative variations on traditional dishes, there's something new to try at every turn.
So this week, after receiving a box of spices and recipes from McCormick, I decided I didn't need to dine out to have a different style of tacos.  There were so many delicious recipes, I decided to change things up at home and instead of making our usual crispy beef tacos, try something new.
We prepared Grilled Shrimp Tacos with Jalapeño Mango Slaw and they were so light, yet filling.  My husband is a grill master so this dish ended up being a team effort with him taking care of marinating and grilling the shrimp and me preparing the slaw.  We both loved the delicate balance of sweet and spicy and the crunch the slaw gave to the tacos.  With the grilled shrimp and fresh flavors, this recipe is perfect for summer.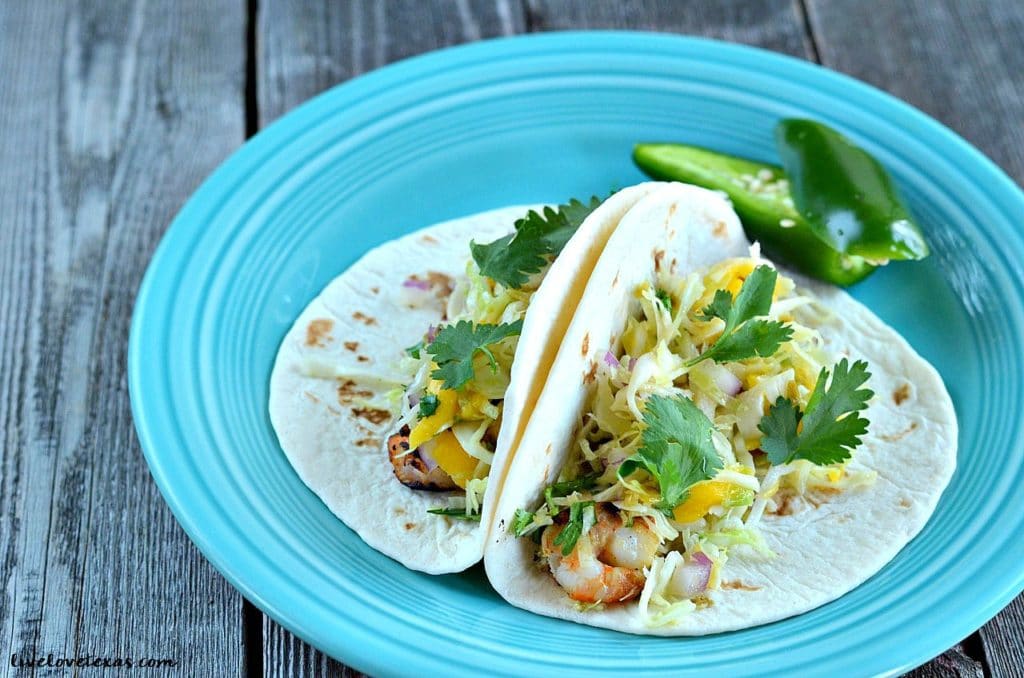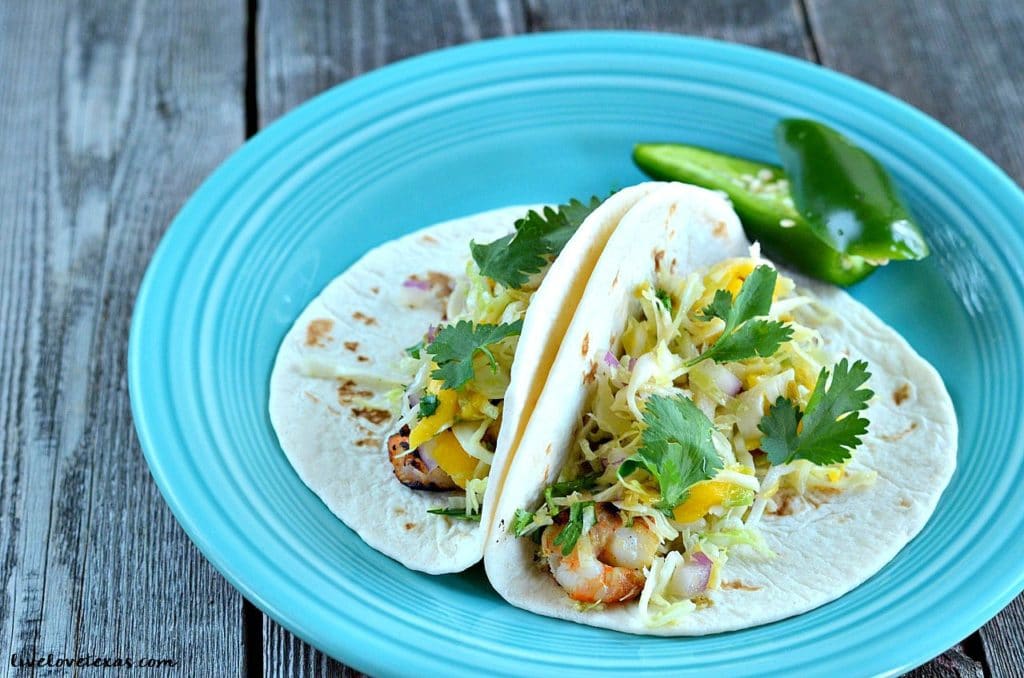 Grilled Shrimp Tacos with Jalapeño Mango Slaw
Prep time:
Cook time:
Total time:
Ingredients
¼ c. olive oil
¼ c. lime juice
2 T. chopped fresh cilantro
2 T. McCormick Gourmet Collection Diced Jalapeño Peppers
1 T. honey
½ tsp. McCormick Gourmet Collection Garlic Powder
½ tsp. salt
1 pound jumbo shrimp (16-20 count), peeled and deveined
3 c. shredded cabbage
1 mango, peeled, pitted, and cut into ¼-inch cubes
2 T. chopped red onion
6 flour tortillas (6-inch)
Instructions
Mix oil, lime juice, cilantro, jalapeño peppers, honey, garlic powder, and salt in small bowl with wire whisk.  Reserve ¼ of the marinade.  Pour remaining marinade into large repealable bag.  Add shrimp; turn to coat well.  Refrigerate 15 minutes.
Meanwhile, mix cabbage, mango, and onion in large bowl.  Add reserved marinade; toss to coat. Cover.  Refrigerate until ready to serve.
Brush 1 side of each tortilla with oil.  Grill, oil-side down, over medium heat 2 to 4 minutes or until lightly browned.  Remove tortillas; cover with towel to keep warm.
Remove shrimp from marinade.  Discard and remaining marinade.  Grill shrimp over medium heat 2 to 3 minutes per side or until shrimp turn pink.
To serve, place 3 shrimp on each tortilla.  Top with slaw and serve immediately.
What's your favorite Mexican dish? If you enjoyed this 
grilled shrimp tacos
recipe
, you might like these other recipes too!