Wow your guests or just simplify dinner for your family with this quick and easy Shrimp and Mushroom Fettuccine Alfredo recipe. It's mouthwateringly delicious, yet so simple to make.
Shrimp and Mushroom Fettuccine Alfredo Recipe
As a busy mama, my days tend to be unexpected and always changing, except for one thing. There's one little question that I can depend on from my family every single day.
Every day, no matter what, all three of my people look at me around 6 o'clock and ask the same question: "What's for dinner?"
Every single day. It never seems to get old for these people and for some reason I cannot get anyone on board for sandwiches or cereal! Some days I love to cook and I have the time and energy but in this season of life, most days I need a quick and easy family recipe!
Like everyone I have my go-to recipes that I cook over and over. Quick and easy meals that everyone will eat.
You know what I'm talking about, Taco Tuesday ring any bells? Easy pasta anyone? However, most of these day to day quick meals are not fancy enough to serve guests.
If we have friends or family over for supper, I'd rather do something a little more special.
Very few of my meals fit into both of these categories. Today, I am going to tell you about the exception.
This Shrimp and Mushroom Fettuccine Alfredo recipe is a mouthwatering, creamy restaurant style pasta dish that can be thrown together in under 30 minutes. Pair this pasta with a crisp salad and garlic bread and you will wow anyone who comes for dinner! Yet this meal is so easy that it is in my usual supper rotation.
And the best part, my kids LOVE it! No more dinnertime meltdowns and negotiations!
Don't let the cream sauce intimidate you, I promise anyone can make this! It is so delicious you'll wonder why you've never made it before!
Let's simplify dinner! Set your timer mama, this meal will be on the table in no time!!
Start with putting your fettuccine noodles in water to boil and we'll move on to the best part, the sauce. Melt your heavy cream and butter together over medium-low heat (do NOT bring to a boil), just allow the butter to melt. Now, I didn't say this was low fat, just scrumptious so carry on.
While the sauce heats up, add your shrimp and mushrooms to a separate pan. Shrimp and mushrooms are a fabulous combination because not only are they both so tasty, they take the same amount of time to cook and can be thrown in the pan together. I drizzle a tiny bit of olive oil, throw the fresh or frozen peeled shrimp into the pan with the mushrooms and let them cook stirring occasionally.
While all your butter is melting and your toppings are cooking, go ahead and open a bottle of white wine. The wine is optional, but it adds a ton of flavor.
Add the wine to your mushrooms and shrimp and immediately pour yourself a glass. You deserve it! The tiny human raising requires wine, plus it's a shame to open a bottle for a recipe and not have a glass! You're welcome.
Now back to the sauce, it's time to add the cheese. Give it a stir and let all that melty goodness thicken up a little.
Drain your noodles and lay them right in that sauce. Sprinkle with garlic salt and combine. You can add your shrimp and mushrooms to the pasta now but my crew likes them on top! Grate a little parmesan on top and devour!!
Shrimp and Mushroom Fettuccine Alfredo
Instructions
Cook pasta and drain.

Heat heavy cream and butter in pan over medium heat until butter is melted.

Add grated cheese to cream sauce and stir as it thickens.

Add garlic salt and pasta to sauce and stir to combine.

In a separate pan, cook mushrooms and shrimp in olive oil over medium heat (5-8 minutes).

Add wine to shrimp pan and cook 5 more minutes.

Top pasta with mushrooms and shrimp.

Garnish with grated cheese.

Serve
Nutrition Facts
Shrimp and Mushroom Fettuccine Alfredo
Amount Per Serving
Calories 559
Calories from Fat 342
% Daily Value*
Fat 38g58%
Cholesterol 246mg82%
Sodium 920mg38%
Potassium 324mg9%
Carbohydrates 31g10%
Protein 21g42%
Vitamin A 1315IU26%
Vitamin C 2.8mg3%
Calcium 317mg32%
Iron 1.9mg11%
* Percent Daily Values are based on a 2000 calorie diet.
Look how gorgeous this shrimp and mushroom fettuccine alfredo looks! Most people only eat alfredo sauce at a restaurant so your guests will be so impressed with this meal! Wine, pasta, salad, and garlic bread… yes, please!!
Now there's a couple of things you must know. First, you must buy the Parmigiano-Reggiano in a block and grate it yourself.
Don't worry, this is fancy cheese shop talk for parmesan cheese and they will have it at your regular grocery store and probably even have it grated for you but don't buy that! You must grate it fresh, it really does make all the difference in the sauce! The 30 extra seconds will be totally worth it and you can use it on top of your salad and garlic bread too!
Second, you are going to wish you were a breadstick and want to dip yourself in this sauce or maybe drink it to save a little on the side before you add the pasta and just dip your bread in there!
That's it, ladies! This heavenly Shrimp and Mushroom Fettuccine Alfredo recipe really is simple to put together and so flavorful! You can do it, treat your family to something new and delicious tonight! Thanks for cooking with me friends, here's another one of my favorite recipes and just in time for the holidays!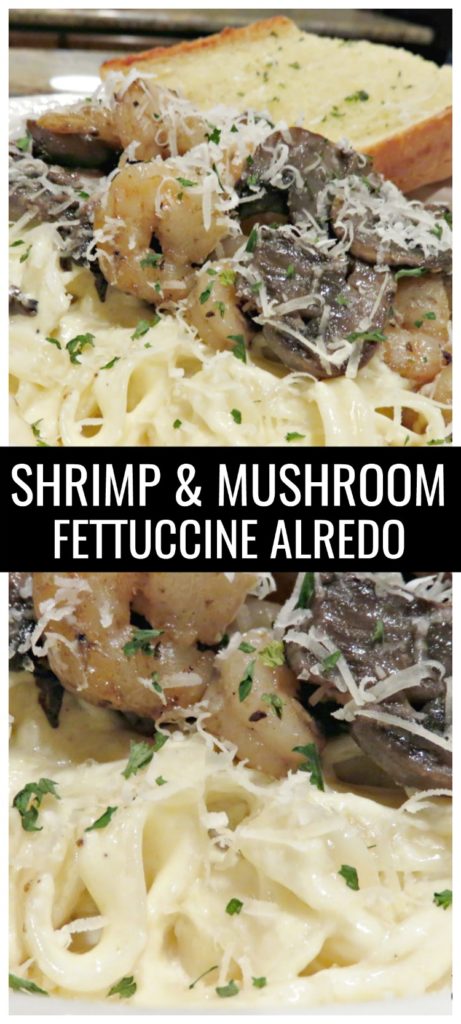 More seafood recipes: