Summer's right around the corner. Don't leave without making sure you're prepped with these 5 road trip must haves for the car!
These 5 Road Trip Must Haves for the Car was sponsored by Best Buy. All opinions are my own.
5 Road Trip Must Haves for the Car
Our family is all about the road trips. That's not to say we don't fly too, but we love the flexibility that driving brings. There's something so freeing about traveling on your own schedule instead of someone else's.
And you don't have to worry about pesky TSA liquid limits or how heavy your bag is. You can pack what you need and still bring all five pairs of shoes with you!
But before we head out on any road trip, we don't just pack our suitcases. We also have some road trip must haves for the car to get prepped as well.
1. License, Registration, and Proof of Insurance.
This one should go without saying and should be in the car every time you get in it. But when you're on a road trip you don't want to be stuck without these things. Especially if you find yourself zoning out and getting a speeding ticket because you don't have a Uniden R7 Radar Detector.
Why the Uniden R7 Radar Detector? You can monitor your speed with voice notifications and a MAX speed warning system. This will allow you to hear when you exceed the preset speed without ever taking your eyes off the road. It also has arrows to show where the radar signal is coming from. And a large screen allows you to keep your focus on the road by being able to quickly and easily read the information.
2. Map App.
In car nav systems are so 5 years ago. When you want to get to your destination as quickly as possible, the perfect pairing with your radar detector is a map app like Waze.
It's not only a map app, but also has real time user reports to detect traffic and can redirect you to a faster route. Here are all the apps you need for road trips.
3. Cell Phone Holder.
So many cities, including Austin, have hands free laws these days. You don't want to get pulled over or worse yet have an accident because your hands are on your phone and not on the wheel. Plus, you'll be able to see your map at a quick glance.
4. Emergency Road Side Kit.
You never know what's going to happen on a road trip or where the closest store, hospital, or mechanic might be. Stay prepared and keep a fully stocked emergency road kit in your car at all times.
Emergency road side kits have all of your first aid essentials and things like flashlights, flares, and jumper cables in one basic spot. If space isn't an issue, you could also piece together your own kit from items you already have and store it in a plastic tote.
5. Spare Tire.
I changed my first flat tire at 16…in the rain. Knowing how to change a tire is a life skill everyone needs before going on a long trip. Make sure you not only have a spare tire but a jack and tire iron too.
Do you have any road trip must haves for the car?
More family travel posts: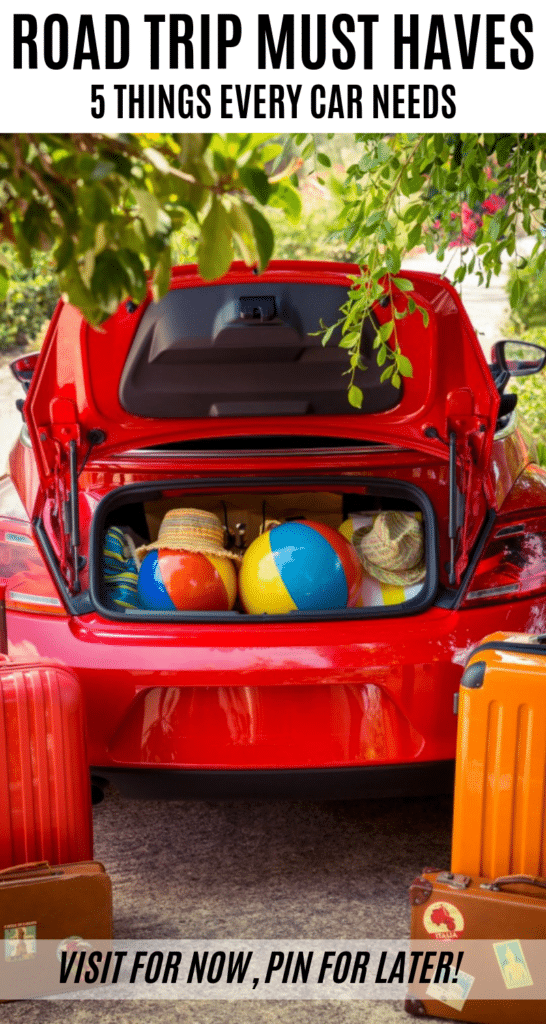 More family road trip tips: