This post on How to Order a Mattress Online is sponsored by BabbleBoxx.com on behalf of Leesa Mattress.
How to Order a Mattress Online
Brady and Colby are finally getting to the age where they're ready to have sleepovers. Since they sleep in bunk beds, this doesn't leave a lot of room for guests to sleep over so we've been on the lookout for alternate solutions to this problem.
And with space for guests at a premium coming up with something that not only allowed the girls to have a sleepover but maximized the space in our house was key. Our house has become the central location for family birthdays and other holidays.
And since my parents and grandparents both live 2 hours away in San Antonio, we need space to accommodate the four of them when they come up to visit. While most people have one guest room, it's kind of rare to have two guest rooms or even two guest beds.
Having two guest beds is exactly what our family needs though. This gives us space to have family visit during the holidays and gives the girls the space to have host sleepovers the rest of the year.
And everyone knows that getting a good night's sleep, even during a sleepover is critical to feeling your best during the day. But the thought of trying to find a new mattress we've been able to thoroughly test and is comfortable can be a challenge with kids in tow.
And I only have two kids, I know those with more than that or ones that are younger can make buying a mattress even more difficult, so I wanted to share how to order a mattress online from the comfort of your own home to make life easier!
Ordering a mattress online
Trying to understand how to order a mattress online is actually much easier than it seems. You won't spend an entire afternoon wandering around mattress store after mattress store, throwing yourself back on the mattress after or mattress or worrying about how a mattress isn't going to fit in your car and how you're going to have to fork over even more money for delivery.
Instead, when you buy a bed in a box from Leesa, you can get an American-made mattress that ships compressed in a box right to your door. But how do you know if you'll like it unless you've laid on it?
Well let's face it, you never really know from laying on it for just a few minutes on the display floor if it's ever the best mattress for you. When you can really decide if the mattress is a good fit is after sleeping on it and Leesa lets you try the mattress in your own home for 100 nights risk-free with free shipping to the US, UK, Canada, and Germany.
But if you're still not sure if buying a mattress online is for you, you can still try before you buy at over 80 West Elm stores nationwide or at the Leesa DreamGallery in SoHo NYC and Virginia Beach.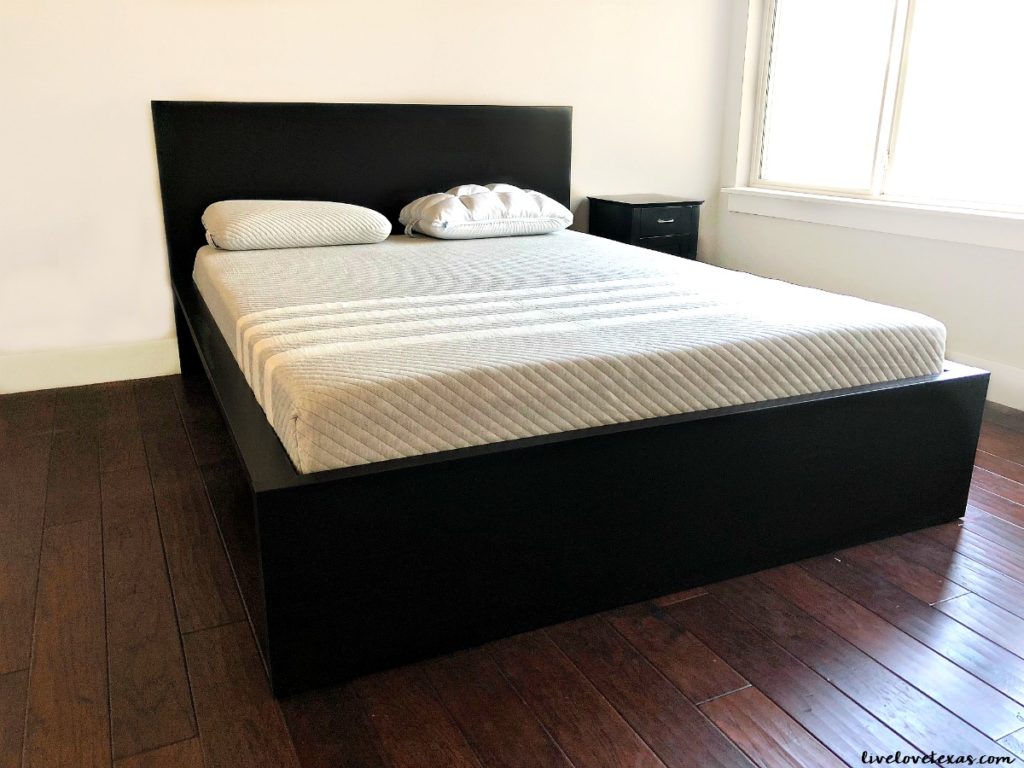 So let's talk about what makes Leesa mattresses such an amazing product to get the best night's sleep. Leesa's 10-inch mattress with patented Universal Adaptive Feel is designed for all types of sleepers and features 3 premium foam layers: a 2-inch layer of Avena foam top layer for cooling and breathability, a 2-inch memory foam middle layer for body contouring and pressure relief, and a 6-inch dense core support foam for durability and structure for sleepers of all sizes. That means the mattress is not only good for sleepovers but my elderly grandparents will have a comfy place to rest their bodies.
Why order Leesa mattresses?
You're probably wondering why out of all the places to order a mattress online, why choose Leesa? Well, other than the quality of their products it's also because Leesa is dedicated to giving back to others.
Leesa is backed by the mission to provide "A Better Place To Sleep for Everybody" and Leesa donates one mattress to a shelter for every 10 that are sold through their One-ten program (with over 22,000 mattresses donated so far!). Plus, Leesa also plants one tree for every mattress sold and donates 1% of each employee's time to volunteer for local causes.
I also received the Leesa Hybrid Pillow which is changing sleep for the better. This unique pillow is adjustable and reversible for custom comfort and cooling. These pillows are all about giving you the personalized comfort you need through minor adjustments to help you sleep.
Leesa Hybrid Pillow
How does the Leesa Hybrid Pillow work? It adjusts to the way you sleep.
There's a pillow insert between the quilted pocket and cool layers that you can remove to change the level of support while you sleep. And instead of a bulky seam, the Leesa Hybrid Pillow has a smooth zipper and discrete seam that goes unnoticed through a pillowcase.
For anyone that flips their pillows while they sleep to drift off on the cool side, you need this pillow because the cool-to-the-touch fabric is made with fibers that give a chilling effected, has a ventilated gel comfort layer, and chills five times faster than traditional pillows.
Unlike other pillows, the down-like quilted pockets are able to maintain their shape and support without clumping or needing to fluff. Plus, the cooling fabric is super durable and can be washed on the gentle cycle so even those stubborn bulldog drools stain won't be a problem!
And after having our new Leesa Mattress for less than a week, it's already being put to good use! We're going to be hosting a family of six from out of state!
My only regret ordering the Leesa Mattress? That I ordered it for the guest room instead of my own room!
As someone that's cold during the day, I get overheated easily when sleeping and my husband would be grateful to not sleep in a room chilled to 65 degrees during the winter.
Leesa Sleep doesn't just stop at mattresses and pillows, they've expanded their line for the entire bed. Leesa also sells blankets, sheets, foundations, and frames as well. It's truly simplified, one-stop shopping for your bed all available online and with free shipping.
More online shopping posts:
Make sure to pin this post so you remember how to order a mattress online when you're ready to buy!