Get ready to ditch your pads and tampons. Save money, gain freedom, and avoid the evil toxic shock syndrome (TSS) with a menstrual cup. Here's everything you need to know about how to use a Diva Cup!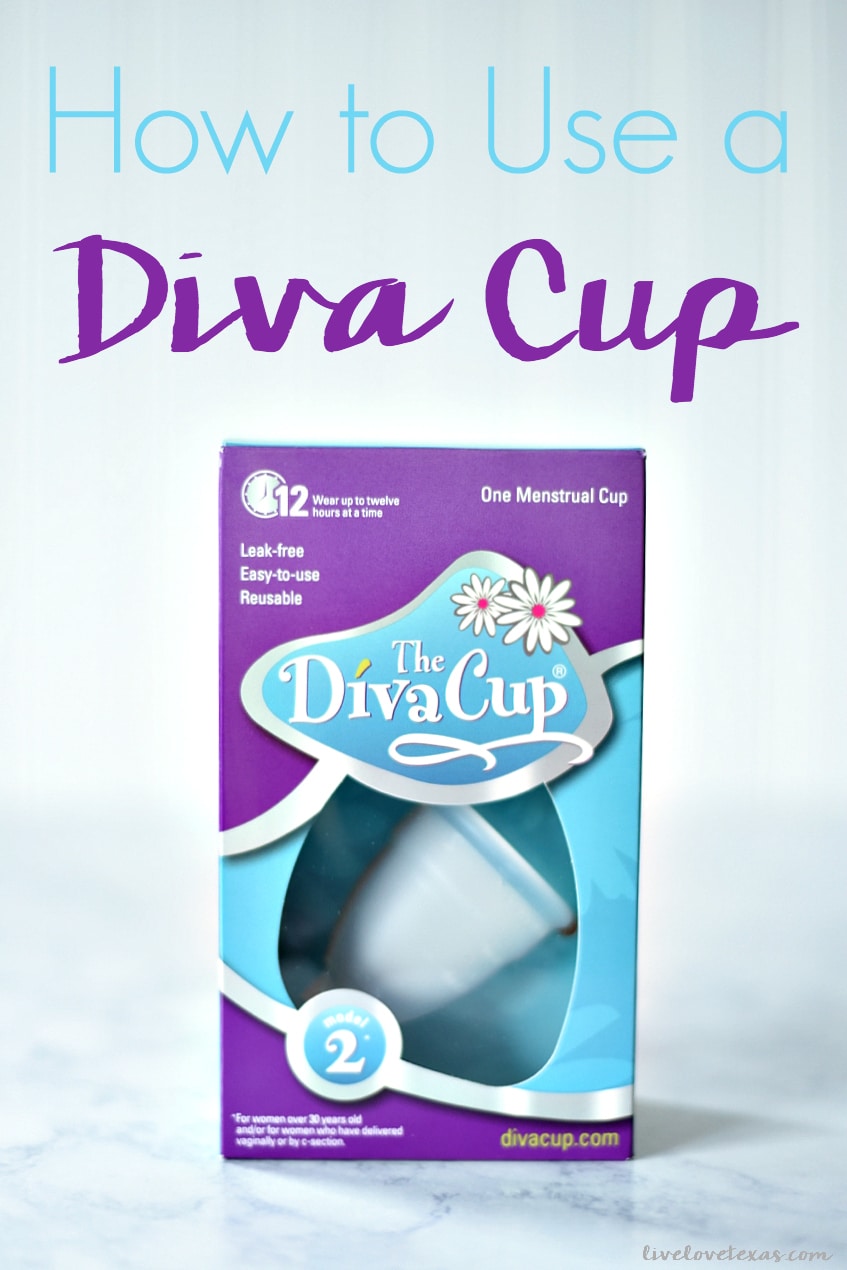 How to Use a Diva Cup
When you're a preteen and teen, your period is something you are constantly talking about. When will it start? What will it feel like?
Unfortunately, I was an early bloomer and got my period a month after my 11th birthday. Dealing with my period each month has just become a way of life.
As an adult, the subject becomes way more taboo. Sure you're cool with chalking up your moodiness to that time of the month, but it's not something you want everyone to know about. You try to be as discrete as possible about something that happens to every woman.
But then there are those new kids on the block that no one wants to acknowledge to help with your period. Those more hippie-dippie methods that seem kind of out there from what our moms and grandmas used to keep up with their monthly visits. I'm talking about cloth pads and menstrual cups.
I have to admit, this city has a way of opening your mind to the more natural/hippie options that are out there. I was a loyal tampon user before moving here and that's when I discovered menstrual cups.
What started as something I did partly to save money and partly to avoid TSS, has become a way of life for me. I know there are several different options for menstrual cups but I've been using the Diva Cup for eight years now and haven't looked back.
I still occasionally rely on tampons, mostly when my period starts unexpectedly (pretty rare these days but it has happened) or I'm traveling and don't have the ability to properly clean my cup between uses then I'll go the tampon route just out of convenience.
The Diva Cup is amazing for so many reasons like having the ability to keep it inserted for 8 hours without fear of leakage or TSS. But trying out something new can be scary.
When I first bought a Diva Cup, it sat on my bathroom counter for at least a month before I got up the courage to start Googling "how to use a Diva Cup". Like most things, just getting started is the hardest part.
But once you figure out how to use a Diva Cup, it's super simple and your initial investment is paid off in about 3 months.
How Does the Menstrual Cup Work? A Step by Step Guide.
1. Buy a Diva Cup.
Technically that is the first step and you can find Diva Cups at some major retailers like H-E-B if you're in Texas, or discretely order one from home off of Amazon (this is what I did). They run between $25-30 and come in two sizes. They make the sizing easy though so Size 1 is for pre-childbirth and Size 2 is for the mamas.
2. Cut the stem.
When the Diva Cup arrives you're going to want to cut the long protruding part of the stem as much as possible. But not too much because you need to give yourself a little area to pull on to remove. Trust me, you won't want to skip this step as the rubbing and chafing can be pretty unbearable if you leave the Diva Cup intact.
3. Wash the Diva Cup (and your hands).
You'll want to use a gentle, non-irritating cleanser on your cup. While Diva Cup makes their own brand of menstrual cup wash. I think it's overpriced and so I use unscented Castile liquid soap instead. A little bit goes a long way with this stuff.
4. Fold the Diva Cup in lengthways to insert.
In it's fully opened form, a Diva Cup can't be inserted. By folding it in half you allow it to be inserted easily. The cup will open up once it's inside of your vagina.
5. Ensure a good seal.
Eventually you'll know when the Diva Cup is locked into place but for now, you may have to feel around to ensure there's a good seal for the Diva Cup around your cervix. If you ever start leaking, it's generally because there was a gap and your cup isn't fully in place.
6. Wash your hands.
This one might go without saying, but you'll find you'll wash your hands a lot more when using the menstrual cup. Before you insert the cup and then again after it's in place.
7. Empty your Diva Cup every 8-12 hours.
Because the Diva Cup is made of silicone and has a pretty large capacity, you'll be able to go an entire workday without emptying your cup. I empty mine directly into the toilet and finish wiping.
How do you get a Diva Cup out?
To get a Diva Cup out, you'll just reach into your vagina and grab ahold to whatever's left of the stem on the menstrual cup.
Can you sleep in a menstrual cup?
Yes, you can sleep in a menstrual cup. You'll just want to make sure you have emptied it before going to bed and again when you wake up.
8. Wash your Diva Cup before reinserting.
Each time you empty your Diva Cup, you'll want to wash your it with a gentle liquid soap before reinserting. At this point, you'll just repeat steps 4-6 for the rest of your cycle.
9. Boil your Diva Cup.
When your period is over, place your cup in a small saucepan and boil for 10 minutes. Air dry and store in the Diva Cup bag.
Do you have to boil your menstrual cup?
You don't have to boil your menstrual cup, but in my opinion, it's more sanitary to boil it and will help avoid any discolorations.
When should I replace my Diva Cup?
Your Diva Cup should last for several years before you need to replace it. The biggest thing you'll notice about the Diva Cup over time is color changes if you choose not to boil your cup.
Learning how to use a Diva Cup is way easier than it seems! If anyone ever complains about the Diva Cup not working for them, you can always share this post and make sure they're doing all of the steps above (especially 2 and 5) and they'll be complete coverts!
More female health posts