This Macaroni & Cheese Stuffed Biscuits recipe is the perfect side dish for a BBQ, party, or your holiday meal!
Macaroni and Cheese Biscuits Recipe
When you think of the holidays, you likely think of all the traditional foods that a great majority of the country enjoys every year. Things like turkey, oyster dressing, cranberries, and green bean casserole.
After year years of letting my grandma do the cooking for the family, I started helping out in the kitchen to ensure I got some of the foods that I liked and wanted to be included in my own family's Thanksgiving traditions.
To ease the transition for my parents and grandparents by changing up the menu from what they'd always known, I did things slowly. One new dish every year isn't hard to introduce or to get used to when they're delicious.
I started with revamping the dessert menu. Gone were the boxed pies and we said hello to homemade desserts.
Better ingredients and more flavor. And who doesn't love a deep dish apple crunch pie? Or some pecan pie bars?
But then I moved on to the sides.
For the sides, I decided to start with crescent rolls in place of dry, flavorless rolls. Easy enough to make the substitution there.
Stuffed Macaroni Biscuits
So, I moved on to a creamy baked macaroni & cheese recipe. Macaroni & cheese is notorious comfort food and with our new home in Texas, few things could be more fitting.
Fortunately, I was right and it couldn't have been more of a success. Rich and creamy macaroni & cheese is always a crowd pleaser.
Well, it had been. Never one to settle on something for too long, I decided to mix things up again.
With my growing list of menu items, it was time to simplify. Not wanting to sacrifice any of the flavors, I decided to revamp and combine things a little.
I swapped out the crescent rolls for biscuits and to take it a step further stuffed them with some of my homemade macaroni & cheese!
The results? The perfect holiday side dish, appetizer, or just comfort food for cold, winter nights. Check out my Macaroni & Cheese Stuffed Biscuits recipe and enjoy all the hearty goodness!
How to make mac and cheese biscuits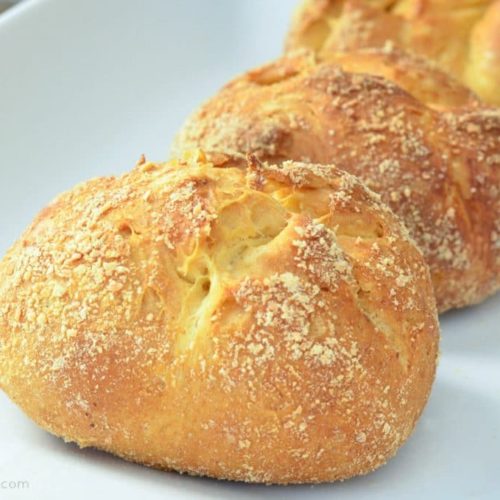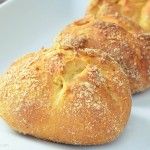 Macaroni & Cheese Stuffed Biscuits
Instructions
Preheat oven to 350.

Lightly spray baking sheet and set aside.

Melt butter in a medium saucepan over medium heat, then whisk in flour until golden brown.

Slowly pour milk into flour mix 1/4 cup at a time, whisking constantly.

Continue cooking until the sauce is smooth and thickened.

When the sauce has thickened, remove from heat and whisk in the cheese until melted.

Mix in pasta until thoroughly coated and season with salt and pepper (optional).

Flatten out each biscuit and spoon 1 tbsp. of macaroni in cheese in the middle.

Grabbing opposite sides of the biscuit pinch up, you'll do this twice.

If desired, lightly roll in the parmesan cheese and place on baking sheet.

Repeat until all are complete spacing 2-3" apart on the baking sheet.

Cook for 30 minutes or until golden brown.
Nutrition Facts
Macaroni & Cheese Stuffed Biscuits
Amount Per Serving
Calories 363
Calories from Fat 144
% Daily Value*
Fat 16g25%
Cholesterol 20mg7%
Sodium 692mg29%
Potassium 202mg6%
Carbohydrates 43g14%
Protein 10g20%
Vitamin A 210IU4%
Calcium 172mg17%
Iron 2.3mg13%
* Percent Daily Values are based on a 2000 calorie diet.
Have you tried macaroni & cheese stuffed biscuits yet? What's your favorite way to add a tasty, hidden addition to your favorite biscuit?!