Do you know how to clean your fridge? Cleaning your fridge weekly is the key to reducing cleaning time and food waste. Here are the 5 Best Ways to Clean Your Fridge.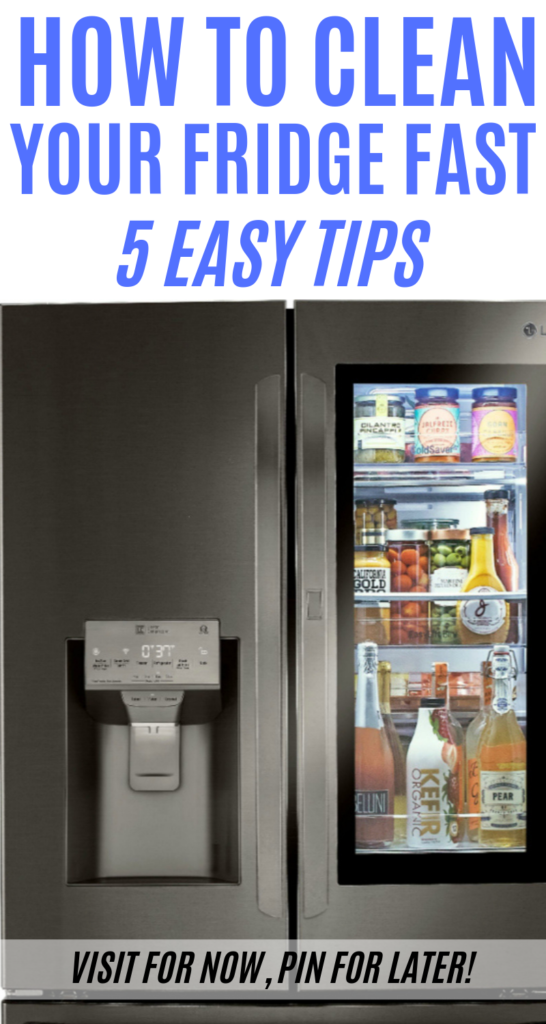 This post on How to Clean Your Fridge was sponsored by Best Buy. All opinions are my own.
How to Clean Your Fridge
Deep cleaning isn't just for spring. Holiday entertaining is right around the corner and it's time to get your kitchen cleaned.
It's easy to overlook areas in your house that aren't obviously visible. Places like drawers, cabinets, and closets are easy to forget to clean up.
Another area you might forget to clean up is your fridge. It's easy to just leave everything in there piling up until you need to make room for Thanksgiving leftovers.
Getting into the habit of cleaning out your fridge weekly is key to making cleanup faster, keeping your space clean, reducing waste, and ensuring space is available to store whatever you need.
Here are the 5 Best Ways to Clean Your Fridge to keep it clean for the holidays and every day.
5 Best Ways to Clean Your Fridge
1. Clean up spills immediately.
2. Get rid of leftovers before you go to the grocery store.
3. Wipe up spills before going to the store as well.
4. Clean from top down. And from the inside out.
5. Deep clean quarterly. Remove all shelves and drawers. Soap in a warm water/dish soap solution, then allow to air dry completely.
Having a new fridge like the LG InstaView Door-to-Door fridge definitely makes cleaning and organizing food for the holidays easier. See right through the glass panel door. Access on-the-go items, beverages, condiments, and more without having to open the whole fridge.
LG InstaView Features
Maximum organization with 4 split shelves, 3 fixed shelves, cantilevered shelves and more to provide ample space for storing items. Plus, a drawer divider to keep frozen foods organized.
Keeps produce fresh up to 2X LONGER.
Linear Cooling maintains a consistent temperature within 1°F of your preferred settings.
Smart Cooling uses digital sensors and vents for cooling control.
Door Cooling + delivers blasts of cool air that reach all areas of the refrigerator.
Craft Ice™. This is a game-changer for entertaining. This dual icemaker automatically makes batches of slow-melting round ice—without the work!
Get ready for holiday entertaining with the new LG InstaView Door-to-Door fridge from Best Buy here.
For more cleaning tips and tricks, check out these posts: