Spring house cleaning is simplified with these 10 products. These tools and cleaners all pull double duty and will make spring cleaning easy.
This post is sponsored by BabbleBoxx.
Spring is here! The weather is warming up and school is almost out.
Whenever this time of year rolls around I'm all about cleaning and organizing. Getting everything cleaned and organized in my physical space makes me excited and ready to jump into the new season.
This year has been all about simplifying life and my routine. I've realized more than ever I need less stuff in my life and having less allows me more space in my home and in my head.
Sparking joy and finding simplicity in less is a process but ultimately is so freeing. I don't need to hold onto things because I spent good money on them or was guilted into taking them or they had sentimental value.
As I moved about organizing and simplifying my home, things extended beyond just the typical stuff that you might donate. It also means simplifying the tools and products I use to clean my home.
I don't need a thousand different specific cleaners to get everything done around the house. Or to hold on to that clunky vacuum cleaner because I overpaid for it 10 years ago. Especially now that it's a dinosaur in size and technology.
If you're looking to save time and space by simplifying your cleaning supplies, these are the tools and products you need.
10 Spring Cleaning Products to Simplify Your Home
Doing dishes can be so time-consuming. Most of it's because of all the time spent pre-washing and scrubbing dishes before you even put it in the dishwasher.
But now you can save time and still get clean dishes with Auto Dish Detergent from Lemishine. Cleaning with citric acids allows you to take dishes directly from the table and get them sparkling clean in the dishwasher. That's it!
Swap your regular dish rinse aid for this hard water fighting detergent booster. Say goodbye to cloudy, spotty, filmy glasses and dishes with this one product.
3. Dish Soap
4. Non-Scratch Scrub Sponge
ONE Clean Home can be used inside and outside the house on all types of hard surfaces. It has a foamy, no-drip formula that's safe on wood and other hard surfaces.
It's more effective than vinegar and water, but safer than other alternatives so you don't have to worry about the safety of your kids, pets, or the planet. Order ONE Clean Home online from Amazon or find it in-store at your local Lowe's.
Avoid using ONE Clean Home on leather, fabric, glass, and mirrors.
6. Glass Cleaner
7. Microfiber Cleaning Cloths
Cleaning the bathroom has always been my least favorite chore. Well, cleaning the bathtub and shower specifically. There's just so much real estate and it takes so long to cover it all with traditional cleaners.
Then, Magic Eraser from Mr Clean came out and it was a total game changer! They look like regular sponges but clean like magic! Now I don't mind cleaning the bathroom and can even trust my girls to help.
These are also available in Extra Durable, Magic Eraser Bath, and Magic Eraser Kitchen. So there's literally a sponge for every tough to clean spot in your house.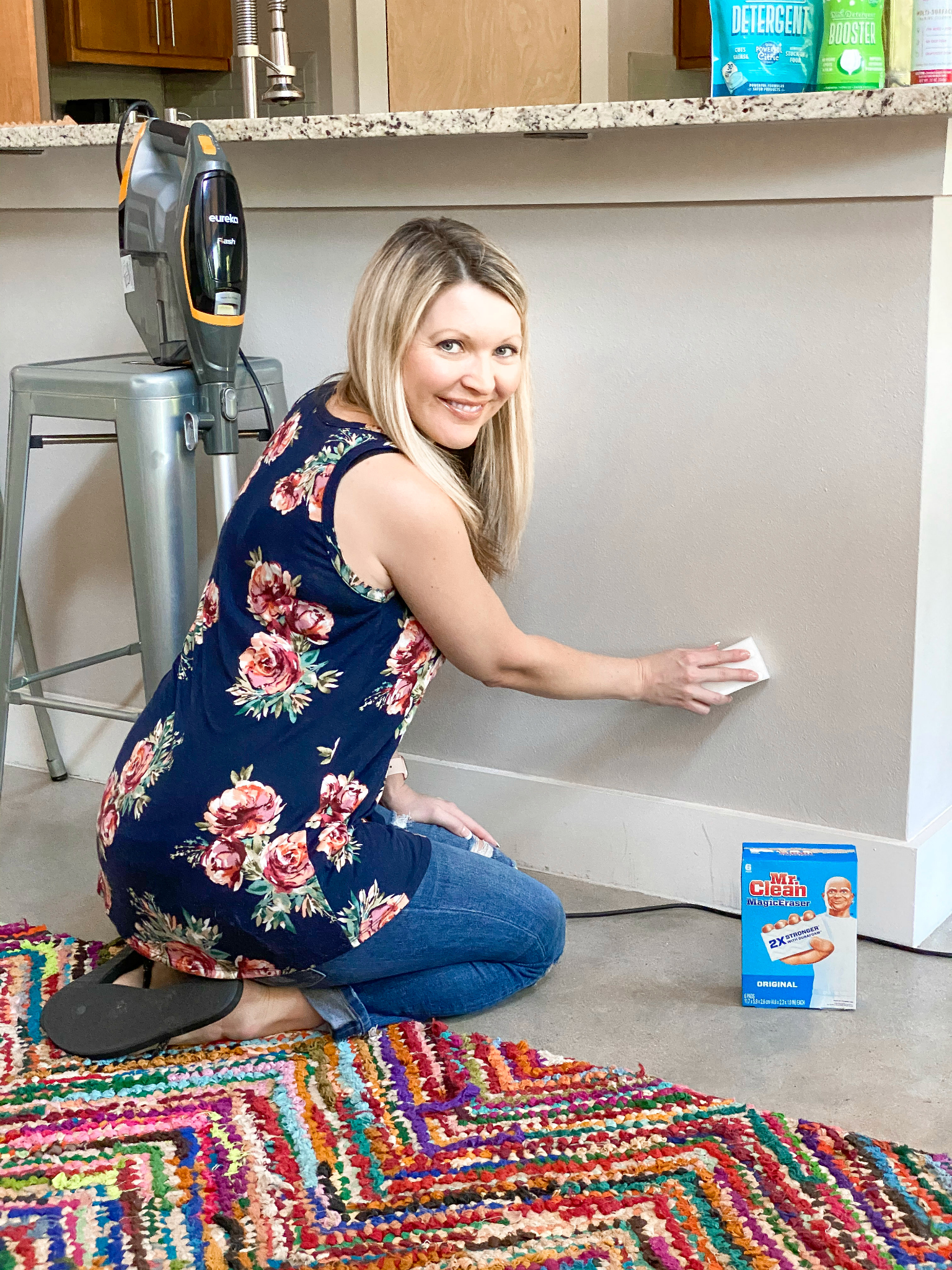 I love me some Magic Erasers, but here's what not to use Magic Erasers on.
One of the drawbacks of having a two-story home is hauling vacuum cleaners up and down the stairs. And then cleaning the actual stairs themselves.
The Eureka Corded Stick vacuum is perfect for the entire house. Its lightweight design allows it to be easily transported between floors, a size the kids can maneuver, and perfect for above-floor cleaning like cleaning off the furniture! For our family and other families that RV, this Eureka model is perfect for the RV life too as it has a minimal design with versatile features.
New to the market this April and available nationwide. Shop Eureka here and get 15OFFNES510O (15% off the Flash, valid May 4th – 17th, 2020, this code is capped at 100 people and limit 1 per customer).
10. Spray Mop
More cleaning posts:
How have you simplified your spring house cleaning this year?