The meaning and significance of Memorial Day often get overlooked. As you enjoy your 3-day weekend, spend time honoring those that lost their lives. Here are some of the Best Patriotic Memorial Day Quotes and Sayings to help you reflect.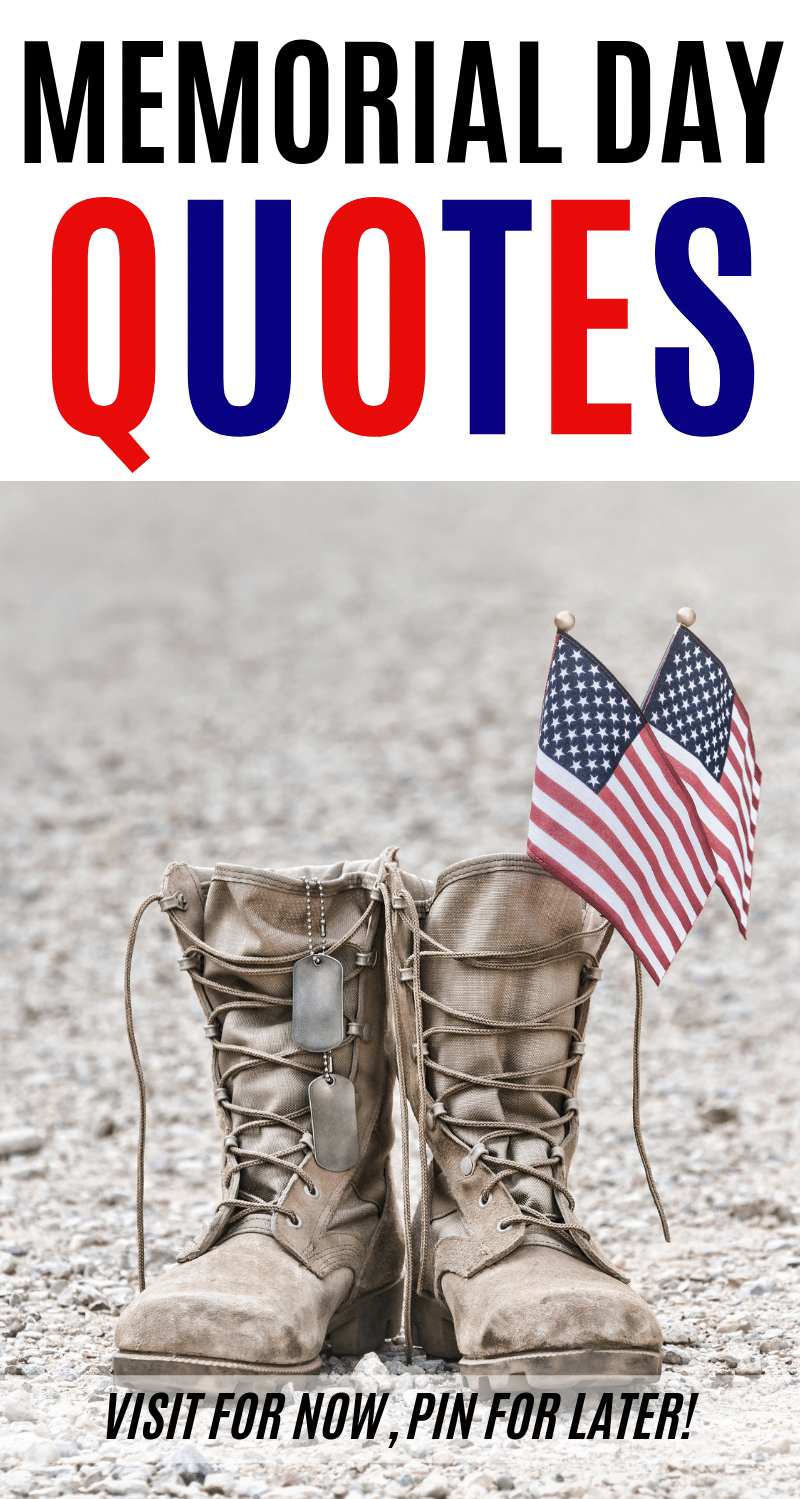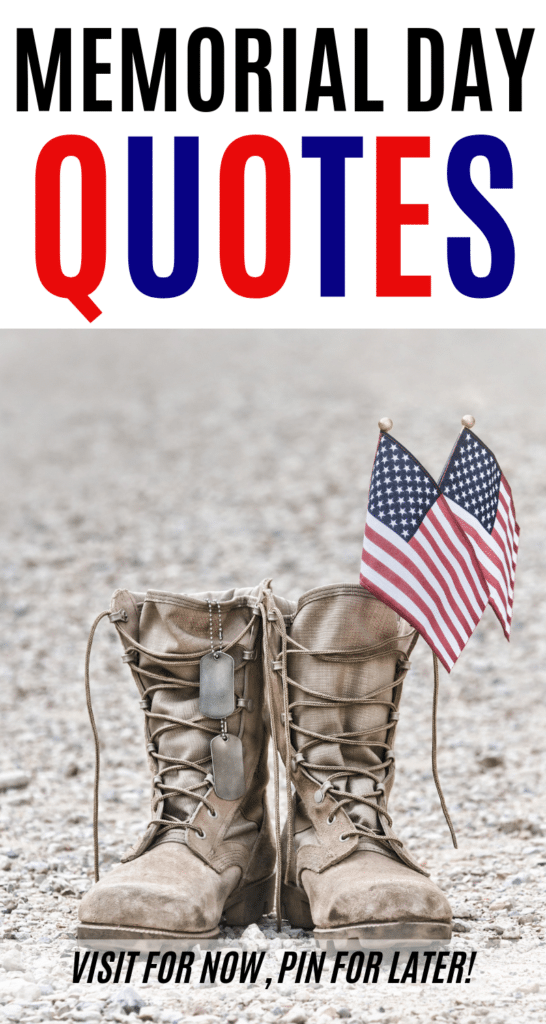 To many Memorial Day weekend is the kickoff to the summer season. Parties, picnics, and pools are on the agenda for many across our country.
Before you head to enjoy time with your friends and family, take time to express gratitude to those that lost their lives fighting for our freedom. We love America and have long enjoyed such privileges from the soldier who died protecting our freedom.
Remember all of those hard-working, self-sacrificing men and women that have fought for our country. These women and men have died for their love of country and deserve our gratitude.
You might also like this post on The Importance of Teaching Patriotism to Kids.
All of the Best Patriotic Memorial Day Quotes and Sayings below articulate so perfectly what patriotism really means. Happy Memorial Day!
Best Patriotic Memorial Day Quotes and Sayings
"We've been blessed with the opportunity to stand for something – for liberty and freedom and fairness. And these are things worth fighting for, worth devoting our lives to."
-Ronald Reagan
"Memorial Day isn't just about honoring veterans, its honoring those who lost their lives. Veterans had the fortune of coming home. For us, that's a reminder of when we come home we still have the responsibility to serve. It's a continuation of service that honors our country and those who fell defending it."
-Pete Hegseth
"As America celebrates Memorial Day, we pay tribute to those who have given their lives in our nation's wars."
-John M. McHugh
"My fellow Americans, ask not what your country can do for you, ask what you can do for your country."
John F. Kennedy
"I only regret that I have but one life to lose for my country."
-Nathan Hale
"137 years later, Memorial Day remains one of America's most cherished patriotic observances. The spirit of this day has not changed – it remains a day to honor those who died defending our freedom and democracy."
-Doc Hastings
"I have long believed that sacrifice is the pinnacle of patriotism."
-Bob Riley
"Patriotism consists not in waving the flag, but in striving that our country shall be righteous as well as strong."
-James Bryce
"Patriotism is not short, frenzied outbursts of emotion, but the tranquil and steady dedication of a lifetime."
-Adlai Stevenson
"There is nothing nobler than risking your life for your country."
-Nick Lampson
"A man's country is not a certain area of land, of mountains, of rivers, and woods, but it is a principle and patriotism is loyalty to that principle."
-George William Curtis
Which one of these Memorial Day quotes and sayings is your favorite?
More military posts:
Don't forget to pin the Best Patriotic Memorial Day Quotes and Sayings for later!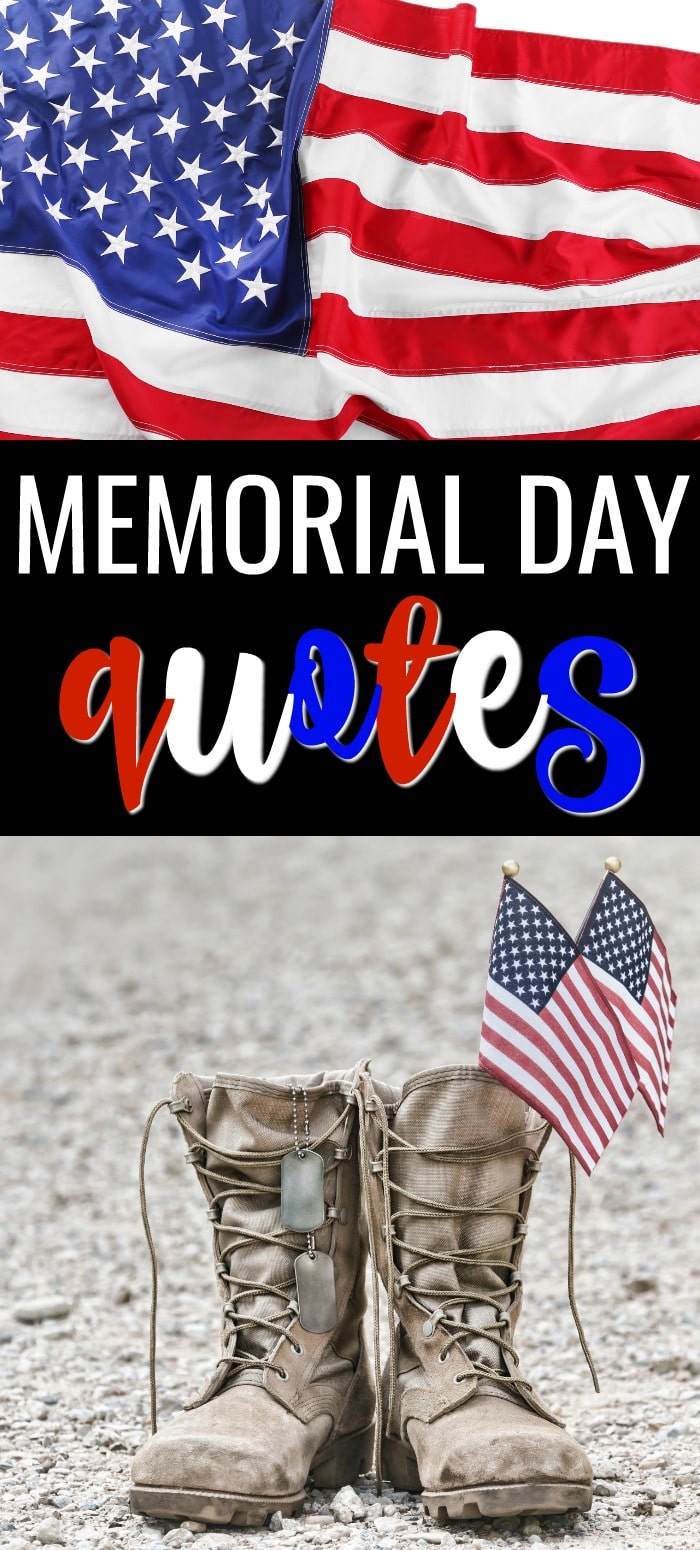 More holiday quotes:
Quotes on seasons: