This post on How to Wash Airbrushed Shirts is a sponsored post on behalf of Carbona.
My kids are at the age where every trip and experience is somehow made by a trip to the gift shop. In their minds, they need a souvenir to bring home from every experience.
And if not "made" then at least complemented in a tangible way. Somehow that means the kind that only spending money for the memories will do.
On our beach trip this summer, the girls decided their souvenir would be an airbrushed shirt. We've seen these shirts throughout the years but have never bought one.
Somehow this year, the girls really honed in on these colorful creations. And they had the best time going through every design before selecting their favorite ones.
True to form, Brady chose a Pokemon-inspired design. While Colby picked a super feminine looking dog.
You would have thought the 45-minute wait would be the longest part. But instead, it was the warning they gave us. In order to preserve the shirt and avoid the colors bleeding, we needed to wait at least 5 days to wash the shirts once wearing.
Well, considering water abounds at the beach, that meant limiting its wear so we could wash it right away if when the girls got something on their shirts like the pasta sauce you can see on Colby's shirt in the photo above (after washing photo below).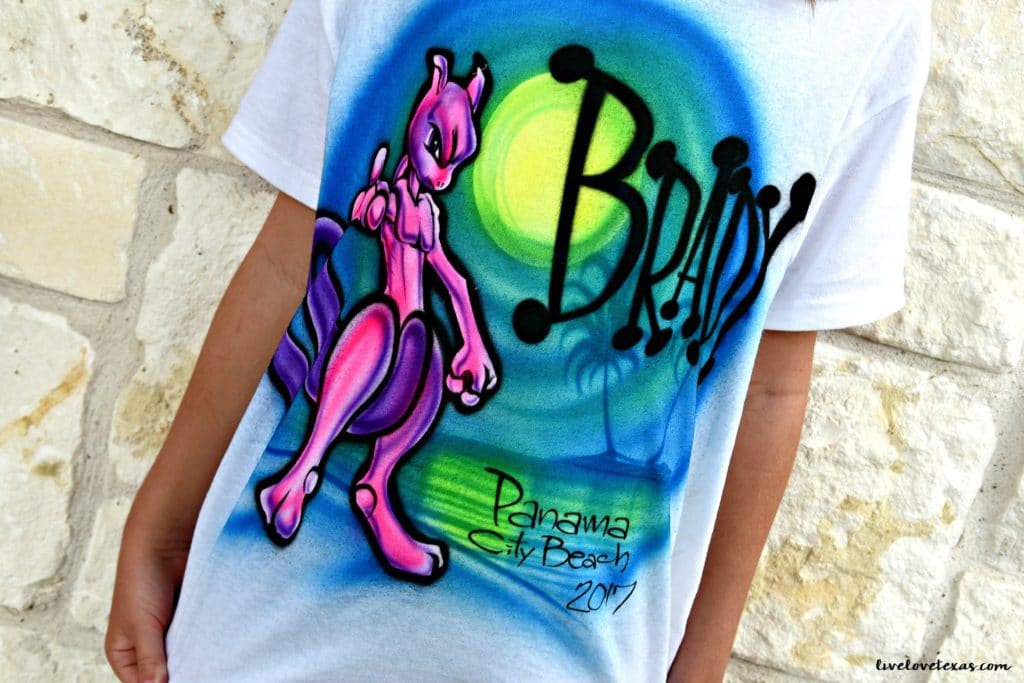 After spending years on the beach and having my own airbrushed shirts throughout the years, I knew how to wash airbrushed shirts but realized that not everyone would know these tricks to keep their beach souvenirs looking vibrant and like new as long as possible. Don't let your vacation memories fade, just follow these simple steps on how to wash airbrushed shirts below!
How to Wash Airbrushed Shirts
1. Wait at least 5 days before washing shirts.
2. Turn airbrush shirts inside out and place in the washer.
3. Select and use cold water.
4. Add mild laundry detergent and Carbona Color Grabber to the machine. Color Grabber is a microfiber sheet that helps protect the other items in your load from color runs and bleeds during the wash cycle.
This wonder microfiber sheet catches and absorbs loose dyes so they don't end up staining your clothes. This is a laundry must-have (not just for airbrushed clothes but for all of your loads) because it protects laundry from color-run damage simply by tossing the sheet into the wash.
Tip: if you have a front loader, make sure to put your Carbona Color Grabber sheet in a mesh laundry bag so you don't clog up your machine.
5. Tumble dry low and remove promptly.
You can find all of the products you need like laundry care products to wash airbrushed shirts as well as other products like carpet cleaners, stain devils, and household cleaners to help clean up any other of life's messes with Carbona!
Learn more about Carbona by visiting their website and learn more about the ways Carbona can help you clean up the messes in your life by following the brand on Twitter, Facebook, Pinterest, Instagram, and YouTube.

Looking for more tips beyond how to wash airbrushed shirts? Follow me on Pinterest!