Forget cake and ice cream for your next party, try this five-ingredient homemade birthday cake milkshake recipe instead! This birthday cake drink recipe is exactly what you need to celebrate. Plus, try the boozy alcohol birthday cake option for adults!
Homemade Birthday Cake Milkshake Recipe
The days are long, but the years are short. When you're in the thick of parenting littles, this quote has often given me the motivation to power through with a happy spirit.
Two weeks ago, my youngest turned 5 years old. FIVE. How is that even possible?! Where does the time go?
Her entire existence has pretty much been captured on this blog. From the time I found out, to the at home gender prediction tests, weekly progesterone shots, and her premature birth at 36 weeks until now.
These five years have been so full but at the same time have gone by way too quickly. While she's spent her entire life a staple on this blog, not all of her birthdays have even made it on here.
The rainbow cupcake recipe from her first birthday party is, but not the Frozen party we threw last year and that amazing recipe. I love birthday cake! And while she likes cake and ice cream just fine but given the opportunity, she'd rather be drinking than eating.
So I whipped up this homemade birthday cake milkshake recipe in her honor and for those kids (or adults) that want to celebrate a little differently on their special day!
You still get all the flavor of a birthday cake, the creaminess of ice cream but less mess and it's so easy! And with only five ingredients (six if you count the cherry), this birthday cake milkshake recipe is perfect for a creamy and delicious treat! This is a fast, easy, yet special dessert!
Birthday Cake Milkshake Ingredients
Milk
Vanilla ice cream or cake batter ice cream
Vanilla dry cake mix
Sprinkles
Whipped cream
Optional: extra vanilla extract
Adult Birthday Shake Option
Add a shot of your favorite mixer. Y'all know I love me some Bailey's recipes so that would be a yummy option.
You could also add a flavored whipped cream vodka. Or, do a birthday cake flavored shot on the side!
How to make Cake Batter Milkshakes
Combine all the ingredients (except for the whipped cream) in a blender on medium and blend until smooth and creamy.
Pour cake shakes into a tall glass and top with whipped cream.
Pin this birthday cake milkshake recipe for later!
For more homemade rainbow dessert recipes:
Chocolate Cupcakes with Rainbow Buttercream recipe
Rainbow Cupcakes with Buttercream Frosting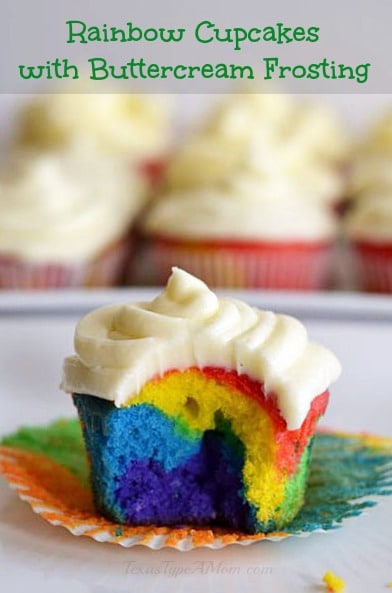 More drink recipes:
Birthday Cake Shakes
Now you can have your cake and drink it too! Print out the recipe card below so you can make this for your next birthday party!
Homemade Birthday Cake Milkshake
Instructions
Combine all the ingredients (except for the whipped cream) in a blender and blend on medium until smooth and creamy.

Top with whipped cream and sprinkles.
Nutrition Facts
Homemade Birthday Cake Milkshake
Amount Per Serving
Calories 591
Calories from Fat 180
% Daily Value*
Fat 20g31%
Cholesterol 70mg23%
Sodium 611mg25%
Potassium 464mg13%
Carbohydrates 90g30%
Protein 11g22%
Vitamin A 755IU15%
Vitamin C 0.8mg1%
Calcium 450mg45%
Iron 1.4mg8%
* Percent Daily Values are based on a 2000 calorie diet.