Even if you think it's a Hallmark holiday, there's nothing wrong with taking a little extra time to make these 25 delicious breakfast recipes for Valentine's Day and start the day off on a high note!
25 Breakfast Recipes for Valentine's Day
Make one of these breakfast recipes for Valentine's Day as an extra special, decadent, and delicious breakfast start to your day. Valentine's Day is all about love, and why not show your family some love with some extra rich and sweet breakfast treats to start their day out right. It is a good excuse to treat yourself to those decadent pastries, stuffed french toast, and loaded pancakes!
Don't forget to serve these recipes with a fun drink like this Red Velvet Hot Chocolate recipe!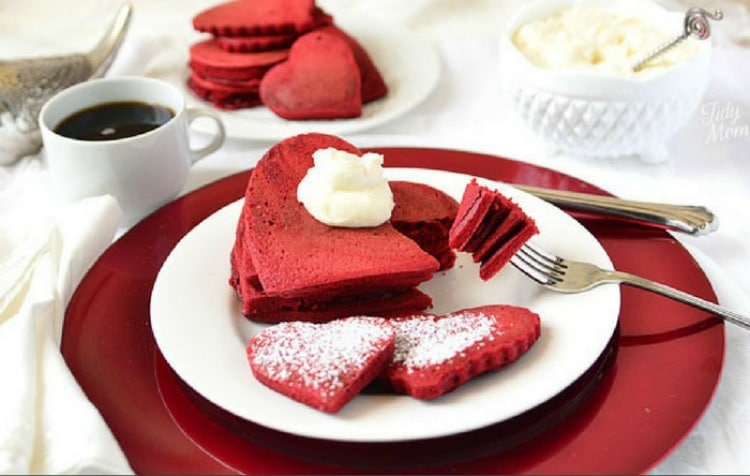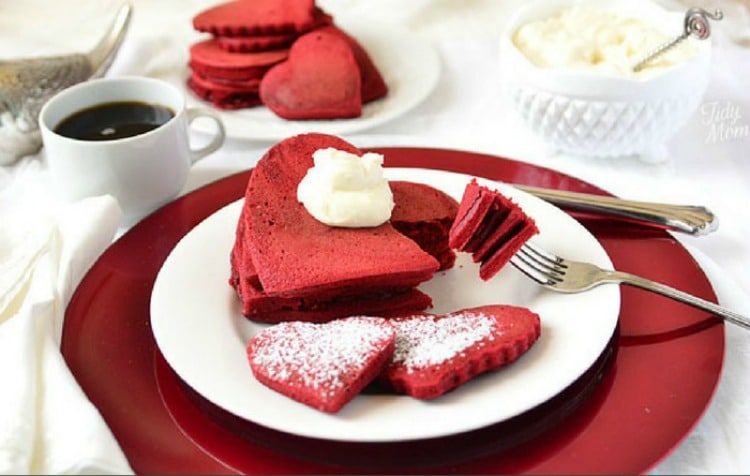 Sweet Breakfast Recipes for Valentine's Day
Red Velvet Crepes| Tidy Mom: These crepes are filled with a cream cheese and raspberry filling that will satisfy that sweet tooth. These are a perfect treat.
Red Velvet Bread| 3 Boys and A Dog: Your family will be over the moon with this gorgeous red velvet bread. It is a rich red color, with a drizzle of sweet icing on top. A perfect way to celebrate Valentine's Day.
Fruit Smoothie Bowl| Finding Zest: Make this fruit smoothie bowl with a heart shape in the center for your family! A light and refreshing breakfast option that is Valentine's Day themed.
Strawberry Cookie Butter Heart Waffles| Honey and Lime: These are made with store-bought waffles, and filled with rich cookie butter and fresh strawberries.
Easy Oven Baked German Pancakes| Melanie Cooks: I love the texture and flavor of German pancakes, they are so different than a box mix. These are so simple to make and you cook them in the oven! Sprinkle with powdered sugar, add fresh berries, or drizzle on some syrup and breakfast is ready!
Angel Food Cake French Toast Casserole| The Tip Toe Fairy: Now this is a pretty sweet treat, and could be considered a dessert but Valentine's Day comes one time a year, have a sweet breakfast!
Blueberry Heartcakes| Strength and Sunshine: Sink your teeth into these decadent blueberry pancakes that are the shape of a heart.
Berry Pecan Bread| Mommy Snippet: This is a berry packed quick bread that is perfect to start your morning! Not too sweet and a perfect treat.
Red Velvet Cake Donuts with Cream Cheese Frosting| The Baking ChocolaTess: The color, the flavors, these are scrumptious to the last crumb.
Cinnamon Applesauce Muffins| Mashup Mom: These are bright red muffins that scream it is Valentine's Day!
Strawberry Pancakes with Strawberry Sauce| Small Town Woman: These pancakes are so delicious and they have a sweet sauce to use instead of syrup.
Heart Shaped Cinnamon Rolls| The Pinning Mama: These are store bought cinnamon rolls that you dress up with pretty pink frosting and you can't forget sprinkles!
Blueberry Cream Cheese Danish Rolls| Southern Plate: These are a quick and easy breakfast option that is super sweet and satisfying.
Cupids Arrow Pancake Kabobs| This Ole Mom: Fresh fruit, pancakes, in the shape of cupids arrow sounds like a home run for any kid!
Red Velvet Pancakes| Tidy Mom: Wow these are stunning to look at and perfect for your special someone or the whole family!
Chamomile Raspberry Smoothie| Live Love Texas: If you prefer a light breakfast, try this refreshing smoothie.
Granola Cups| Mommy Cooks: A hearty granola cup with some yogurt and fresh fruit in the center! For a wholesome breakfast dish.
Cinnamon Roll Breakfast Casserole| The Typical Mom: There's something about a breakfast casserole that just screams holiday!
Strawberry Vanilla Loaf Heart Cake| Lady & the Blog: How cute and festive is this heart shape that you can see throughout?!

Savory Breakfast Recipes for Valentine's Day
Do you have any go-to breakfast recipes for Valentine's Day you make to start the day off on a special note? I'd love if you'd share them with me on Facebook!
More Valentine's Day snack ideas:
And for even more Valentine's Day recipes, check out some of my favorites!