This Valentine Popcorn recipe is an easy, yet festive snack that looks amazing!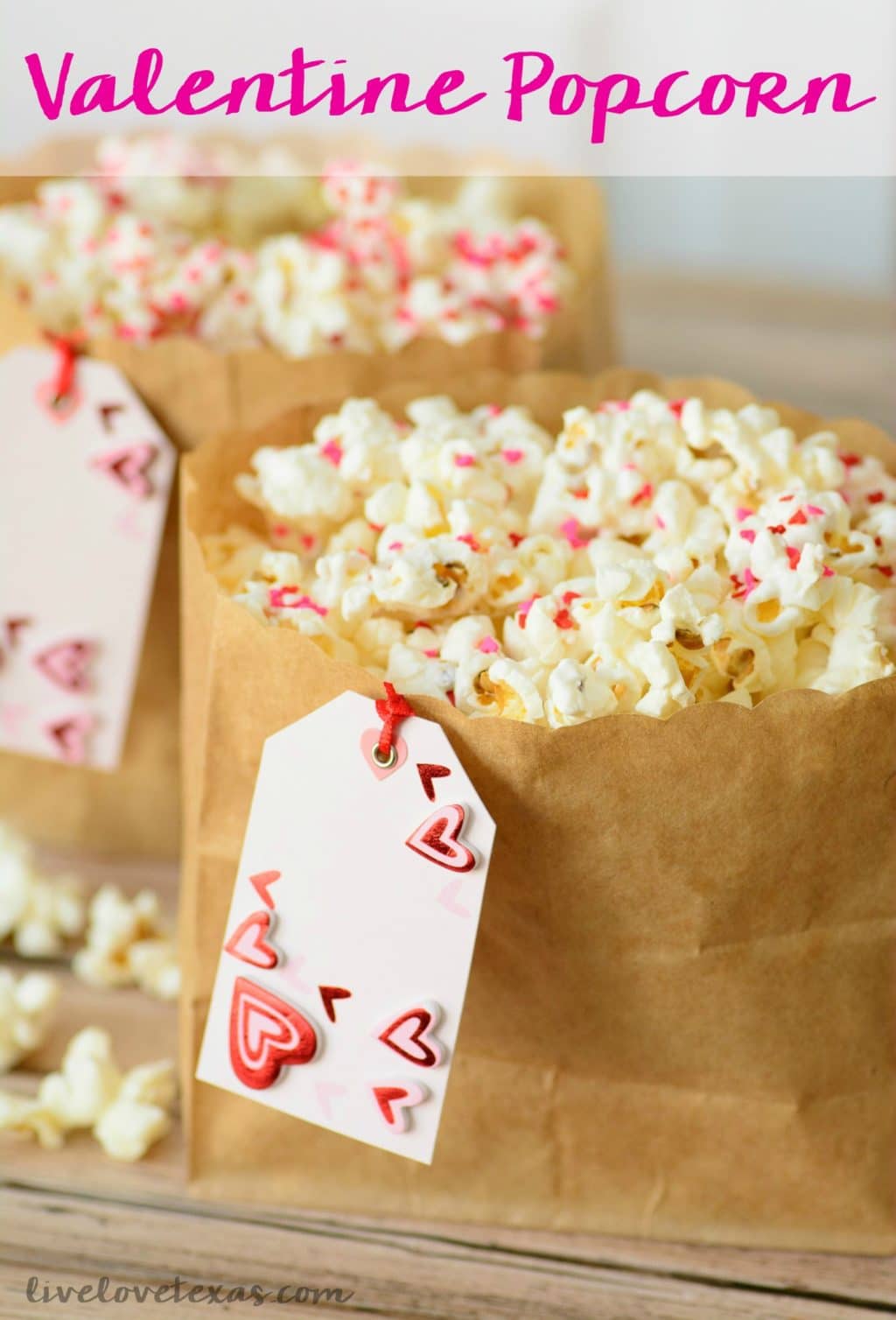 In our 15 years together, my husband and I have never been much for celebrating Valentine's Day. We've always been more of the mind that we should show our love for each other everyday instead of saving it all up for one day of the year, buying stuff we don't need just to have a gift to exchange, and fighting the crowds at a restaurant.
But things have changed, at least a little, since we've had kids. There's nothing like the excitement of a holiday…any holiday. So these days we put out little decorations that they've made or we've been given over the years, make cards for our friends, and we spend time in the kitchen.
Working with a 7 and almost 4 year old on recipes, can limit your options somewhat. But with some cookie cutters or sprinkles, almost anything can be transformed into Valentine's Day treats!


Like this valentine popcorn! For a last minute playdate snack idea or just a fun, festive treat to watch a movie with this valentine popcorn recipe is so easy to make that the kids can help! It tastes delicious and chances are, you probably have all the ingredients you need on hand!

Valentine Popcorn
Ingredients
12 ounces white chocolate
8 cups popped popcorn
½ tsp. salt
valentine sprinkles
Instructions
Heat chocolate in the microwave or a double boiler until completely melted and stir.
Place the popcorn in a large bowl, and pour the melted chocolate over it.
Use a spoon to toss the popcorn until it is evenly coated with the chocolate.
Spread the popcorn out on a baking sheet covered with parchment or wax paper.
Add the sprinkles.
Let cool for 10 minutes or until the chocolate has hardened.
Break up into small pieces and serve!
Warning: I've tried making this valentine popcorn recipe with candy melts and chocolate chips (like in this recipe) and the chocolate chips are so much easier to deal with. If you have any suggestions on using candy melts in popcorn, please let me know on
Facebook
 because I have not had any luck with it yet.
Don't forget to pin the recipe below and save it for later!