These 25 Quick & Easy Waffle Recipes range from basic and sweet to creative and savory. They're the best waffle recipes for every breakfast or brunch.
25 Quick & Easy Waffle Recipes
Easy waffle recipes make the perfect breakfast because they're so versatile and easy. Waffles can be soft, crispy, sweet or salty, fruity…anything you want them to be, you name it!
Toss the box of frozen waffles and try making your own! These waffle recipes are so easy and delicious, there's sure to be something on here for every member of your family. And if there are any leftovers, waffles are freezer friendly too!
You'll love these 25 quick and easy waffle recipes I'm sharing today. I'm super excited about trying a few of these and hopefully, you'll be too! The crispy Belgian waffles are definitely at the top of my list. But first before I share the recipes, here are some waffle tips to get you started!
How do you make crispy waffles?
The trick to crispy waffles is pouring the batter into a preheated waffle maker for 3-4 minutes. You can always place them in the oven for 5-10 minutes longer if they're not quite as crispy as you'd like.
How do I clean my electric waffle maker?
To clean your electric waffle maker, first, you're going to want to allow the waffle iron to cool before trying to clean it. You can use a paper towel to remove any excess oil and then wipe clean with a damp sponge to remove any excess. Air dry.
How do you freeze waffles?
Let your waffles cool down completely. Then, line a baking sheet with parchment paper or a silicone baking sheet and freeze for 2 hours. Once, the waffles are frozen place them in a bag or plastic container. To avoid the waffles sticking together, separating them with parchment paper before placing in storage container is a good idea.
How long do homemade waffles last in the freezer?
Homemade waffles will usually last for about 3 months in the freezer before they start getting freezer burnt. They're still safe to eat after that since they've been frozen, but to avoid freezer burn or any loss of flavor you can vacuum seal your waffles. I love to make huge batches of waffles for my kids so it's fast and easy breakfast on school mornings.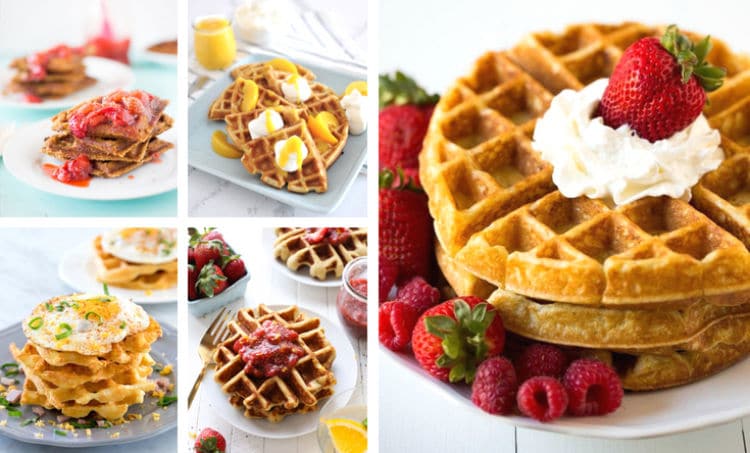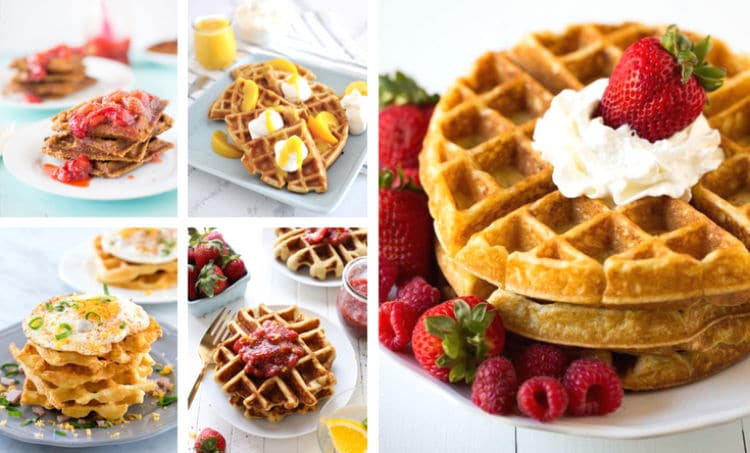 25 Easy Waffles
1. Peaches & Cream Waffles†from laurafuentes.com
2. Peanut Butter And Strawberry Jelly Compote Waffles from jessicainthekitchen.com
3. Best Homemade Waffle Recipe from inspiredtaste.net
4. Almond Flour Waffles from lowcarbyum.com
5. Belgian Waffles from twopeasandtheirpod.com
6. Churro Waffles from livelovetexas.com
7. Easy Banana Flour Waffles from fearlessdining.com
8. Freezer-To-Toaster Waffle Recipe from newleafwellness.biz
9. Healthy Protein Waffles from damndelicious.net
10. The Best Waffle Recipe from theshabbycreekcottage.com
11. Pecan Belgian Waffles from nospoonnecessary.com
12. Keto Paleo Almond Flour Waffles Recipe from wholesomeyum.com
13. Classic Buttermilk Waffles from browneyedbaker.com
14. Crispy Belgian Waffles Recipe from cookinglsl.com
15. S'mores Waffles from livelovetexas.com
16. Greek Yogurt Waffles from thestayathomechef.com
17. Almond Flour Waffles from fitfoodiefinds.com
18. Pizza Waffles from spendwithpennies.com
19. Soaked Gluten Free Oat Waffles from livesimply.me
20. Keto & Gluten-Free Ham & Cheese Waffles from tasteaholics.com
21. Cinnamon Sugar Egg Free Waffles†from theprettybee.com
22. Rainbow Waffles from momdot.com
23. Pumpkin Pie Spiced Belgian Waffles from bigflavorsfromatinykitchen.com
24. Gingerbread Waffles with Cream Cheese Icing from momstart.com
25. Neapolitan Waffles from dinneratthezoo.com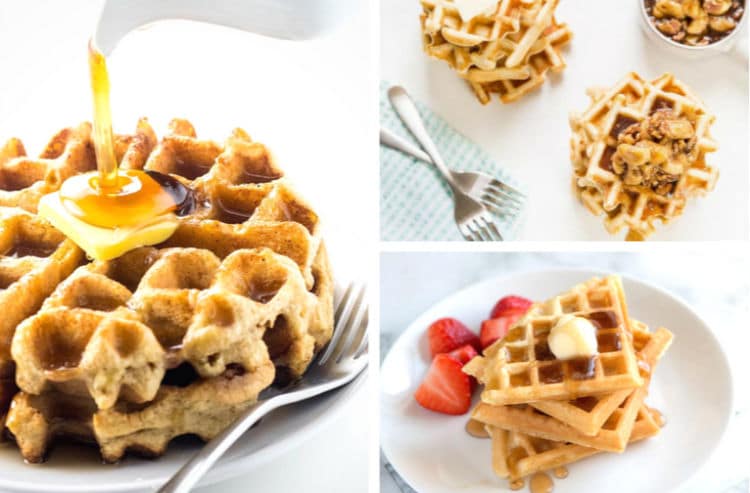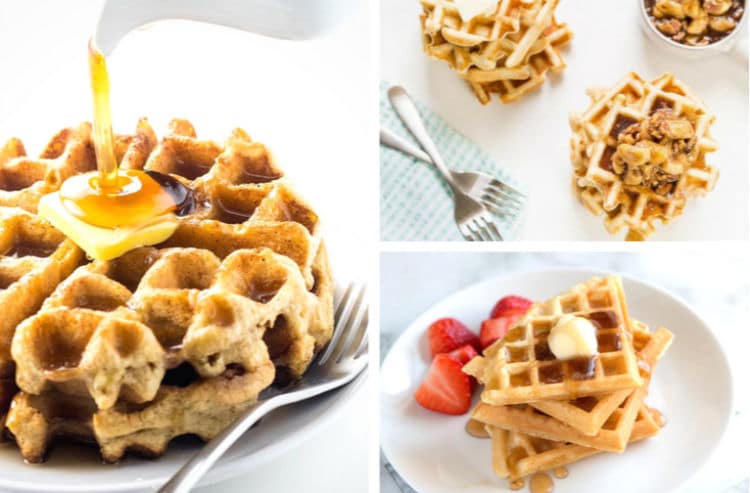 More easy breakfast recipes
Pin these 25 Quick & Easy Waffles Recipes for later!